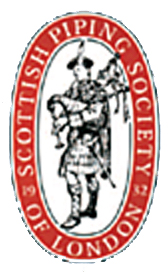 President Andrew Hall of the Scottish Piping Society of London reports: I see Harry Stevenson my tutor from back home popped up on the news feed. Harry started me on my first piobaireachd, Glengarry's Lament, in 1988. I went to him for lessons until I left Northern Ireland in 1994.
I thought you and your readers might be interested in a summary from our most recent event at the SPSL. On Saturday 18th March the Society held its annual Members' Competition & Recital at The Caledonian Club in Central London. Callum Beaumont judged the competition during the day and delivered an excellent recital in the evening. SPSL committee member Stephen Cussen was an excellent host for the day's event. The event ran smoothly and Stephen announced the winners in plenty of time for the rugby fans to watch the England vs. Ireland match! Thank you to everyone who supported the SPSL in this successful event.
The Society is also looking forward to the Annual London Competition in November and a number of additional volunteers have joined the team this winter. Preparations are well under way and being driven by a team which includes Mrs Jackie Roberts, Mrs. Annie Broderick, Billy Wardrope, Callum Galleitch, Michael Fitzhenry, Stephen Cussen and myself.
I expect to confirm details of this year's London Competition in the next few weeks. One certainty this year is that acting on feedback from last year there will be a bar and catering refreshments available throughout the day to ensure the social activities of the gathering are fully restored!
Amateur Piobaireachd: 1st Lachlan Macdonald (Glengarry's Lament) 2nd Len Durham (The Groat) 3rd Colin Taylor (Corrienessan's Salute)
Open Piobaireachd: 1st Jamie Forrester (MacDougall's Gathering) 2nd Andrew Hall (Lament for Ronald Macdonald of Morar) 3rd Michael Fitzhenry (The King's Taxes)
Amateur March, Strathspey & Reel: 1st Len Durham 2nd Lachlan Macdonald 3rd Colin Taylor
Open March: 1st Jamie Forrester 2nd Michael Fitzhenry 3rd Andrew Hall
Open Strathspey & Reel: 1st Andrew Hall 2nd Michael Fitzhenry 3rd Jamie Forrester
Open Jig: 1st Michael Fitzhenry 2nd Jamie Forrester 3rd Andrew Hall
4th Len Durham
The evening recital was a very enjoyable and friendly occasion. Guests were seated in the impressive Johnnie Walker function room where we were treated to a supper of haggis, neeps and tatties. It was a convivial atmosphere where society members and friends enjoyed a very pleasant meal listening to top quality piping.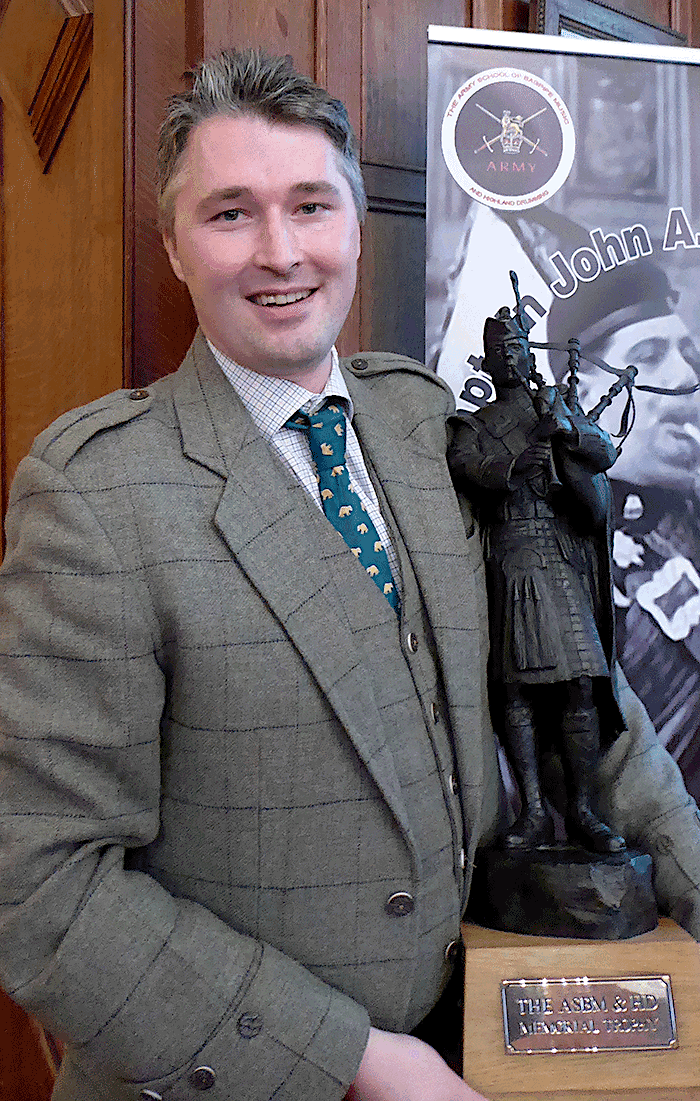 Callum is at the top of his game after his recent successes at the Metro Cup and the Uist & Barra and he displayed his excellence and versatility with a wide range of tunes. His piobaireachd for the evening was Queen Elizabeth the Second's Salute which was really quite appropriate given that we were next door to Buckingham Palace!
During the interval Stephen Cussen told us a little bit about the City of London Pipes and Drums. Stephen is a driving force in that organisation which is led by Pipe Major Iain Westgate. They are doing a significant amount of teaching across London and the South East area for both piping and drumming and deserve significant credit for this investment in learning and development.
As Society president I was particularly pleased to see a number of new faces join our established members in making it a very enjoyable day. Enclosed is a photo taken at the prize giving in the Morrison Room. The portrait in the background is of Prince Charles Edward Stuart and he looked very satisfied with the day's events!
A special mention is due for young piper James O'Connor. James started piping in the Air Cadets three years ago and is now piping with the City of London. At the end of the evening recital James addressed the gathering and on behalf of the SPSL thanked Callum for the excellent recital. James's comments were warmly applauded by all present.
• Read our history of the London Society here.
---
[wds id="2″]
---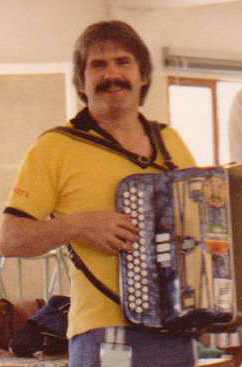 It is with regret we report the passing of Rab Kelly, one of the real characters from the British Caledonian Airways band of the 70s and 80s. His friend, Tom Johnstone, reports: 'Sad to report the passing of my good friend and a legend in the piping world, Rab Kelly. He was aged 73.
Rab was a piper, accordionist and pipe-bag maker, and in his heyday his bags were used by many top players including Pipe Major Angus MacDonald another great friend of his who composed the hornpipe 'Rab Kelly' in his honour. Rab had a shop in Edinburgh where he made the bags and later moved to become the in-house pipe bag maker at Grainger & Campbell in Argyle St., Glasgow, and was responsible for teaching Jim Begg his trade.
Rab played in the British Caledonian Airways Pipe Band along with me and the then Pipe Major, Bob Richardson, P/M Angus MacDonald, Ronnie McShannon, Allan and Dr. Angus MacDonald, P/M Joe Wilson, P/M Calum Campbell, P/S Jimmy Liddell and many others. In 1982 the band had a trip to Los Angeles which Rab was on and he liked the place so much that he stayed on and eventually became a US citizen. He had an apartment in Hollywood Way, Burbank, California.
He later took a job with United Airlines and worked there until his retirement. Having moved several times, he ended up in a wee place called Parumph, about a half-hours drive from Las Vegas in Nevada. His death was reported to me by our mutual friend George Brown who hails from both Ayr and Los Angeles and was at one time the Drum Major of the Red Hackle Pipe Band.
---
[wds id="10″]