Perfect for whiling away part of a winter's evening would be a trawl through the PP Audio Archive. Added today is our copy of the lecture on the life and times of P/M Robert Reid made for BBC radio in the early 1970s by Seumas MacNeill as part of his 'Masters of Piping' series. The delivery and musical illustrations are superb, the piping by Reid's pupil, P/M RG Hardie.
Robert Reid was born at Slamannan in Stirlingshire in 1895 and was taught initially by his father. At age 12 he was taken to John MacDougall Gillies for lessons and this set Reid on a path that was to take him to the very top of the piping tree winning all the major prizes open to him. Refreshingly forthright in his views on piping, he was also proud of his mining background in the pits of Stirlingshire and would scoff at the notion that you had to be a Highlander or a Gaelic speaker to be a good piobaireachd player.
'Look at me,' he would say, 'I was born under the shadow of a pit bing [slag heap]; that's the nearest I came to  Highland mountain.'
Reid was outstanding as a teacher and P/M Hardie and Willie Connell were considered among his most successful students. He served in the HLI during WW1 with postings to Egypt, Palestine and the Western Front. He was pipe major of the band of the 7th HLI until 1940. He worked in the mines until the 1930s before branching out into pipe making. He opened a shop in George Street, Glasgow, which is where he conducted most of his lessons.
A fitness fanatic, Reid blew a strong instrument and in order to keep his stamina up would train with the Shettleston Harriers athletics club in Glasgow. He also had the club physio work on his hands and this may have helped him sustain his brilliant fingering well into later life.
Reid won the Gold Medal at Oban in 1921  and at Inverness in 1922. He won the Open Piobaireachd and Clasp six times each. He won the Former Winners' MSR at Inverness four times and the piobaireachd at Cowal in unbroken succession from 1928 to 1938. Robert Reid died in 1965. Enjoy this lecture here and if you scroll down on the same page you can also listen to P/M Reid playing. There  is much more of his playing on the Piobaireachd Society website. He is pictured top playing at the Argyllshire Gathering in the 1930s.
---
We have been asked to reproduce again the information regarding US restrictions on trade in African blackwood. Below is a clip from a US Fish & Wildlife webinar given last December to American orchestras and other interested parties. The speaker outlines how pipers can obtain an 'instrument passport' which should ease travel issues for those coming over to the Worlds:
As the speaker says, these 'passports' are available for groups of musicians, so a band could apply for one passport for all their pipes and so save a lot of expense and paperwork. The form needed is https://www.fws.gov/forms/3-200-88.pdf
The same form should be used for an individual US 'instrument passport' application. When trading overseas in blackwood pipes, buying or selling, US pipers should use form https://www.fws.gov/forms/3-200-32.pdf.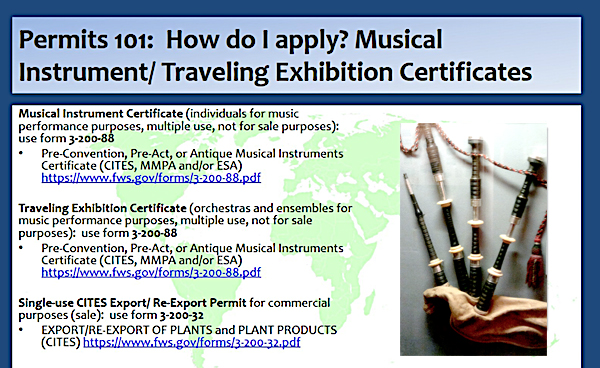 If anyone would like to forward the restrictions as they apply to their own particular country please do so. Background: from January 2 African blackwood dalbergia melanoxylon was listed on their Appendix 2 by CITES, the world body which regulates the trade in endangered species. This means that all buying and selling of products made from this wood must be licensed at both the export and import stage. Read more here.