George Balderose reports: Pittsburgh, Pennsylvania – November 20-22, 2015: The Ninth Annual Balmoral Classic US Junior Solo Junior Bagpiping and Solo Snare Drumming Championships were won by Piper Gavin Mackay of Kitchener, Ontario, and drummer MacKenzie Chamberlain of Sarnia, Ontario. 
Mackay and Chamberlain each won both events in piping and drumming. Kathleen Brown of Gaithersburg, Maryland placed 2nd in the piobaireachd event and Steven MacDonald of Pittsburgh via Florida and Dundee, Scotland,  won  2nd in the MSR. Twelve pipers from five states and Ontario and four drummers from New York, Maryland, Ontario, and Scotland competed in the double event contest.
The competition is produced by the Balmoral School of Piping and Drumming and was held in the McGonigle Theatre, Central Catholic High School, in the university district of Pittsburgh. Arthur McAra was the emcee. Piping judges were Duncan Bell, Bill Livingstone, Dr. Bill Wotherspoon, and drumming judges were Gordon and Donald Bell.
Major sponsors for prizes included McCallum Bagpipes, David Nail Bagpipes, & Henderson Imports. Additional prize sponsors were MacLellan Bagpipes, Pipers' Croft, Pipers' Hut, Scott's Highland Services, Duncan's Highland Supply, Temple Records, Greentrax, Ceol Sean, Sandy St. James, and the Balmoral School.
The picture above shows Executive Director George Balderose with overall piping winner Gavin Mackay.
Piobaireachd
1 Gavin Mackay, Clan Campbell's Gathering
2 Kathleen Brown, MacGregor's Salute
3 Stanton Man, Park Piobaireachd #2
4 Steven MacDonald,  Battle of the Pass of Crieff
5 Colin Tait, The Big Spree (C.S. Thomason setting)
March, Strathspey, Reel
1 Gavin Mackay, Dr. E.G. MacKinnon/ Islay Ball/ Kalabakan
2 Steven MacDonald,  Duchess of Edinburgh/ Ewe with the Crooked Horn/ Cockerel in the Creel
3 Stanton Man, Leaving Lunga/ John Roy Stewart/ Rejected Suitor
4 Kathleen Brown, Stirlingshire Militia, Doune of Invernochty, Alick C. MacGregor
5 Jack O'Connell, Major Manson's Farewell to Clachanstrushal/ Ewe with the Crooked Horn, Major Manson
Overall
1 Gavin Mackay
2 Kathleen Brown
3 Stanton Man
4 Steven MacDonald
5 Colin Tait
---
[wds id="10″]
DRUMMING
March, Strathspey, and Reel
1 MacKenzie Chamberlain, Brigadier Ronald Cheape of Tiroran/ Dora MacLeod/ John Morrison of Assynt House
2 Cameron McCall, John McDonald of Glencoe/ Maggie Cameron/ Loch Carron
3 Jeremiah Whitney, Lord Alexander Kennedy/ Maggie Cameron/ Mrs. MacPherson of Inveran
4 Dan Evans, William Gray's Farewell to Cowal/ Dora MacLeod/ Brown Haired Maid
DRUMMING
Hornpipe and Jig
1 MacKenzie Chamberlain, Train Journey North/ Boys of the Lough
2 Cameron McCall, Crossing the Minch/ Old Wife of the Mill Dust
3 Jeremiah Whitney, Tam Bain's Lum/ Hen's March
4 Dan Evans, The Tourist/ Donald Cameron's Powder Horn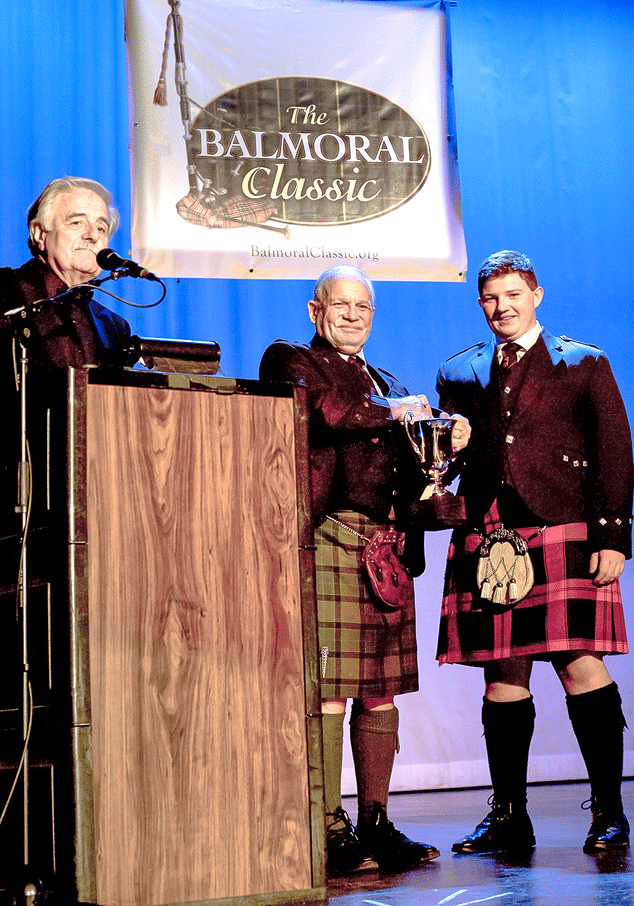 Overall
1. MacKenzie Chamberlain
2.  Cameron McCall
3. Jeremiah Whitney
4. Dan Evans
The weekend began on Friday evening with a reception for the out-of-town contestants, supporters of the Balmoral Classic, and the public, which featured music by the ensemble Road to the Isles and the Pittsburgh Scottish Country Dancers. Bill Livingstone, Dr. Bill Wotherspoon, and Gordon Bell also entertained guests with musical selections.
During the evening after the Saturday contest, there was a concert in the same hall with the internationally acclaimed duo Alasdair Fraser (Scottish fiddle) and Natalie Haas (cello) to an audience of approximately five hundred that also featured dancers from the Pittsburgh Celtic Spirit School of Highland Dance and Burke-Conroy School of Irish Dance. The Friday and Saturday events featured separate silent auctions and raffles each day.
Sunday morning from 10 am to noon Dr. Bill Wotherspoon gave a talk on piobaireachd and some of the set tunes for 2016 in the Scottish Room of The University of Pittsburgh's Cathedral of Learning.
The event was made possible by grants from the E.W. Littlefield, Jr & the Sage Foundation, the Heinz Endowment, The Laurel Foundation, the Pennsylvania Council on the Arts, The Pittsburgh Firefighters Memorial Pipe Band, the St. Andrews Society of Pittsburgh, and many individual donations.
---
[wds id="3″]