New recording added to the sound archive today. It's of John MacFadyen playing Too Long in This Condition complete with open fosgailte. The tune has been made available to PP readers thanks to Chris Terry, Grahamstown, South Africa. John recorded the tune when he was on a visit to the country in the early 70s. Listen here.
The above picture shows John leading the march to the games at Glenfinnan. The well-known adjudicator, naturalist and writer Seton Gordon (jokingly dubbed Satan Gordon by some!) can be seen on the far right.
---
Thanks to Stewart Gardiner, Walllacestone Pipe Band, who has kindly supplied the names of the Edinburgh Police Pipe Band we featured last week. Firstly the pic: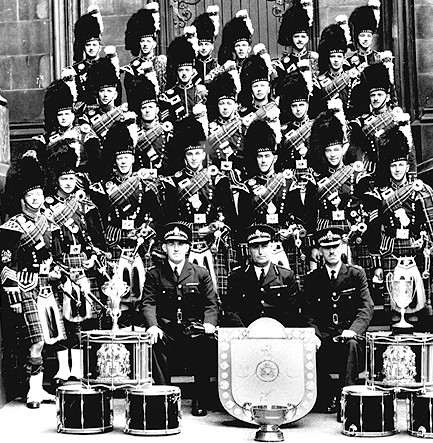 Now the names. Stewart writes:
Re the photo of Edinburgh police from 1958, the players are as follows:
Back row L to R: A Cleeton, J Cunnison, G Brown, G McArthur, S Allen, W Easton
Half way between two rows: C Panton, R Montgomery, P Jamieson, A Shand
Middle row: I Ferguson, J Greig, R McDonald, R Gibson, J Orr
Front row: PM J Burgess, J Percival, J Kerr, R Lewis, N Johnston, H McNulty, G Lumsden and DM J Cockburn
The three senior officers are Mr Orr, Mr Inch (Chief Const.) and Mr Brown.
---
Now we all knew that Piobaireachd Society President and Senior Adjudicator Dr Jack Taylor had a heart of gold. Well, in case we needed any more evidence to support our view, here's a snip from his local paper which goes, appropriately, under the magnificent title of the 'Deeside Piper':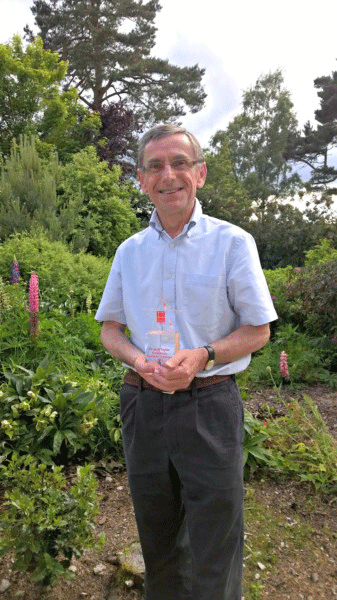 'Dr Jack Taylor from Aboyne has received the Fundraising Volunteer of the Year Award from British Heart Foundation Scotland. He was given the award for his relentless determination in the fight against heart disease. Every volunteer is a real heart hero for BHF Scotland, but Jack scooped the accolade for his dedication to the charity. He played a key role in setting up his local Deeside Fundraising Group, giving his time and sharing his local knowledge and contacts to help the charity keep raising money locally to fund its life saving research.
Dr. Taylor said: 'I am delighted to have been given such a special award as there are so many worthy volunteers who give their time to BHF Scotland. I have met some lovely people and had some great experiences while volunteering for BHF Scotland. There are so many different ways you can get involved, and I would encourage anyone to volunteer for BHF Scotland as it really does make a difference, and it is such a rewarding experience.'
'Local fundraising volunteers raise millions of pounds in communities across the UK and there are loads of ways you can get involved. There are plenty of roles to suit your needs and the time you have available. Great strides have been made but the charity still has much work to do, because no family should have to suffer the sudden devastation that heart disease causes.
'Volunteering with BHF Scotland for just half a day a month could fund one of our young scientists to carry out life saving research for a whole hour. The charity currently provides the funding for around 500 post-doctoral scientists who work in research team's right across the UK on projects to better understand how to diagnose, prevent, treat and cure heart disease. Coronary heart disease is the single biggest killer in Scotland. For more information about volunteering for the nation's heart charity visit bhf.org.uk/volunteer or contact Kathy McIlwaine on 01466 740375.'
Hearty congratulations to Jack, and if any reader can help this worthwhile charity please do.
---
Don't forget the Ross and Cromarty Piping and Drumming School's concerts this weekend: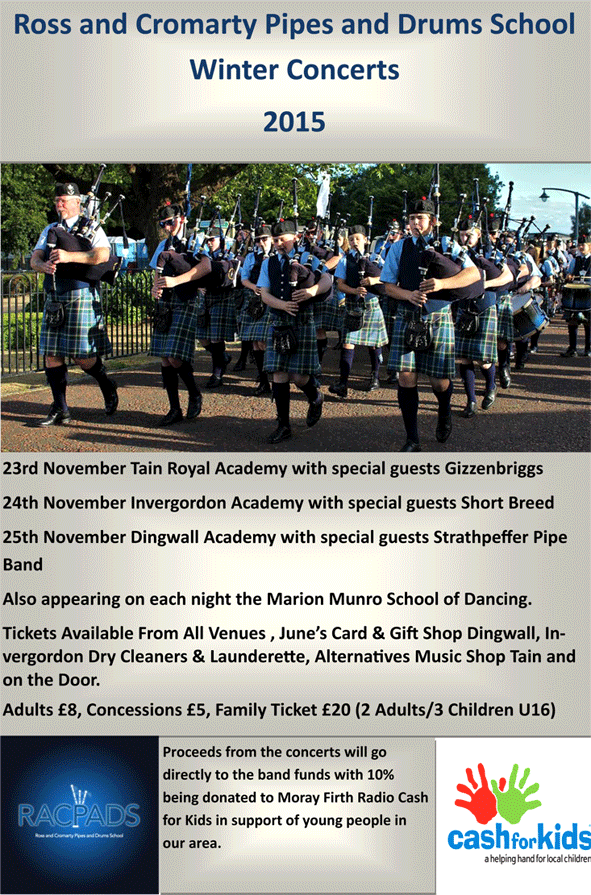 ---
Another date for your diary is next Tuesday (Nov 24th) at the Hole in the Wall pub in Dumfries where top piper Gordon McCready is in recital. Show starts anytime after 7pm and there is a warm-up spot from young local pipers. The weather may be dreich, but that's no excuse for not getting out and supporting piping, so please do so if you can. Gordon has had a very successful year on the boards placing third in the Gold Medal at Inverness, winning the Braemar Gold Medal and winning outright the Scottish Games Association's Piping League for both ceol mor and ceol beag.
---
[wds id="3″]
---