Assistant Piping Steward Torquil Telfer has announced that entries for the MacGregor Memorial competition can now be taken via the Argyllshire Gathering website. Previously they had to be sent to the competition secretary and organiser Angus Nicol in London.
Mr Telfer said: 'This change will make things easier for everyone but I would like to emphasise that Angus Nicol remains in overall charge of the MacGregor on behalf of the sponsor, the Highland Society of London.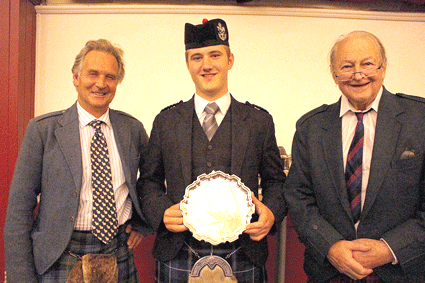 'I would also like to remind all competing pipers that entries for the Argyllshire Gathering and the Northern Meeting 2015 close on January 31. The Joint Committee will meet next month and those eligible to play will be announced shortly afterwards.' Last year Oban restricted the numbers in the Gold Medal to 28 and Inverness to 25.
The MacGregor Memorial Piobaireachd Competition is for pipers from anywhere in the world who are aged under 22 on the date of the competition. It is an exacting competition  in that the young players have to play twice, once in heats and again if they make it through to the final.
Earlier this month the Argyllshire Gathering issued a request that all competing pipers re-register with the Gathering. Old passwords would no longer be valid. Mr Telfer issued his email and phone number in case of difficulty. These are torquiltelfer@gmail.com and 07985 160250.

Pipers who are asked for tunes when they try to sign in should simply put in some rough initials for the time being so that they can get their entry registered. If anyone has a problem Mr Telfer has made public his mobile number which is 07985 160250.
Though not crucial for the Joint Committee meeting, P grade players are asked to register so that the promoters can get some idea of numbers.[wds id="3″]