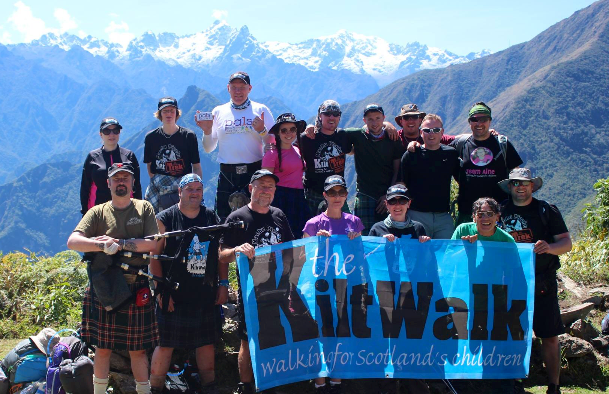 By Ex-Scots Guards Piper, Craig MacFarlane
This year's Kiltwalk to Machu Picchu in Peru has returned safely after just under two weeks. The 15 Kiltwalkers left Scotland on 1st Sept and returned late on the 12th having walked around 100 miles, going as high as 4600m at the Salkantay mountain pass, and ending up at the mysterious ancient Inca site of Machu Picchu. Over £70 000 was raised for underprivileged and sick children in Scotland, the money going to Kiltwalk's six main children's charities, and several smaller charities chosen by Kiltwalkers. (If you have an official Kiltwalk group name, and a certain amount of fundraisers in your group, you can choose where 50% of your group's total goes, as long as it is a registered children's charity in Scotland.)
The trek was an experience of a lifetime, but a pain in the reeds for me. Playing at altitude is a nightmare. In terms of getting a nice sound, the top notes of chanter especially go insanely sharp, and the drones simply refuse to play. The chanter can be flattened a lot by raising the reed, and the top notes can be taped, but nothing I could do would get the drones working, not even a hair under the bridle. You can actually feel the difference in pressure etc. on the reeds – interesting but also a pain. When we got down to semi-jungle areas I got half a day of drone action. It was the same on last year's Kiltwalk up Kilimanjaro. I have spoken to a company in America who make high altitude reeds, but they want a minimum order amount. I'll look into it though.
The Kiltwalk has raised millions in its five years and is going from strength to strength. We are now doing walks of 26, 13 and 5 miles in Glasgow, Edinburgh, Dundee, Speyside and Aberdeen. Various other overseas treks have been done in the last three years. The charity is looking for pipers prepared to fundraise and go on these treks. (Piper's rates available…nudge/wink.) Call me on 07837437346 or email pipermcfarlane@gmail.com if you are interested.