Robert Wallace: This is our second close examination of the nature of solo competition in years past. Previously we had a fascinating look at the late 18th century and the marathon 'Prize Pipe' event held in 1785. Here we move on 38 years to the same competition. The contest has moved from Dunn's Assembly Rooms to the Theatre Royal but we find a similar programme of ceol mor performances interrupted with dancing – but from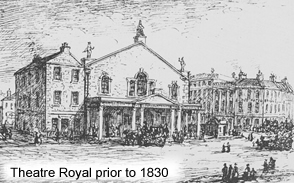 far fewer pipers. In 1785 there were no less than 48 piobaireachd played; here we have a mere 16  – a trend mirrored last century in the reduction of numbers permitted to play for the Gold Medal. Neither a case of 'ad captandum vulgis', playing to the gallery, or, to use modern parlance, 'dumbing down', more one of sheer necessity. There is a limit to how much music one can absorb in a day (and night).  Before the introduction of grading in 1977, our main event went on long into the evening. So it must have been in 1785, hence the drastic pruning.

It is interesting to note the differences in the repertoire  after 38 years. Here we see the appearance of tunes not put forward in 1785 – even though there were three times the number of pipers playing: MacLeod's Salute, Earl of Seaforth's Salute, MacIntosh's Lament. We see, too, the emergence of a greater association of pipers with the military a trend that was to increase rapidly post 1830. 
Angus MacKay describes the winners in 1823  as follows: 'The first prize was voted to John MacKenzie, the second to Kenneth McRae; the third to John Cameron; the fourth to Donald MacDonald ; and the fifth to William Fraser from Breadalbane.'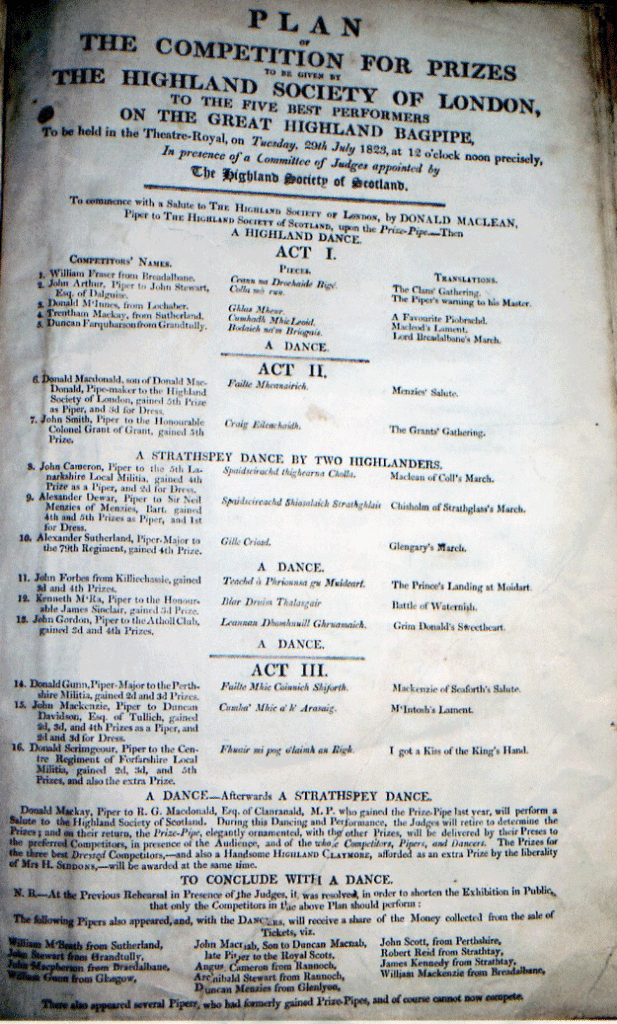 The poster for the competiton reads as follows, contemporary spellings and abbreviations retained:
PLAN of THE COMPETITION FOR PRIZES to be given by THE HIGHLAND SOCIETY OF LONDON to the five best performers on the
GREAT HIGHLAND BAGPIPE
To be held in the Theatre-Royal, on Tuesday, 29th July 1823 at 12 o' clock noon precisely,
In the presence of a Committee of Judges appointed by
The Highland Society of Scotland
To commence with a Salute to The Highland Society of London by DONALD MACLEAN, Piper to The Highland Society of Scotland, upon the Prize Pipe — then
A HIGHLAND DANCE
ACT 1
1 William Fraser from Breadalbane,
Ceann na Drochaide Bige – The Clans' Gathering
2 John Arthur, Piper to John Stewart, Esq. of Dalguise,
Colla mo run, The Piper's Warning to his Master
3 Donald McInnes from Lochaber,
Ghlas Mheur, A Favourite Piobrachd
4 Trentham Mackay from Sutherland,
Cumhadh MhicLeoid, Macleod's Lament
5 Duncan Farquharson from Grandtully,
Bodaich na'm Briogais, Lord Breadalbane's March

A DANCE
ACT II
6 Donald MacDonald, son of Donald MacDonald, Pipe-maker to the Highland Society of London, gained 5th Prize as Piper, and 3rd for Dress [in a previous year]
Failte Mheanairich, Menzies' Salute
7 John Smith, Piper to the Honourable Colonel Grant of Grant, gained 5th Prize
Craig Eileachaidh, The Grants' Gathering
A STRATHSPEY DANCE BY TWO HIGHLANDERS 
8 John Cameron, Piper to the 5th Lanarkshire Local Militia, gained 4th Prize as a Piper, and 2nd for Dress
Spaidseirachd thighearna Cholla, Maclean of Coll's March
9 Alexander Dewar, Piper to Sir Neil Menzies of Menzies, Bart., gained 4th and 5th Prizes as Piper, and 1st for Dress
Spaidseireachd Shiosalaich Strathghlais, Chisholm of Strathglass's March
10 Alexander Sutherland, Pipe-Major to the 79th Regiment, gained 4th Prize
Gille Criosd, Glengarry's March
A DANCE
11 John Forbes from Killiechassie, gained 3d and 4th Prizes
Teachd a Phrionnsa gu Muideart, The Prince's Landing at Moidart
12 Kenneth McRa, Piper to the Honourable James Sinclair, gained 3d Prize
Blar Druim Thalasgair, Battle of Waternish
13 John Gordon, Piper to the Atholl Club, gained 3d and 4th Prizes
Leannan Dhomhnuill Ghruamaich, Grim Donald's Sweetheart

A DANCE
ACT III
14 Donald Gunn, Pipe Major to the Perthshire Militia, gained 2d and 3d Prizes
Failte Mhic Coinnich Shiforth, Mackenzie of Seaforth's Salute
15 John Mackenzie, Piper to Duncan Davidson Esq. of Tullich, gained 2d, 3d and 4th Prizes as a Piper, and 2d and 3d for Dress
Cumha' Mhic a' h' Arasaig, McIntosh's Lament
16 Donald Scrimgeour, Piper to the Centre Regiment of Forfarshire Local Militia, gained 2d, 3d, and 5th Prizes, and also the extra Prize.
Fhuair mi pog o'laimh an Righ, I got a Kiss of the King's Hand
A DANCE – afterwards A STRATHSPEY DANCE
Donald Mackay, Piper to R.G. MacDonald, Esq. of Clanranald, MP, who gained the Prize-Pipe last year, will perform a Salute to the Highland Society of Scotland. During this Dancing and Performance, the Judges will retire to determine the Prizes; and on their return, the Prize-Pipe, elegantly ornamented, with the other Prizes, will be delivered by their Preses to the preferred Competitors, – and also a Handsome Highland Claymore, afforded as an extra Prize by the liberality of Mrs H. Siddons – will be awarded at the same time.
TO CONCLUDE WITH A DANCE
N.B. – At the Previous Rehearsal in Presence of the Judges, it was resolved, in order to shorten the Exhibition in Public, that only the Competitors in the above Plan should perform:
The following Pipers also appeared , and, with the Dancers, will receive a share of the Money collected from the sale of Tickets, viz.
William McBeath from Sutherland, John Macnab, Son to Duncan Macnab, late Piper to the Royal Scots, John Scott from Perthshire, John Stewart from Grandtully, Robert Reid from Strathtay, John Macpherson from Breadalbane, Angus Cameron from Rannoch, James Kennedy from Strathtay, William Gunn from Glasgow, Archibald Stewart from Rannoch, William Mackenzie from Breadalbane, Duncan Menzies from Glenlyon.
There also appeared several Pipers who had formerly gained Prize-Pipes, and of course cannot now compete.