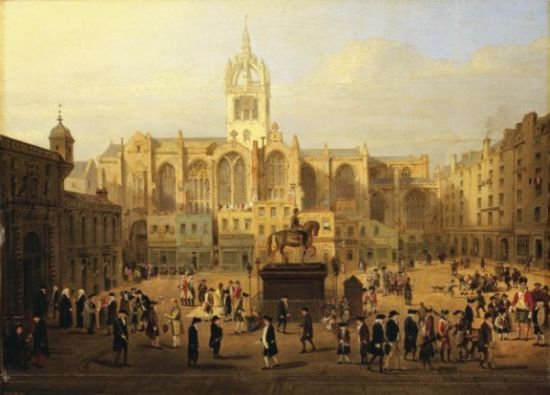 So here we are in an Edinburgh glowing in the afterlight of the Scottish Enlightenment but still the city of 'gardyloo', Canongate Kirk and the Royal Mile stretching to St Giles. Across the drained land, a half completed New Town and its regency splendour point to an assuredness in the future. Burns is about to borrow a pony to see for himself what all the fuss is about. The 'Athens of the North', the intellectual crucible of Hume, Black, Smith, stands proud and respected throughout Europe. Walter Scott and his tartanalia have yet to descend;  Queen Victoria and her Balmoral romance decades away….
Let me take you now to Dunn's Assembly Rooms where a gathering of the lauded and the landed are crammed in for a festival of piping such as we would not hear today. The gentlemen are there with their ladies, powdered and puffed, feigning interest and knowledge. Wagers are flying: 'Forsooth, my man will trounce yours or your hounds can take my stags at will….'Nay sire, keep your Scots punds and your deer…yon McGrigor plays so ill it would be a sin worthy of the cutty stool to take even a bowel of parridge from you….'
At 11am precisely on comes 'Professor' MacArthur to play a salute to the gathering and the day begins. Proceedings do not conclude until a further 49, yes 49, piobaireachd have been heard.  Now I speculated earlier about the time taken to decide the 1785 Prize Pipe. Allocating a modest 10 minutes for every tune, 50 minutes for every one minute gap, and 10 minutes for each of four dances, carriages could not have been called before 9pm. This is assuming there was no tuning time (highly likely), no repeated grounds (likely), no meal/drinks breaks (highly unlikely) and no closing ceremony and speeches. I would think a midnight finish would be nearer the mark, making a very long day for all concerned. But was it? It was clearly not a competition in the modern sense. It would have been a much more relaxed affair with conversation, pass the sherry, 'my you're looking well', interspersing the music. It was a true social gathering at which every piper played more than once and from a broad impression given to the judges – probably not so well informed as most of today's – the winners selected.  Quite different from anything we have nowadays, all starched formality and rigidity of style and decorum.
---
[easyrotator]erc_75_1413484305[/easyrotator]
---
Politically the tunes show a huge turnaround in public opinion since the '45. How many times was the Prince's Salute played? I counted 13 (brain numbing or what?), and we even had a My King Has Landed in Moidart – this less than 50 years since the Jacobite hordes had ravaged Scotland's central belt in a revolt that led to the exile and execution of many of the relatives of the gentry now assembled.  Clearly there must have been some reaction, some celebration to the lifting of the Act of Proscription only three years previous. I marked only two tunes – three if we count Sherrifmuir – associated with the MacCrimmons, pipers to the Hanoverian MacLeods. Does that tell us something about the 1785 zeitgeist? Given the reverence with which we are told the MacCrimmons were held by pipers, I think so. They were, after all still ploughing their teaching trade.
One correspondent yesterday speculated that perhaps the pipers only played part of each piece. I think this unlikely. Judges and audience would want to hear the finger fireworks at the end, something even today the untutored will remark on as the best bit of any piobaireachd. No, it would be the full tune I am sure, but I stand by my earlier comment that it would be unlikely that grounds would be repeated in a competition setting such as this. It is here that the fashion of excluding them may have begun.
In a recital matters would be quite different. Drones would not hold anything like they do today – not a chance. Inter-tune tuning would be the answer, and on resumption of the performance, a repeat of the urlar to restore to the listener the lodestone of the piece, and on we go. In a long competition this would not be an option and it would have to be howling drones to the end, an accepted fact of piping life. Remember, it is not so long ago that drones going out was still the norm; post-war Donald MacPherson changed all that.
---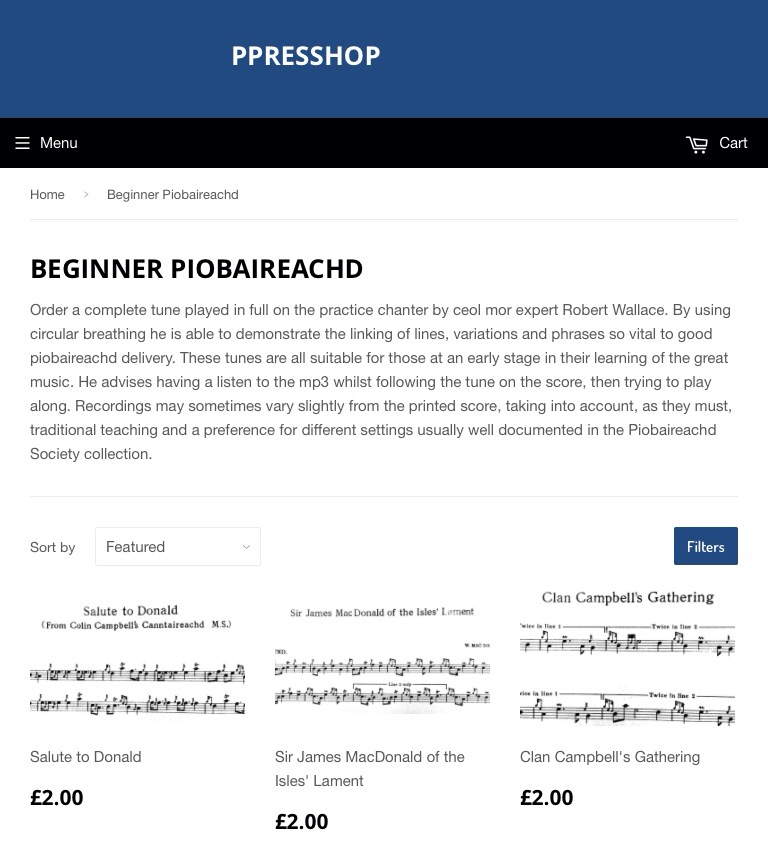 ---
A couple of other points: what about the 12-year-old John McGrigor, son of the 1784 winner John McGrigor, Fortingal. How many today of that age could tackle the Battle of Sherrifmuir? Perhaps he was one who did only play the ground.
And what about the age of the winner.? Donald McIntyre weighed in at a mere 75 years of age – a real showing up for those of us who hung up the competitive chanter before drawing the state pension.
One last point. What was the 'Irish pibrachd', Pibrachd Earranach, played by John MacPherson from Badenoch. The only tune I know of with such an association is the Lament for the Earl of Antrim.
As before I'd welcome any  thoughts on the above and on yesterday's piece.
---