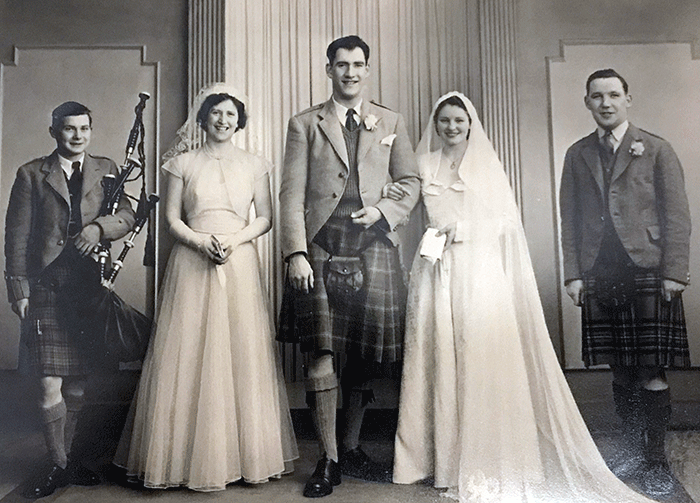 It's not often you get three such giants of piping in the same informal photograph. It shows P/M Ronnie Lawrie and his wife Anne on their wedding day in 1955.
All pipers will recognise the piper on the left as Arthur Gillies, and on the right, Duncan Johnstone. The bridesmaid was Anne's friend Mona Byrne.
'Big' Ronnie was born in 1927 and died in 2008. He was the gentlest of giants, a renowned teacher, Gold Medallist and Pipe Major of the City of Glasgow Police.
From a piping family, Ronnie had his first lesson in 1935 when aged 8. It was from none other than P/M Willie Ross who was conducting a class in Ronnie's native Oban.
In 1945 Ronnie headed south. and at the College of Piping had tuition from Tommy Pearston and piobaireachd from the blind piper Archie MacNeill. Returning to Oban he joined the 8th Argylls TA band.
Back in Glasgow once more he joined the Glasgow Transport band under P/M Donald MacLean, Lewis, before finally settling on a career in the police, joining the Glasgow force in 1953 with the band under P/M John MacDonald, South Uist.
Whilst in the city Ronnie visited Robert Reid in his shop at George Street and more instruction was made available to him – everyone took to big Ronnie, such was his warm nature.
The Gold Medal was inevitable, and he secured the coveted prize in 1961 at the Argyllshire Gathering with the difficult MacDougall's Gathering. Other prizes included the Former Winners' MSR also at Oban.
When Angus MacDonald (North Uist) retired as P/M of the Glasgow Police, Ronnie took over, leading the band to a second in the Worlds in 1967 at, yes, of course, Oban.
His later life was spent teaching, judging, and playing at ceilidhs and other function. Readers in California will remember his lessons at the Seumas MacNeill schools.
Anne is still going strong living with daughter Morag and Torquil in their beautiful home in Oban.
---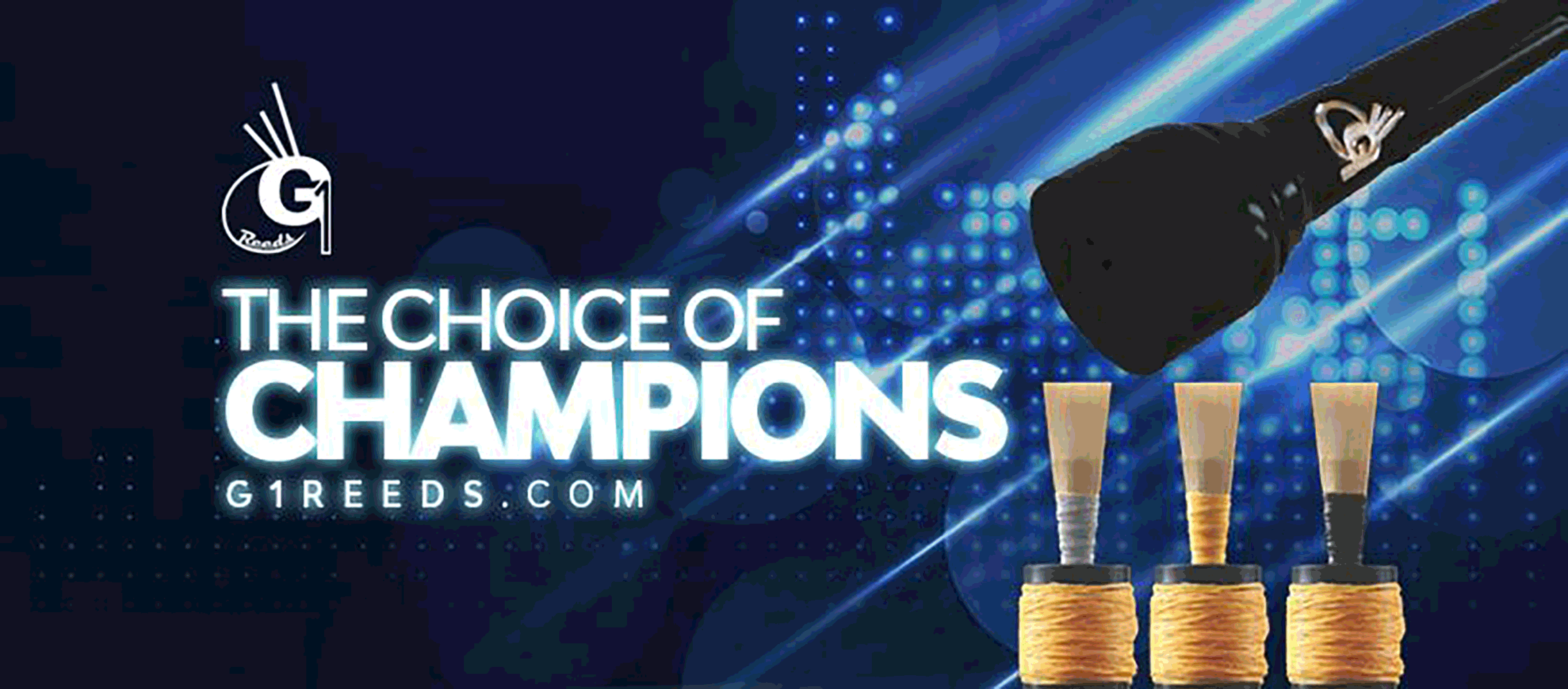 RGH-Heritage-pipingpress-800×300
MacRaeBanner '19

Ayrshire Bagpipes Nov 2020
Selcraft-UK—Piping-Press—Advert
2024_WW_Ad_PipingPress_Ani
---
Worlds & Nat
Thanks to several of the senior figures in the pipe band world who have sent their private support for my article of last week. The duty of care approach taken by Nat's colleagues is actually quite touching and a distance from some of the hot and bothered commentary baying for blood.
---
Piobaireachd & Bands
When the current Worlds winning Pipe Major goes into print in his support for piobaireachd, you know the great music has turned a corner. As you will have read from me before, it was not that long ago that Grade 1 pipe majors would condemn the soloist, the ceòl mòr player, as the weak link in his pipe corps armoury.
Not any more. This was Boghall P/M Ross Harvey yesterday on piobaireachd: 'It improves every aspect of their playing: blowing, tuning, musicality, technique and concentration.'
Hear him, hear him.
---
Matt's Win
Reader Alastair McInnes in Australia writes re the results story from Inverness earlier this month: 'Lovely to see Matt Pantaleoni's success in the Silver Medal. A very nice young man when I met him at Nairn Games in 2004. I also met Duncan and Hugh Watson that day which was an absolute treat.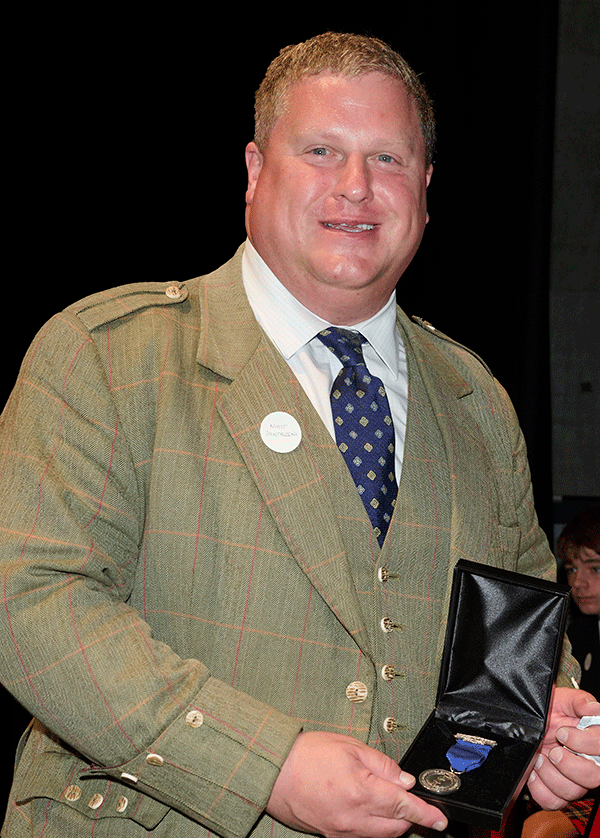 'Anyway after we registered for the event that day our details were displayed on a board:
E MacCrimmon, Inverness
A McInnes, NSW Australia
and the uniformly appreciated and hopefully remembered:
M Pantaleoni, Miss USA!
(Mattt lives in St Louis, Missouri.) And he played a fine march that day too. So much work goes into such an achievement as winning a Silver Medal…utterly deserved.'
Alastair tells me that Donald MacPherson's pipes, formerly owned by a piper in New South Wales, have been bought by someone in Germany. Does anyone know who?
---
Jock's 150th
Reader 'Duggy Mac' on John McLellan, Dunoon: 'In light of Jock's 150th anniversary in 2025, I've started a new Tik Tok page that features videos on his many great tunes.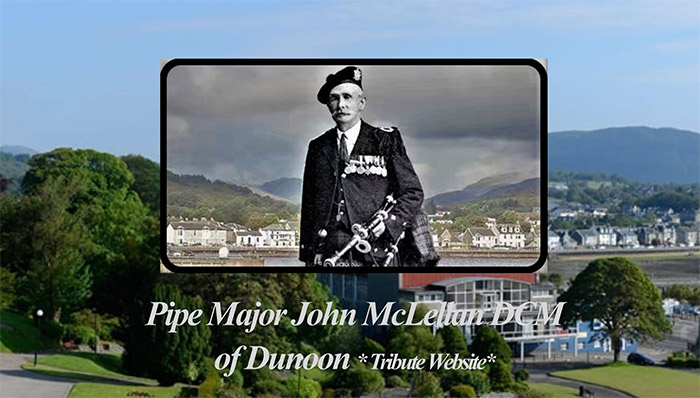 'In the short time it has been online it has garnered more than 2000 followers. I've also set up a new email address which will handle all things pertaining to Jock; it's at: johnmclellandcmtribute@gmail.com
'We are aiming to celebrate his 150th anniversary in September 2025 in his hometown of Dunoon, and plans for this major event are currently being formulated.'
---