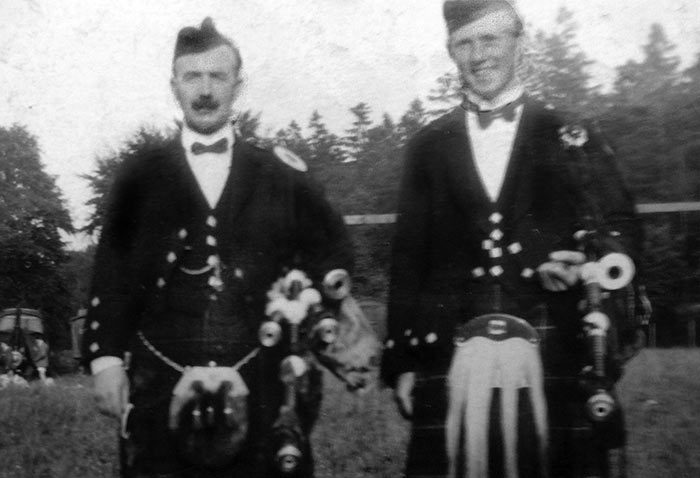 The results below, and the photograph above, are of undoubted interest to all pipers. The photograph is of George S McLennan and Robert B Nicol, clearly at a Highland Games.
Not surprisingly, the original photograph, almost 100 years old, has faded due to age and the bottom of it has been torn off. What you see is one considerably enhanced thanks to modern-day technology.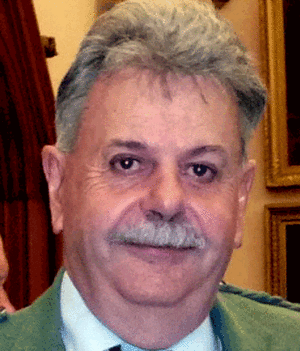 By Duncan Watson
I found the picture in the effects of Norman Matheson who passed away a year ago, on 10th January 2022. Norman was a well-respected surgeon and piping judge. He was also a pupil of Nicol's and recordings of his lessons were the bedrock for the ground-breaking 'Masters of Piobaireachd' CDs of the 'Bobs of Balmoral'. I believe these CDs to be an important contribution to piobaireachd education and of benefit to those who take the time to study them.
It is not known what year the photograph was taken or the venue, but it may have been at a Games on Deeside and would have been taken in the same era as the following results, the 1920s.
In 1926 Bob Nicol would have been aged about 22 and had just commenced attending John MacDonald (Inverness) for lessons on the order of his employer King George V. George McLennan was born in 1883 so there was about 20 years between those men. GS was to die only three years after this photograph was taken.
Obviously Bob Nicol had heard GS playing and at times did describe to me his astonishingly crisp finger work which he was able to adjust depending on the nature of the tunes/music he was playing.
---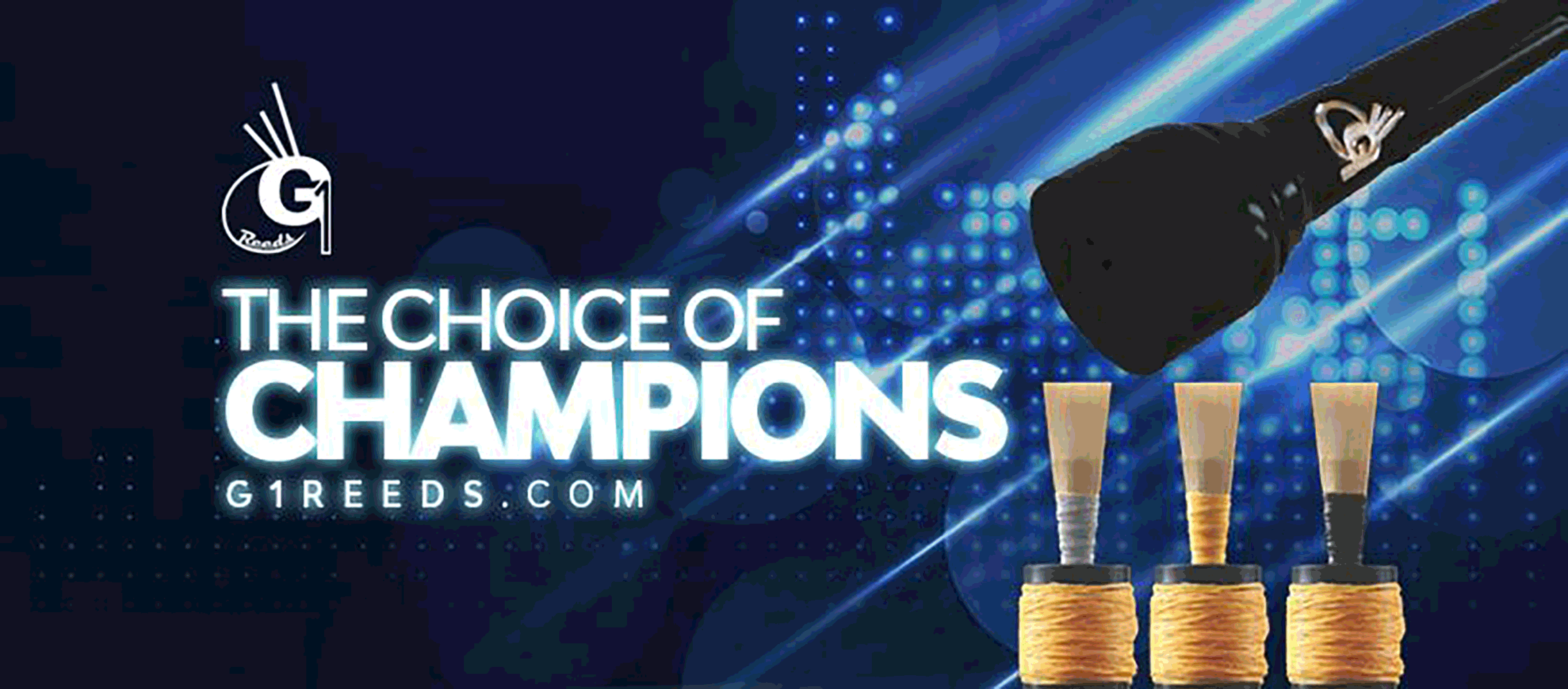 RGH-Heritage-pipingpress-800×300
MacRaeBanner '19

Ayrshire Bagpipes Nov 2020
Selcraft-UK—Piping-Press—Advert
2023_BalmoralClassic_Ad_PipingPres_Rv
---
The results are from the 1926 Northern Meeting as reported in the book 'Highland Gatherings' published in 1927. The terminology in regards the Gold Medals seems to be rather mixed up.
More accurate details of the Gold Medal and Clasp successes at the Northern Meeting have been recorded in a book by Angus Fairrie, 'The Northern Meeting, 1788-1988: The Story of the Northern Meeting – Its Games, Its Highland Balls, Its Dances and Dance Music and Its Piping Competitions'.
The details in the 'Highland Gatherings' book are largely as follows; as regards the prizemoney bear in mind that £10 in the mid-1920s is worth about £600 today.
Northern Meeting 1926, Thursday's Prize- List:
Pibrochs
1 John MacDonald, Glasgow Police, Highland Society of London's Gold Medal and £8
2 Ronald M. Meldrum, Clarkston, Glasgow, £5
3 Hugh Kennedy, Mount Florida, Glasgow, £3
4 David Ross, Rosehall, Sutherland, £1/10 shillings. (For the younger among us, 10 shillings, also known as 'ten bob', is the equivalent of 50p today. There were 20 shillings to the £.)
Marches
1 John MacDonald, Glasgow Police, £4
2 Hugh Kennedy, Mount Florida, Glasgow, £3
3 John Wilson, Edinburgh, £2
4 Robert Bell Nicol, Balmoral, (no prize money given but presumably £1)
More….
---




---
Northern Meeting 1926, Friday's Prize-List:
Piobaireachds
1 Pipe Major Robert Reid, 7th HLI, £10 and Gold Medal (Should be Gold Clasp)
2 Pipe Major Ross, Edinburgh, £8 (Willie Ross?)
3 Piper John MacPherson, Newtonmore, £6
4 Pipe Major R Meldrum, Inverness, £3
Strathspeys and Reels
1 John MacDonald, Glasgow Police, £4
2 Hugh Kennedy, Mount Florida, Glasgow, £3
3 Reid, £2 (Presumably, P/M Robert Reid)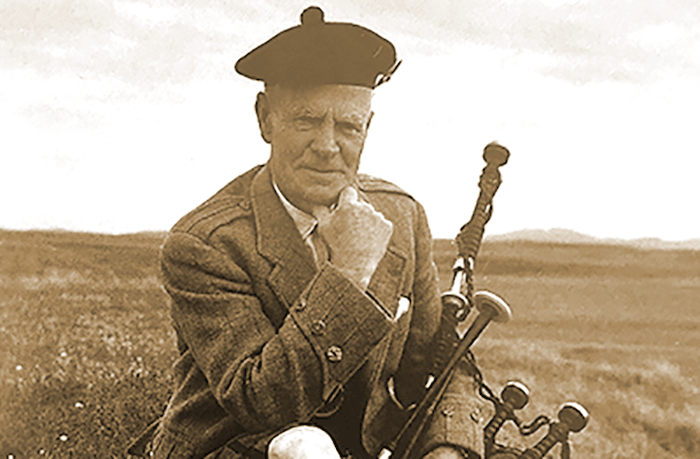 March, Strathspey and Reel (Former Winners' MSR)
1 Geo. S McLennan, Silver Star and £6
2 David Ross, Rosehall, £4
3 Pipe Major Robert Reid, 7th HLI, £2