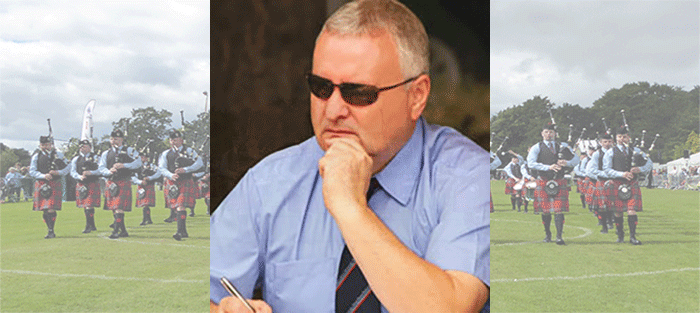 We are very grateful to RSPBA Adjudicator P/M Robert Mathieson for this exceptional view of yesterday's British Pipe Band Championships Grade 1 contest. It was typed 'live from the dugout' and is by kind permission from the RSPBA. Robert is a five time Worlds winner with Shotts & Dykehead Caledonia PIpe Band and a highly respected figure in the piping and pipe band worlds.
This was the long awaited first RSPBA major championship after two years of lockdown when we had no platform to hear and enjoy the cut and thrust of competitive pipe bands playing in earnest. In the morning I enjoyed swanning around the park listening to bands of various grades, soaking up the happy buzz and smiling faces.
The last competition of this type and scale, was August 2019, two years and eight months ago. Even although the weather was dreich at times, the crowd were hungry and looking for a musical fix!
By P/M Robert Mathieson, RSPBA Adjudicator
I was overseeing an adjudication training group exercise and I was fortunate to have the opportunity to observe and listen to the Grade 1 medley competition in the actual competition arena, albeit from a static position. This is a rare opportunity to simply listen, rather than be faced with the challenge of having to adjudicate and write spontaneous critique.
Many would argue that listening and adjudicating is the same thing. It's simply comparative analysis, isn't it? Well, it's not actually. Having to place performers in order of merit and write down the descriptive narrative and reasoning to support your criteria, can often deflect from the emotive sense of listening to the music.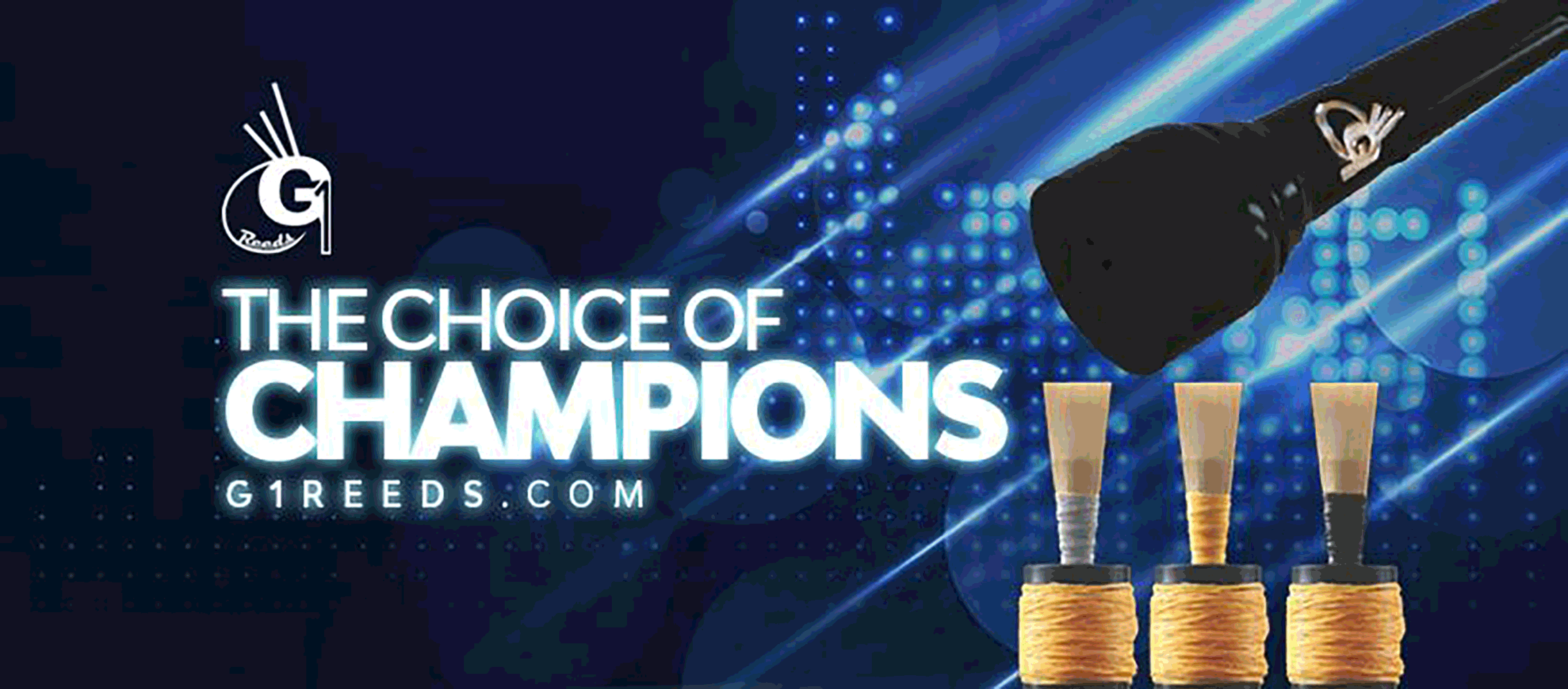 RGH-Heritage-pipingpress-800×300
MacRaeBanner '19

Ayrshire Bagpipes Nov 2020
Selcraft-UK—Piping-Press—Advert
---
To the contest…..as the crowd closes in on the arena there is an air of anticipation and solidarity from the supporters as the RSPBA take their first official opportunity to tell covid where to shove it!
First to cross the line are newcomers to the Grade 1, Closkelt. They carry a sound that showcases part of the reason why this band escalated through the grades. A clean, bright, well defined chanter sound, played with confidence, well worthy of Grade 1 status. Opening with a steady but cautious approach. The medley was relatively safe in terms of using tried and tested tunes and time signature medley structure. Slow air to strathspey this was a fairly, polished performance in terms of unison and execution. The transition from the strathspey to the open groove reel also highlighted drummers and pipers not quite yet in automatic sync. Some bottom hand slurring and cloudy execution here, with low As fluctuating at times. Snares pushing in the slow air and reel transition. However, a credible performance from a band with a great future.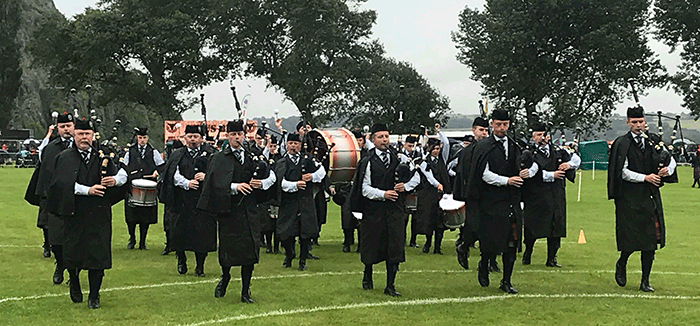 A hush of expectancy as Field Marshal Montgomery flattened the grass with the Rolls Royce sound that has become their hallmark. An interesting and refreshing change in tune format, selecting to open with a traditional 2/4 march, Edinburgh City Police Pipe Band, delivered in a more upbeat and flowing style. This is almost reminiscent of a Scottish dance band feel, with just the right amount of pedal harmony that really strengthens the melody. The overall ensemble is cooking and proves that you shouldn't try to be too clever with rhythmic idioms and harmonies to achieve maximum listener engagement. All potentially winning medleys offer a frisson of excitement to the listener, and this was no exception. A subtle change of mood reflected in the slow air as they then entered waltz idiom with precision. The open groove reels showcasing the class of musicianship within the ranks was a class apart. The drum section's uplifting support in the second half of this new medley in terms of ensemble, is par excellence! A clever and gentle reprise of the slow air. The musical fix we have been waiting two and a half years for. Drone sound not truly locked to the tonic or quite as hypnotic as we have heard them before.
It was time for Peoples Ford Boghall and Bathgate to unveil their music for 2022. The opener delivered an impressive uptake, swinging with great unison and execution. Jigs played on the edge – dangerous but great if you can pull it off. Random harmony in jigs? Lovely harmony in slow air! Strathspeys delivered in strong authentic idiom with a cool transition into reel. Drones not holding and losing a touch of harmonic accuracy. Another musical reprise. This was very entertaining and could perhaps stand another round of pruning out harmonies here and there to make it even stronger.
St Lawrence O Toole, from Eire have a very distinctive musical pedigree and musical style. Opting to play the Music of Spey was an inspired choice, very musical. Initial impact was strong and certainly delivered a medley structure that was original. The syncopated and stacatto style may be a tad overcooked. Slow Air displaying fine harmony and military style percussion to great effect. The Cameronian Rant, in initial Strathspey idiom, is not as authentically strong in rhythmic presentation, conflicting pulsation from various sections. This classic tune with a makeover of lots of clever rhythmic trickery, becomes weaker musically, with a danger of listeners losing interest.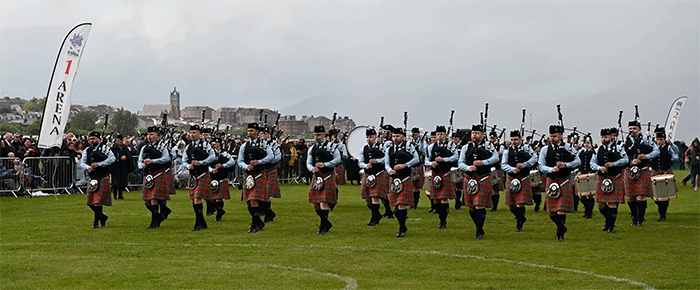 Shotts and Dykehead Caledonia started with a well-tuned sound. The rhythmic style of the opener is totally homogenised rhythmically. Strathspey idiom is strong, but I find lapsing in and out of jig idiom musically distracting. This passage eventually transcends into a somewhat pedestrian jig idiom. Slow air very good but morphs into an overworked transition. It's as if the transitions take priority and are more important than the music. Drones are drifting in second half of performance. The Little Cascade, an iconic tune, becomes transient and quite ordinary in this format. Unison issues on harmony timing and balance and could do with some editing.
Scottish Power: Opener is confident but slightly rushed. The melody quickly gets drenched in random harmonies. The rhythmical support in this band is delivering a consistent and slick contribution to the music. The customised style and group unison has matured without losing any of the integrity in the piping and drumming execution. The greatest dynamic range displayed from any drum section so far. The Lament for Mary MacLeod is delivered with great emotive style. Drones drifting during strathspey, but well executed. Cool transition to a set of reels, that is very engaging with a haunting reprise of Mary MacLeod. A well written arrangement, culminating in a great climax in rhythmical precision, balanced harmony and execution. Performance spoiled by drifting chanter notes (especially D) causing searching and blowing fluctuation.
Johnstone: Fairly recent newcomers to the Grade 1 arena. Starting with another 'marchpipe' that's well played in terms of unison and execution but lacking in melodic distinction. More contrasting key changes would strengthen musical effect. Not for the first time today we hear harmonies overcooked but, thankfully this time, escaping nicely into a melodic slow air. Strathspey playing very competent. Snare drums seem slightly choked, losing some richness. Reels bringing a stronger level of execution but maybe too staccato in style and arrangement. Nevertheless, a strong performance showing their intention to stay in the grade.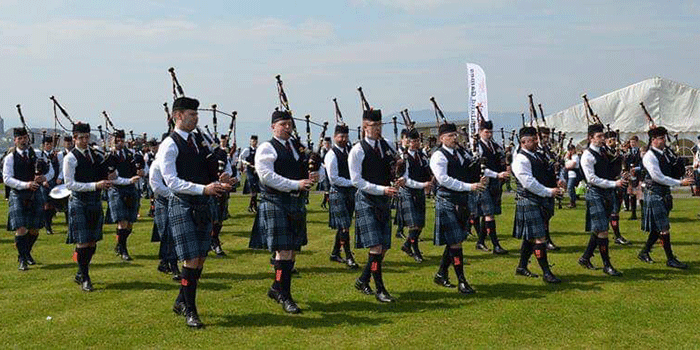 Police Scotland Fife: A new Pipe Major taking over a top band will gather various opinions as to whether the band will maintain its status. I have to say I don't hear any deterioration in performance level as they deliver a robust Ladies from Hell, as an opener. In fact, I detect the start of a slight change in musical direction which might just be the ingredient to move this band up a few notches. The stellar strathspey playing in true authentic dance idiom deserves an honourable mention, despite of a couple of questionable triple runs. Open groove reels showcasing great ensemble dynamic support from this drum section. Classy touches from nicely tuned and carefully voiced bass and tenor drums. Ensemble effect fully flowered and very tasty in the final passages. For me this performance was the big surprise of the day!
Inveraray and District: The opening 'marchpipe' is well executed but not as potent as the cut and snap trademark style of this Argyllshire band. Percussion appears to be tracking the melody rather than supporting the forward motion. Jigs all too quickly drowning in harmonies, losing musical clarity. Slow air has some unison issues between pipes and drums. Transition into the strathspey left me unsure. Reel idiom in final phase highlights conflicting rhythmic content, with drums competing with pipes for centre stage.

Overcrowded arrangements becoming monotonous for the listener. It's the bands that can play at this level with a strong musical identity that inevitably stand out from the pack. Leaving plenty of space for the style of punctuation and poise is an essential element for strong musical presentation. Today's musical shortfalls were made up for by top drawer execution and finger dexterity. I am not sure that this medley is the finished article but it cannot be denied this band is a musical tour de force that will make the judges take notice.
Police Scotland and Federation: A confident execution and robust pipe sound as they marched into the circle. Not the most memorable melody but technically executed with tonal definition despite that shortfall. At times the rhythmic style and frantic pulsation was controlling the performers, rather than the other way round. The Rakes of Kildare was a welcomed melodic offering. The tunes are not the easiest to play at these tempos and that is being well illustrated as the style and composure dilutes. Slow air highlighting chanter intervals drifting and drones unlocking. Overall, this needs refining, more control and more distinctive melody to engage the listener. Today the percussion sounds tonally dull and harsh to the pipe sound and compared to other performances in the grade.
Result: 1 Inveraray 2 FMM 3 SLOT 4 Fife Police 5 Shotts 6 Boghall; Drums: Inveraray.
Next time: The growth of the pipe band and the future of the Medley.