The headline news from last month was the announcement by the Dublin-based St Laurence O'Toole Pipe Band that Terry Tully, a member of the band since 1973 and their pipe major from 1984 until 2013, had retired from both the band and competitive piping in Grade 1.
While he had handed over the role of pipe major to his son Alen in 2013, he had continued to play with the band making his last appearance with them at the 2019 World Pipe Band Championships. Sadly further appearances were restricted due to the Covid 19 pandemic.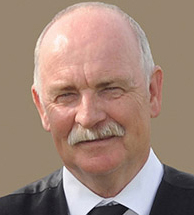 Terry became pipe major of the band following the death of his father Tommy Tully in 1984 and he steered them from Grade 2 into Grade 1 by 1988. Many regular competition goers will recall these days and the many visits that the band made to compete at our local contests and the musicality that they displayed.
Under Terry's leadership, and having been bolstered by the addition of Drum Sergeant Stephen Creighton in 1999, the band went from strength to strength in Grade 1 over the years and finally won their first Grade 1 major championships in 2008 at Dumbarton (Scottish) and Birmingham (British).
That upward trajectory continued and in 2010, on the occasion of the band's Centenary, Terry joined the list of Grade 1 World Championship winning pipe majors firmly cementing his place in pipe band history.
Their success was universally welcomed and nowhere more so than in Northern Ireland, particularly as the band included a sizeable group of pipers and drummers from this region. 
Terry is also an accomplished solo performer winning three All Ireland titles in 1990, 1994 and 1996 as well as two Ulster titles in 1989 and 1993.
He is also widely known for his compositions such as the Pumpkin's Fancy, Eric Stein, Hamilton's Nutsack and Tommy Tully's Air which have become classics – and not forgetting my favourite, 'Ass in the Graveyard.
He is famed for his adaptation of traditional Irish tunes for the Highland pipes and he has published five books featuring his compositions and arrangements.
He has been a regular teacher at many summer schools all over the world, passing on his knowledge and skill. This is something that he enjoys and plans to continue to do. 
Commenting on his career and retirement, Terry said: 'The band, and pipe band scene, has given me so much. I would like to thank all those who played in the band during the time I was a member and pipe major, and all the bandsmen and women I met along the way on the field.
What a double act! Terry with son Alen and the Worlds trophy

Two legends….Donald MacPherson and Terry at the College of Piping in 2006

Trophies never far away with Terry T in charge

SLOT under Terry in the 1990s

Terry leading the band in 1992

On to the field at the Worlds 2013

No slouch at the solos…All Ireland and Ulster Champion
'SLOT's supporters and my supporters in Ireland, Scotland and further afield, also have my thanks, as do all those who have sent best wishes on my retirement. I wish Alen, Stephen and band members current and future all the best and I will be there to cheer you along in the future.' 
Pipe Major Alen Tully, Terry's son, said: "'It's been a privilege to have dad play in the ranks and supporting me since his retirement in 2013. His encouragement and help behind the scenes have been invaluable and for that I am truly grateful.
'Not many people get to win majors and a World's title under their father, and for me to have him in the ranks winning majors with me leading the band were very special times.
'While dad won't be a playing member of the band anymore, I know he will be there to help us with the set-up on the day and will still play a vital role in our success in the future.'
Terry's contribution to pipe bands in Ireland has been immense and he stands shoulder to shoulder with those 'Irish piping legends' Pipe Majors Paddy Solan, Willie Wood, Tim Keogh, Tommy Geddis, Frank Andrews, Nat Russell and Richard Parkes.
Gilbert's 'News from Across the Water' continues later this week.