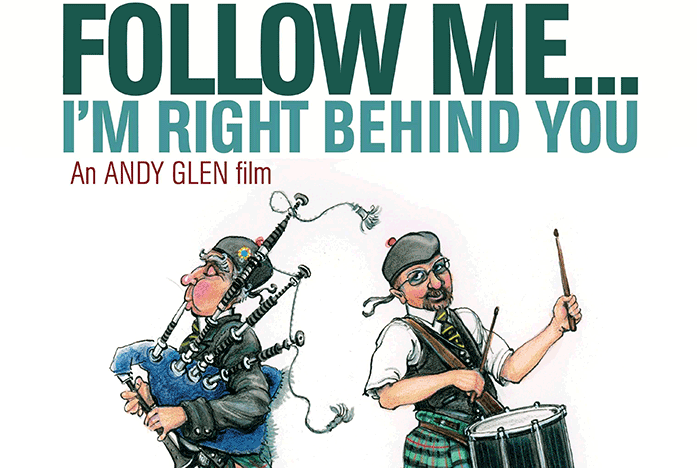 I released a DVD some years ago (title above) about some beginner bagpipe players from around Europe coming together to enter the World Pipe Band Championship. It's a great tale and the film received some acclaim at the time. I've now decided to make it available to everyone online.
Following the maxim that 'the best way of learning is doing', piping tutor P/M Barry Donaldson enters a band of beginners for the 2010 Worlds.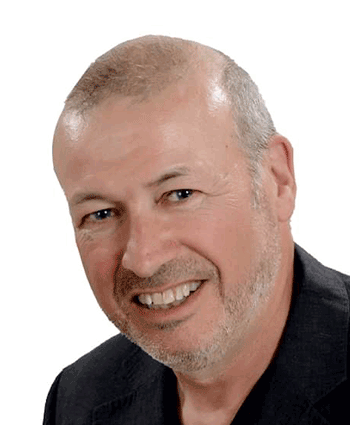 By Andy Glen
With the emphasis on participation rather than competition, there are no auditions and little rehearsal for the pipers and drummers who converge on Glasgow from all over Europe to join up with the College of Piping's 'Training and Development' band. They are all eager to perform on piping's biggest stage.
But not all are aware of the band's lowly ambitions and basic standard. Stand by for two days of mayhem and mutiny as they battle the elements and themselves in a quest to make it to the 'trigger'.
The drama aside, the film is a goldmine of information and tips for the aspiring piper or drummer, and a great introduction to the world of competitive pipe bands.
Here is the trailer:

The YouTube 'Premiere' is a live online event where people worldwide can watch at exactly same time wherever they are in the world. They can also 'chat' using text in a chat room running along in parallel. So those viewers interested watch it at the same time as other interested viewers. There is an element of real time interaction between viewers.
The 'Premiere' is at 11 December at 11pm GMT (https://youtu.be/T5W-90_36ds). The time of 11pm GMT means it is noon in Auckland, NZ, 10am Sunday morning in Sydney, Australia, 7am Sunday in Western Australia, 7pm Saturday in Nova Scotia, 6pm (EST) in the US, 3pm Saturday (PST) in Vancouver.
Hopefully we will have viewers from throughout the pipe band world. Anyone who misses the premier can watch later on YouTube.
My background: I'm a filmmaker and composer. I was born in London but over the last 30 years became increasingly drawn to Scotland to the point that I 'upped sticks' and moved to Ayrshire two years ago.
Born into a filmmaking family (my father, John Glen, directed James Bond movies), and being a musician, I naturally gravitated towards film music, taking the role of 'music editor', a creative and technical trouble-shooter for the music on, so far, well over a hundred feature and prestige TV films or series.
---
[wds id="2″]
---
I remain active in filmmaking and have just returned from 10 weeks in Prague shooting 'Chevalier', a film about 18th century composer, virtuoso violinist and world-class fencer Joseph Bologna, Chevalier de St George.
It was as music editor on the film 'Loch Ness' starring Ted Danson that I began to be interested in Scottish music and it was about that time I met my Glaswegian future wife, Fiona. Her father, Bill, proudly showed me a set of pipes he'd inherited which had been used to lead troops into battle during World War 1. These were complete with a perfectly carved groove in the bell of the chanter created by a spinning bullet from a German gun, thus explaining a scar on his grandfather's cheek.
Over the years Bill started to play the pipes, though it seemed to me he rarely got beyond trying to get them in tune. So, when in about May 2009 he announced that he and the other beginner pipers in his class were entering the World Championship, my creative juices started to boil.
Someone HAD to film this! I should point out that at this stage I had no knowledge of the grading system and so was anticipating with relish the moment when Bill and his mates stumbled into the main arena in full view of the BBC cameras to take on the likes of Shotts and Dykehead!
With such a short lead time before the 'World's' I couldn't raise any interest with the main TV channels, so I found a couple of aspiring film makers based in Glasgow who offered their time cheaply and managed to borrow some decent cameras and some sound equipment.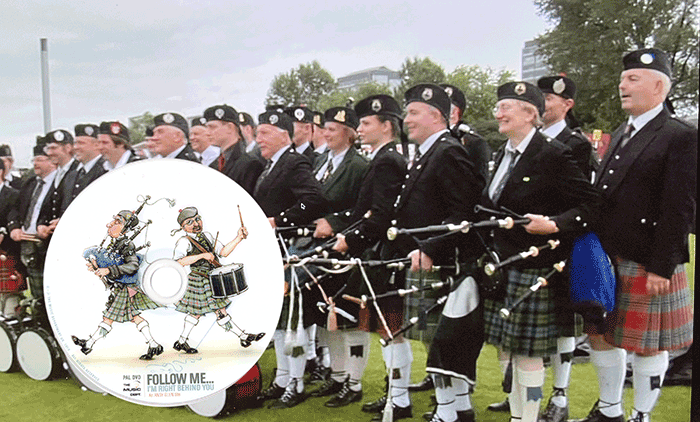 I gained the necessary permissions and press accreditation from Glasgow City Council and the RSPBA in order to attend the event. 'Just stay away from the Grade 1 bands,' I was told. But the most important permission was from the College of Piping themselves who were very generous with the access I was allowed. I thought this was brave of the College Principal as he didn't know me and there was every chance that he might not be delighted with the result.
When I got to Glasgow Green on the big day, I had little idea of the drama that was to unfold. Indeed, the approach over the two days of filming was to film everything that happened and then make sense of it in editing. In hindsight I was so lucky to capture certain key moments, the significance of which were not apparent at the time.
And now over 10 years on, I remain very proud of the film not only because of the humour and drama it captured, but because I feel it has a lot of heart and is a worthy tribute to a brave idea and to the massive enthusiasm, dedication and warmth of the players and teachers involved.
---
GREAT BOOKS, GREAT XMAS STOCKING FILLERS…..