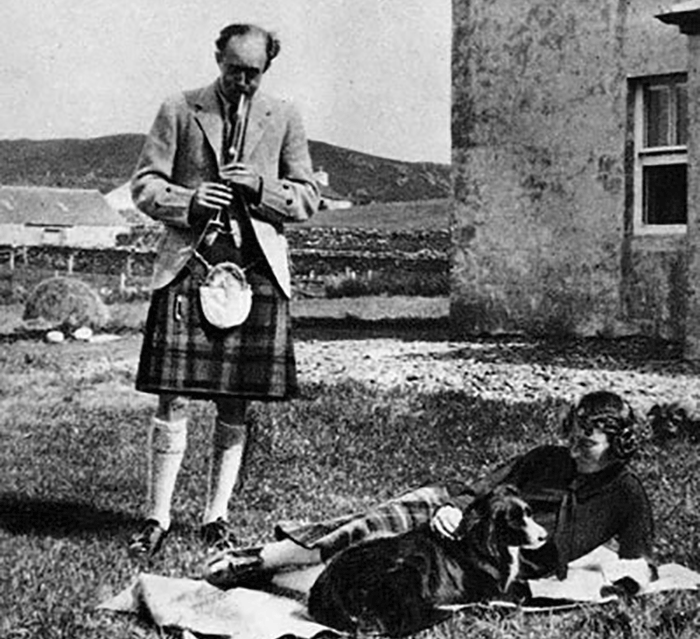 The featured letter, a copy of which Donald held in his papers, is from Seton Gordon and is dated January 5, 1973. It was to Col. John McEwing, a piping enthusiast in the US and the man responsivble for so much good work in the Pacific North West. He was the original director of the Coeur d'Alene Piping School in Idaho where taught such luminaries as James Campbell, Kilberry, RG Hardie, Andrew Wright, our editor Robert Wallace, John MacAskill and Jimmy McGregor. Seton Gordon was the famous piping judge, writer and naturalist. A friend of royalty, he was a prominent piping figure and wrote on the bagpipe for The Times newspaper. The above photograph shows him playing the practice chanter at his home at Duntuilm, Skye.
Your welcome letter has taken almost two months to reach me. I do hope that we may meet at the Northern Meeting next September

I realize from your feeling description of your meeting [with]John Mac Donald that you and I have a strong link. He was, in the finest sense of the term, a Great Man. I was his pupil for eight years and all our meetings were happy ones.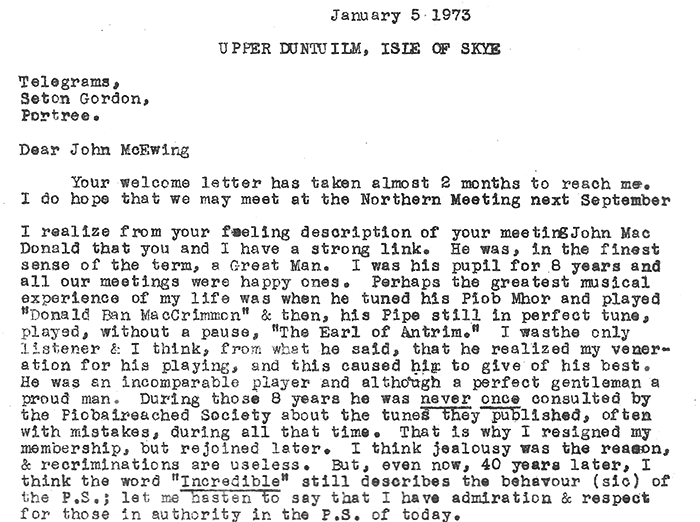 Perhaps the greatest musical experience of my life was when he tuned his Piob Mhor and played 'Donald Ban MacCrimmon' and then, his pipe still in perfect tune, played, without a pause, 'The Earl of Antrim'.
I was the only listener and I think, from what be said, that he realized my veneration for his playing, and this caused him to give of his best. He was an incomparable player and although a perfect gentleman a proud man.
[Added later]: 'Donald Duaghal MacKay' was perhaps John MacDonald's masterpiece; another he excelled in was the 'Salute on the Birth of Rory Mor', which is now played too slowly.
---
[wds id="2″]
---
During those eight years he was never once consulted by the Piobaireached Society about the tunes they published, often with mistakes, during all that time. That is why I resigned my membership, but rejoined later. I think jealousy was the reason and recriminations are useless.
But, even now, 40 years later, I think tbe word 'incredible' still describes the behaviour of the P.S; let me hasten to say that I have admiration & respect for those in authority in the P.S. of today.

You say that you would like me to write a book, or at least an essay, on pipers and piping. I have sometimes thought of this, and indeed I think I really ought to, for the sake of a record for posterity. But it would not be easy, because there are so few GREAT pipers.
I suppose I could not go back beyond, say 1910 – and for me, from 1910 to the time he stopped playing the Piob Mhor (although he continued playing the 'Feadan', or Chanter, till later) there was only one great piper and that was J McD.
I had great respect Bob Reid too. His great that tune was 'Greeting of Morag' which in its English form, as you will know, is not translated correctly. He could play this tune with greater feeling than anyone.
Willie Ross never went through the mill in ceòl mòr. He was supreme in his playing of ceòl beag..
Young Calum MacPherson I once put equal first with John MacDonald at the Kylesku Games about 1925. And both of them playing different tunes were at their best. I still think I was right – Angus MacPherson [Invershin] was talking about this only last autumn.
---