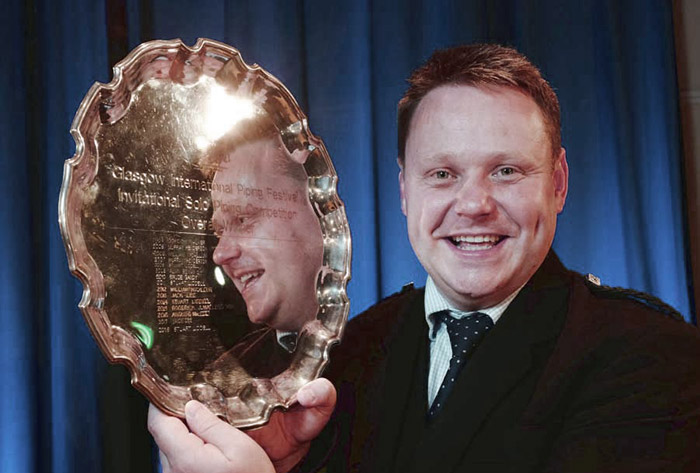 Seventeen pipers toook part in the 'Masters' piping competition held yesterday at the National Piping Centre as part of Piping Live! The winner earns an invite to the Glenfiddich competition on October 30 in Blair Castle.
The 'Masters' competition is open to Gold Medallists and winners of 'A' grade light music events at Oban and Inverness.
Callum Beaumont, from Bo'ness and the piping instructor at Dollar Academy, was the overall winner on a piobaireachd preference after a tie with Craig Sutherland, winner of the MSR. Callum is pictured above with the winners' trophy.
His winning tune was the Lament for the Earl of Antrim – appropriate given that this was the day when the 9th Earl was laid to rest in his family's ancestral plot in Northern Ireland.
The funeral of Alexander McDonnell (86), Earl of Antrim, took place within the Glenarm Castle estate.
In the piobaireachd, two of the prize-winning tunes were modern compositions of Captain John MacLellan.
There was a live, but limited, audience in the main auditorium at the Piping Centre.
Results:
Ceòl Mòr:
1 Callum Beaumont, Lament for the Earl of Antrim
2 Iain Speirs, Scarce of Fishing
3 Glenn Brown, Farewell to the Queen's Ferry
4 Angus MacColl, Phantom Piper of the Corrieyairack
Judges: P Henderson, C MacLellan; 15 competed.
March, Strathspey & Reel:
1 Craig Sutherland, Dugald MacColl's Farewell to France, Lady Loudon, Lochcarron
2 Stuart Liddell, Bonnie Anne, John Roy Stewart, John Morrison, Assynt House
3 Finlay Johnston, John MacColl's March to Kilbowie Cottage, Cabar Feidh, Smith of Chilliechassie
4 Angus D. MacColl, David Ross of Rosehall, Ewe wi' the Crookit Horn, Alick C. MacGregor
Judges: S Samson, J Wilson; 17 competed.
---
[wds id="2″]