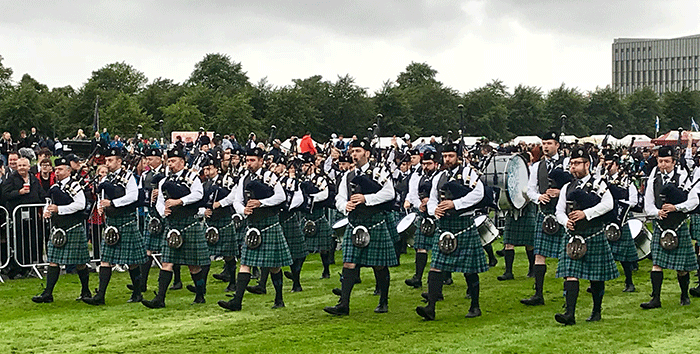 All of our bagpipe and Highland supplies companies are needing business right now. First year pandemic they got by; this year is proving much more difficult. The phone's not ringing the way it used to, the mail is drying up.
Furlough money (UK government support) is being reduced and staff lay-offs are a possibility for some. Everyone in the piping community should help if they can by ordering that new set of pipes, chanter or whatever.
We must keep the bagpipe industry afloat. The leading manufacturers all advertise with Piping Press. Their products are second to none. If you are thinkng about a purchase spend it wisely and well – with them.
---
[wds id="2″]
---
I hear bands in our state schools are also facing hard times with a decline in the number of kids who want to learn pipes and drums.
To be honest, I expected this. With no trips, no parades, no contests, children have found other ways to tax their imagination.
The Scottish Executive should issue a circular right now extolling the virtues of the national music. What a pity if the £7m for music teaching they announced two weeks ago all went on glockenspiel and guitars.
---
Cheerier news: Inveraray & District (pictured at the Worlds, top) held a practice up in their home town last weekend. Not sure how many attended, but that's got to be something positive. Calling all P/Ms: if it's good enough for the World Champions it's good enough for you.
Get the troops rallied. Okay I know there's nothing concrete to aim at, but just having a blow and meeting colleagues in the flesh should be incentive enough.
In the far north east I'm told that Grade 2 Buchan Peterson were out among the kipper boxes last weekend as well, sounding really good on parade and cheering everyone up.
Piping, and pipe band authorities in particular, have not done enough to keep interest alive. Individuals need to take command and show what can be done.
---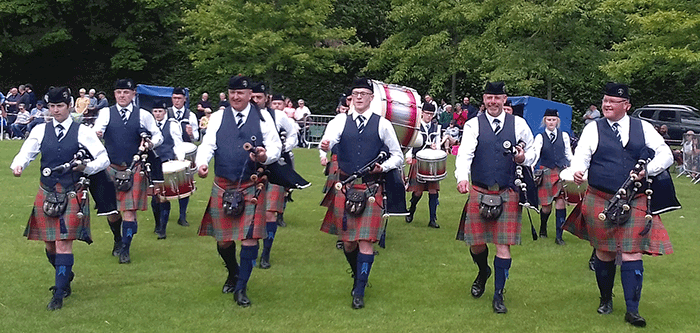 In that vein, well done to the RSPBA Northern Ireland branch who will be staging a pipe band festival in Antrim Castle Gardens on Saturday, 7th August.
There will be tickets for 1,000 people with the money all going to charity. That's how to do it. Would that we had a similar on Glasgow Green or elsewhere in Scotland. Antrim Gardens tickets can be booked online here.
---
Scotland's private school bands seem to have done better than state during this taxing period. Parents shelling out large sums for wee Johnny's education are right to demand that his piping or drumming tuition remains on tap just like his other subjects.
The upshot is that when things return next year, hopefully, the dominance of the private bands over the state will only increase. Not what I call 'levelling-up'.
---

The weekend papers reported that our Highland games were optimistic that they would recover in time to put on a show next summer. Lonach and Braemar were both mentioned. People who booked for 2020 would now be coming in 2022.
These are bigger games with a traditional and aristocratic following. No shortage of money. It's the smaller games I am concerned about. I hope I am wrong, but I believe some will go under or offer a reduced number of events with the solo piping board the first to be axed. I can foresee more following Crieff in relying on a duty band and the piper for dancers to provide the aural atmosphere visitors expect.
---
Noted young piper Finlay Cameron has written a tune for a former bandmate at Dollar Academy. It's a jig called Cameron McCall's 21st.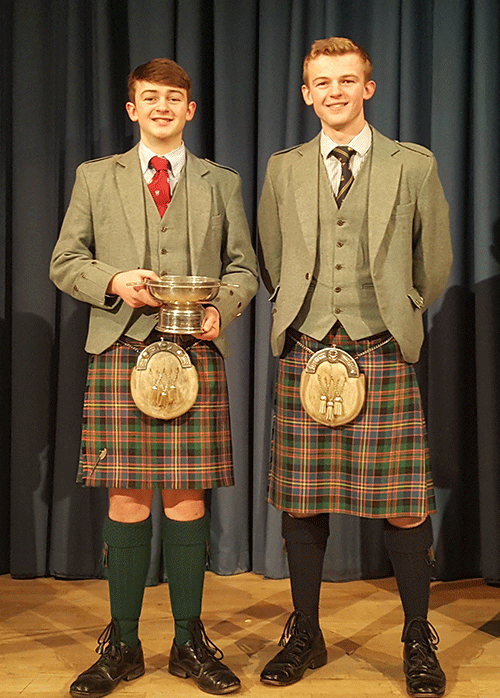 Here's another Dollar boy, Ruiriadh Brown, playing it:
---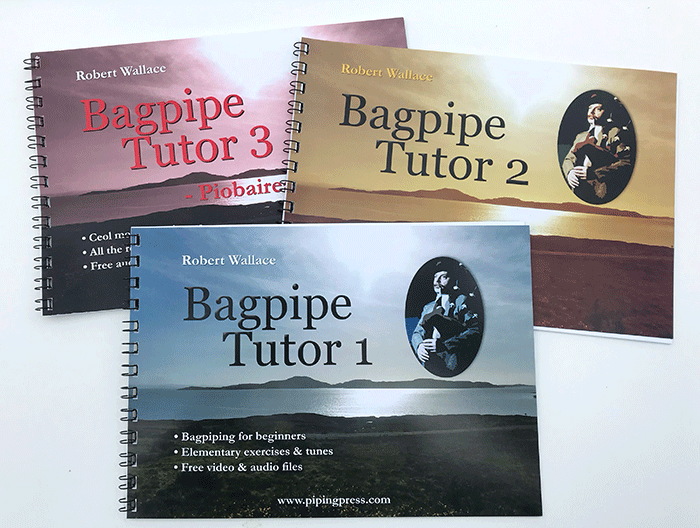 Books
The best written piping tutor books in the world are available from the Piping Press Shop. They cover all aspects of light music and piobaireachd. The only way to start a piping career!
If it's new music you are after check out the 'Boys Brigade Collection' by John Shone, or what about Niall Matheson's superb digital book 'The Fyrish Collection'? And don't forget Robert Wallace's acclaimed 'Glasgow Collection' with tunes such as the Detroit Highlanders, Mrs John MacColl, the Barlinnie Highlander, Granny MacLeod and many, many more.