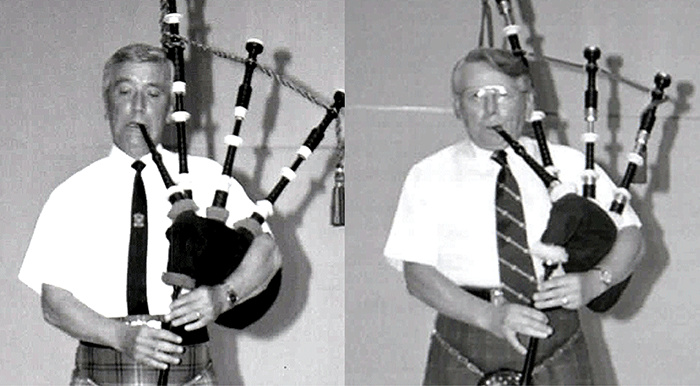 It was touching to read and study the photographs in Avi Bloomenstiel's piece last week, featuring, as it did, two of the greats of piping we have lost in the past few months, Jimmy McIntosh and Iain Morrison.
I spoke to Jimmy shortly before he died and later received an email from him regarding Iain's passing: 'My health and head are catching up with me. I saw you had a recording of Iain winning his medal at Inverness with the Lament for the Viscount of Dundee. I was runner-up that day with Tulloch Ard.
'Iain and I have been penpals for years and today I received our usual Xmas card. It was quite a shock to receive it in the mail just days after his passing
'I am sending you a copy of it to let you see what Iain has gone through. As you know Iain, like myself, was a young Cameron [Highlander] and we have kept I touch. I had Iain teach with me and he was an excellent teacher and very popular with the students. It was a sad day when he died and I regret losing another friend and penpal.'
The contents of the card are too personal to publish but Iain talks of his illness and the hard time he has had in and out of hospital. He concludes: 'I will be glad to see the end of 2020. Hope all is well with you. Wishing you, Joyce and Cameron all the best for 2021. Slainte, Flora and Iain.' Within a few weeks of receiving it Jimmy had passed away too.
---
I hope this lockdown and all the restriction have not crushed piping's spirit. As we said yesterday, we must keep going till we get through this. Piping Live! is still set to go ahead as are Oban and Inverness.
We will have some sort of activity from the RSPBA. Hopefully Glenfiddich can do what they did last year in October. Maybe the Mod will be okay – and London.
If the Scottish Government had offered insurance guarantees to our Highland Games I am sure a lot of them would still be on roster too, particularly those in August and September.
---
Following the passing of Ronnie Elmslie, Tom Johnstone has been in touch. Tom writes: 'I was saddened to hear about Ronnie. He played in Muirheads at the same time as I did.

'I seem to remember that his father dabbled in buying and selling second-hand pipes at that time, 1969/70, and a good silver and ivory set could be picked up for £60 at the auctions.
'The attached photo was taken in 1970 at the Mod at Oban, Ronnie is on the left, then myself, Les Hutt and Donald McBride. Sorry, but I don't have the names of the others.'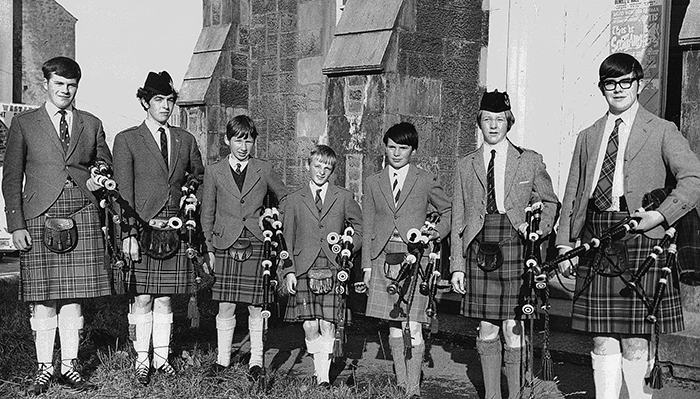 ---
I enjoyed the 'Winter Storm at Home' video now out on YouTube, perfectly strung together by MC Ken Eller. A nice tribute from Callum Beaumont who has written and plays a tune for his first teacher Bert Smith from Bo'ness. Well done Callum. Check out the video here:
Bert was a real lad o' pairts. He played with the BP Grangemouth band and Muirheads and then took to teaching. He attended the College of Piping and was a regular at the Veterans on a Friday. He and his wife Ella were always the life and soul of any party. Watching the success of his two pupils Callum and his brother James brought him immense satisfaction.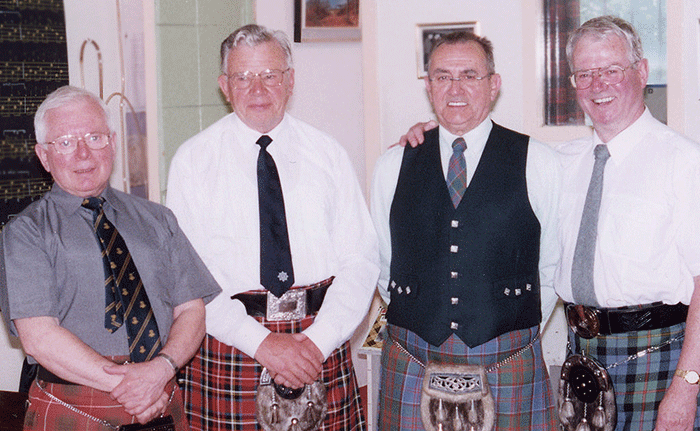 ---
Highland Games 1989

Skye Gathering
Dunvegan Medal 1 Gavinn Stoddart, Lament for MacSwan of Roaig 2 Gordon Walker, Lament for the Children 3 Chris Terry, South Africa, Lament for Donald Duaghal MacKay 4 P/M Alasdair Gillies, Lament for Mary MacLeod
Clasp: 1 Mike Cusack USA 2 Gavin Stoddart 3 Murray Henderson
Aberfeldy
Piob 1 James Hood 2 Arthur Gillies 3 Jack Taylor
March: 1 Mary-Ann MacKinnon 2 Arthur Gillies 3 Michael Elder
S&R: 1 Wilson Brown 2 Arthur Gillies 3 Mary-Ann MacKinnon
Nairn
Piob 1 Roy Gunn, NZ 2 John Cameron, 3 Graham Marr
March: 1 Graham Marr 2 Michael Grey 3 James MacKay/ Stuart Samson
S&R: 1 James Stout 2 Stuart Samson 3 Graham Marr
Cowal
Piob 1 Jonathan Gillespie 2 Michael Grey, Ontario 3 Bruce Woodley USA 4 Colin Drummond
March: 1 Gordon Walker 2 Seumas Coyne 3 Bruce Gandy 4 Barry Donaldson
S&R: 1 Michael Grey, Ontario 2 Bruce Gandy 3 Barry Donaldson 4 Bruce Woodley