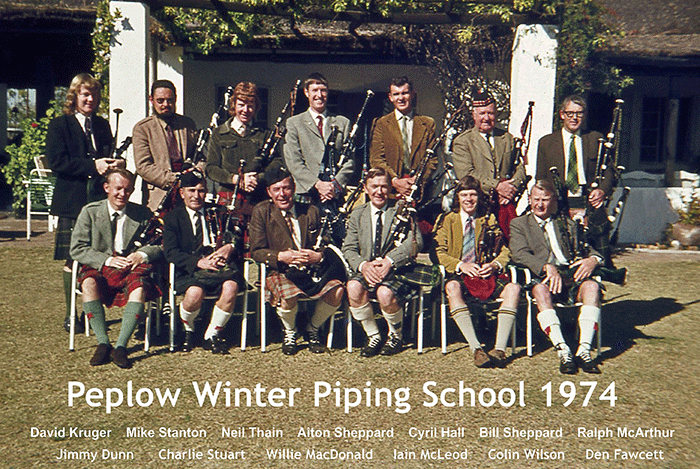 County Durham-based piper Neil Thain has kindly forwarded this article on a piping school held in the then Rhodesia in 1974 and conducted by William MacDonald, Inverness. Mr Thain has a collection of recordings of piobaireachd he made of Willie during the school and it is hope these can be made available via the Piobaireachd Society's archive in due course.
Fifty years ago Rhodesia was a small country in Southern Africa with a surprisingly active and growing pipe band community. There were three Highland Gatherings held each year, two in Salisbury and one in Bulawayo. Solo contests ranged from Novice up to Open Piping and Drumming, and although there were not many pipe bands in the country, the few we had worked hard to deliver their best in the group events.
In 1974, it had been a major scoop for the Piping Society of Rhodesia to persuade none other than the renowned Willie MacDonald of Inverness to fly out to be Senior Judge at our annual Highland Gathering in Salisbury.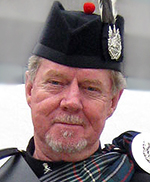 By Neil Thain
This contest year had started surprisingly well for a young 21-year-old Rhodesian piper, who seemingly pleased this judge enough on the day to win the Open contest – and that despite playing Massacre of Glencoe to a MacDonald!
Following the gathering, a Winter Piping School had been arranged for a small group to attend at Peplow Country Inn, a tiny retreat near Rusape, this from 16 to 20 July. This very picturesque setting, known for its seclusion and serenity, was about to ring for four solid days to the sound of the pipes.
I was fortunate to join the school and I was allowed to use a basic cassette recorder to capture some of the sessions. Those four C90 tapes are getting on a bit now, but have survived the years pretty well.
One by one, pipers of varying playing skills had their individual sessions with Willie, and, usually in the late afternoon, he would select a few tunes to play for us in the grounds near the swimming pool.
Whilst the senior players may have had limited knowledge of some piobaireachd, this was soon broadened as Willie slowly played his way through a seemingly never ending selection of 58 tunes.
---
---
I had just started work with the local television station in September the previous year, as a keen audio operator and sound recordist. Willie had given me permission to take the cassette recorder along to the piping school – as long as it did not intrude upon the sessions.
Wille was having a great time enjoying the fine winter weather we were blessed with that week, and was soon lost in his music and playing one tune after the other to the group who could not hear enough from him. The little recorder worked hard, and as a result I still have four precious cassettes of his world-class playing that have survived the years amazingly well.
Here is a recording of the ground of Lady Anapool's Lament:
Looking at the photograph below, sitting just in front of me in the group is my tutor, Charles D. Stuart, who was a boy piper in the Argyll and Sutherland Highlanders, and served in Burma during World War ll.
Charlie lived in my home town of Bulawayo, and was the tutor of Northlea School Pipe Band, the top performing junior band in Southern Africa.
Under Charlie's tuition, I joined the band in 1966 when it was unbeatable, even playing 6-part MSRs in Junior Pipe Band contests! Charlie was an excellent tutor, band master and player, whose long-term goal it was to teach a piper well enough to beat him in an open contest!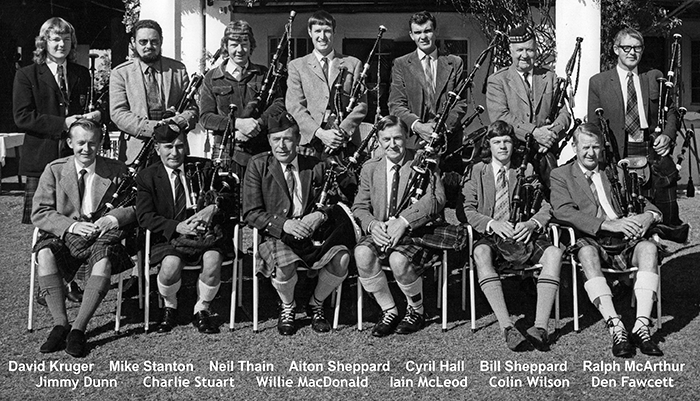 Back to the recordings. Those who knew Willie will be interested to hear his voice as he sums up the teaching weekend before the assembled students. The recording quality is poor I'm afraid but if you listen closely you can make out what he is saying:
The total list of my recordings is as follows:
Cassette 1a
Catherine's Lament, ground & var.1- goose
The Glen Is Mine, ground & var.1 – goose
The Clan MacNab's Salute, ground – goose
The King's Taxes, to taor. doub. – goose
Glen is Mine, complete – goose
The Bicker, to taor. – pipes
Massacre of Glencoe, to taor. – pipes
Cassette 1b
Massacre of Glencoe, complete – pipes
MacCrimmon's Sweetheart, complete – pipes
The MacFarlanes' Gathering, complete – pipes
Catherine's Lament, complete – pipes
Cassette 2a
Colin Roy Mac Kenzie's Lament, line 2 only – pipes
Duncan Mac Rae of Kintail's Lament, no thumb var. – pipes
Glengarry's Lament, complete – pipes
Mackintosh's Lament, complete – pipes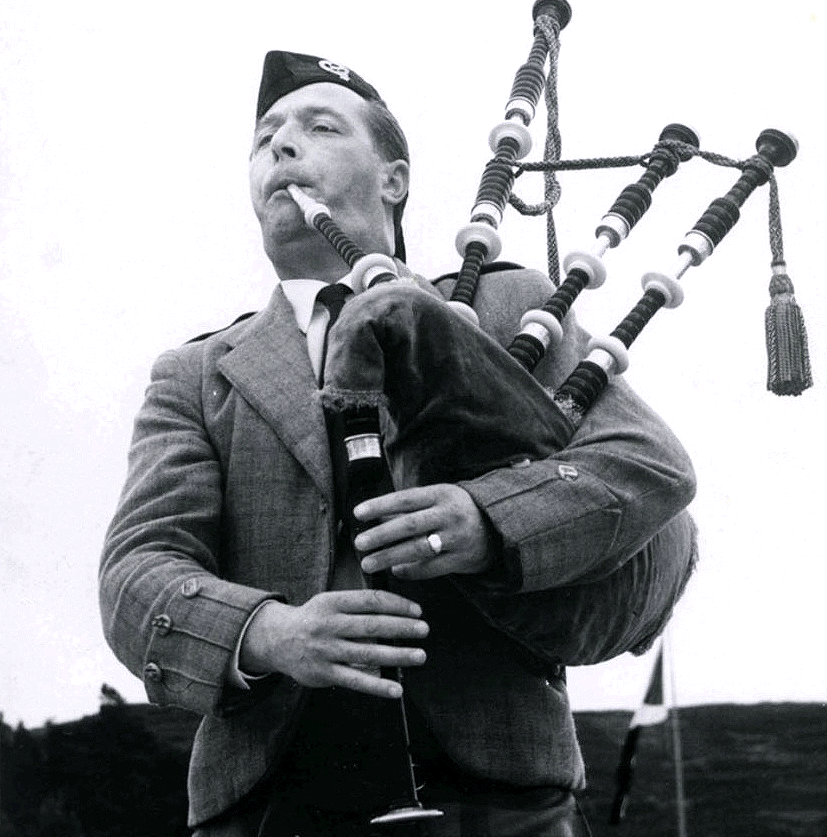 Cassette 2b
Lament for the Children, var. 2 into taor. – pipes
The Little Spree, complete – pipes
Lament for the Only Son, to var.2 – pipes
The Old Woman's Lullaby, complete – pipes
Mary's Praise, to var. 4 – pipes
Earl of Seaforth's Salute, to taor. doub. – pipes
Cassette 3a
Lament for the Little Supper, to taorl. – pipes
Lady Anapool's Lament, ground – pipes
The MacLeods' Salute, taor./crun. shortened – pipes
The Blue Ribbon, to var. 4 – pipes
Lament for Alasdair Dearg McDonnel of Glengarry, complete – pipes
Lament for Donald of Laggan, complete – pipes
The Big Spree, to var. 2 – pipes
Ronald MacDonald of Morar's Lament, to taor. – pipes
Willie MacDonald, Inverness, was a renowned player of piobaireachd, winning both Gold Medals in the same year, 1955 (Oban, The Vaunting, Inverness, Lament for Patrick Og). He was a pupil of John MacDonald, Inverness. As well as being a renowned piper, he was also, in his younger day, a top shinty player. A piper in the Cameron Highlanders, he was incarcerated after St Valery during WW2. Towards the end of his life he produced a collection of pipe music and a number of recordings of his playing were published posthumously. Willie died in 2002.
---