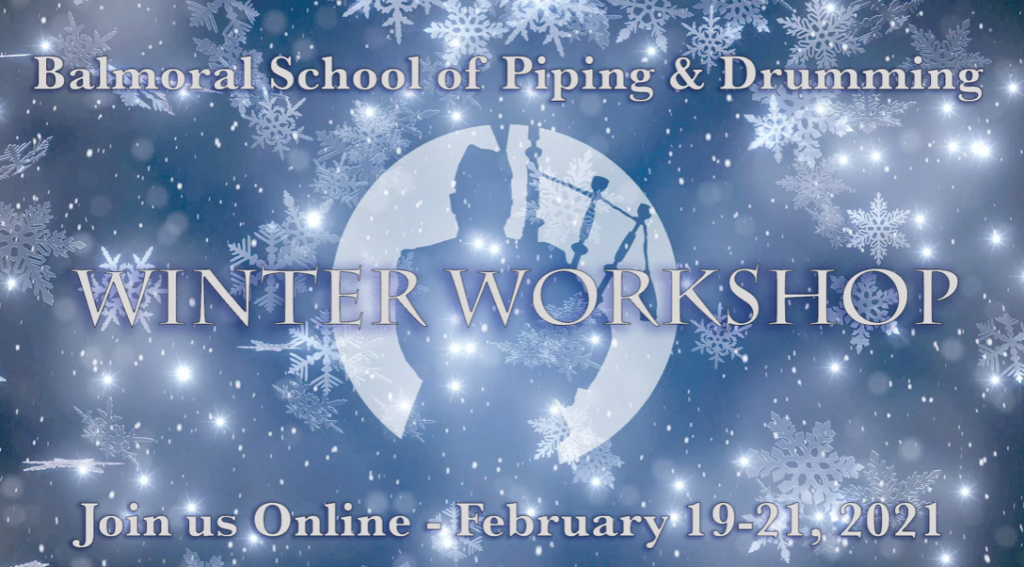 The US's Balmoral School of Piping and Drumming is offering a weekend-long Winter Workshop for Pipers and Drummers, February 19-21, 2021, for a fee of $275USD. The promotional material reads: 'Students who refer new students to us will receive $50 off the price of the Workshop for every new student referred.
'Workshop attendees will receive instruction on the great Highland pipes, Scottish smallpipes, and Scottish snare drum. Our guest piping instructors, Andrew Carlisle, Robert Mathieson, Bruce Gandy and Gordon Bell, have all won major awards and have incomparable records of teaching and promoting pipe music around the world.
'A big part of the Balmoral experience is our community. Even in the days of social distancing, we plan to give our students the opportunity to network, as well as make friends who share a common interest in piping and drumming. Tech help available to those not familiar with Zoom.'
Here is Robert in action in the promo video:
Sign up for the course here.
Still wondering about that Christmas present to give to a piper? Why not let them decide for themselves by giving a Piobaireachd Society Gift Voucher?
Priced from £5 – £100, the vouchers are good for all products on the Society's web shop. £100 would buy almost half a set of PS books 1 -16, could be used towards their £300 Bound Volume, could buy one of their beautiful kilt pins, or essential reading material such as Seumas MacNeill's 'Piobaireachd – Classical Bagpipe Music' or the 'History and Structure of Ceòl Mòr' by Professor Alex Haddow.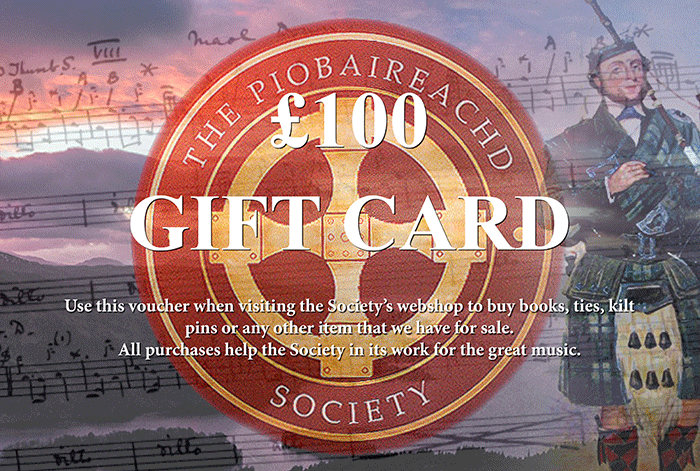 Get your vouchers here. The Piobaireachd Society, Patron Her Majesty The Queen, is a registered charity. All purchases in the PS Shop go directly into the charity's funds and are used to further its work for the music.
---
As you may have heard, I've decided to release my first book of bagpipe music, writes piper John Dew. This book, titled 'Pipe Tunes', contains over 80 brand new compositions.

Tomorrow, the 11th of December, I will host a live Facebook book launch at 7:30 pm featuring some of the world's finest young pipers: Austin Diepenhorst, Calum Brown, Zephan Knickel, Josh Chandler and Ross Miller. I'll be having a wee tune at the end as well!
I recently released my debut contemporary Folk/Celtic E.P. 'The High Bridge Walk' which has seen sales in the UK, Europe, the USA and Canada as well as getting several radio plays in these countries. Due to its success, I have had many people request sheet music and chord charts.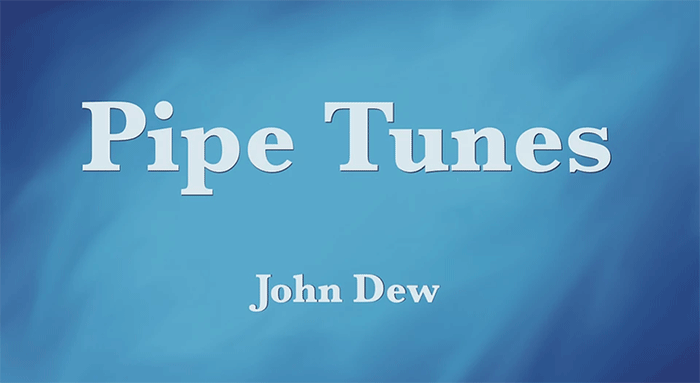 From this I have decided to publish a collection of contemporary bagpipe music. These works culminate several years of writing and the Foreward was written by three-time Glenfiddich Piping Champion, Stuart Liddell.
During lockdown I have been playing in online piping competitions, finishing my degree and continued writing music. I've been working to fuse music with string ensembles. This has resulted in a series of string quartets, preludes and music for a fused string/bagpipe ensembleincluding three pieces of ceol mor for mixed classical ensemble.

My tune, Connor's Debut, also in the book, was played by Inveraray and District Pipe Band after they were crowned World Pipe Band Champions in 2019, a piece proving to be very popular in the pipe band world:
The book also contains tunes, The Sesh Chest, Watch My Toe and The High Bridge Walk, from my debut CD 'The High Bridge Walk' which can be streamed here: The High Bridge Walk E.P. | John Dew (bandcamp.com)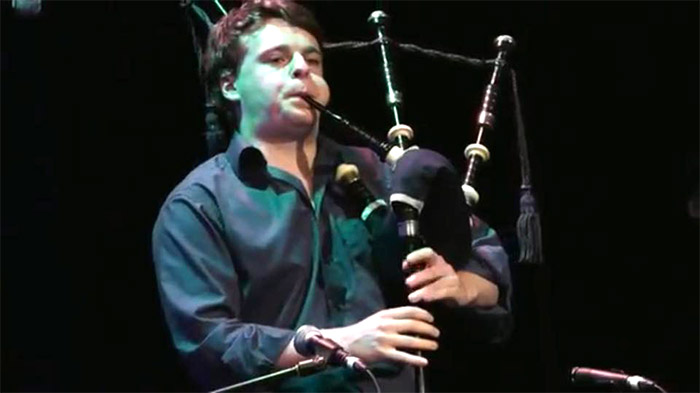 I'd like to think that some of the material in this book will hopefully be used in competitions, both solo and band, and some of the material is aimed more towards folk/contemporary piping styles. Hopefully, this will come across.

The book currently is priced at £19.50 as a 'Pre-Launch'. There will be a digital version available from the 14th of December as well. The book can be bought here.