In these testing times a little bit of normal is all any of us want. Recently, in Dunedin, Florida, that's just what happened. The Dunedin Celtic Music & Craft Beer Festival was held on November 21st at the city's Highlander Park.
Presented by the Dunedin Scottish Arts Foundation, this is an annual event centred around traditional and contemporary celtic music and both local and national craft beer and wine makers and their produce. It was a free admission event with free parking.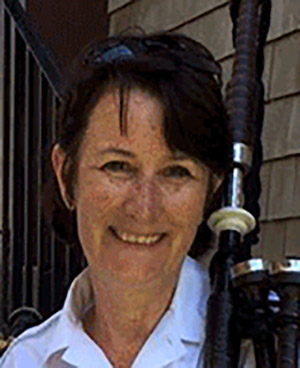 By Brigid Flannery
Face masks and social distancing were required and all events were held outdoors. There were vendors, bands, dancers, and an EUSPBA sanctioned solo piping and drumming competition. A big draw were the world famous Dunedin Pipe Band, winners of the 2018 World Pipe Band Championship in Glasgow in Grade 2 [pictured top]. The EUSPBA then upgraded the band to Grade 1 for the 2019 season. The quality was there for everyone to hear.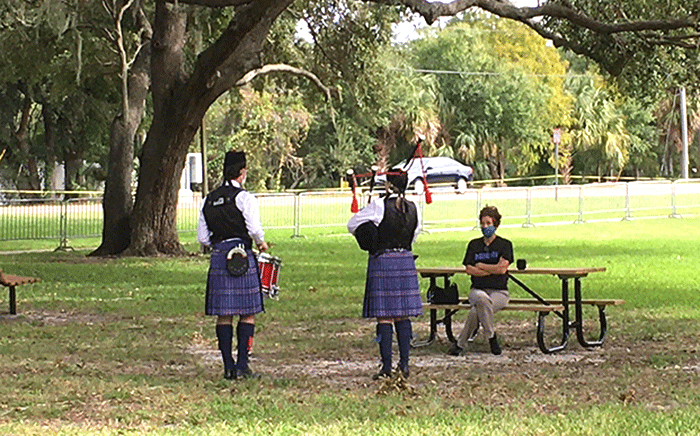 Three different levels of pipe band played to enthusiastic audiences. The organisers assured visitors of their efforts to keep the entire event reduced in size, with local celtic bands playing and plenty of room for social distancing. All payments were contactless and there were hand sanitizer stations throughout the park.
Distanced gathering areas where families could safely enjoy themselves were marked out on the field with white Xs ten feet apart.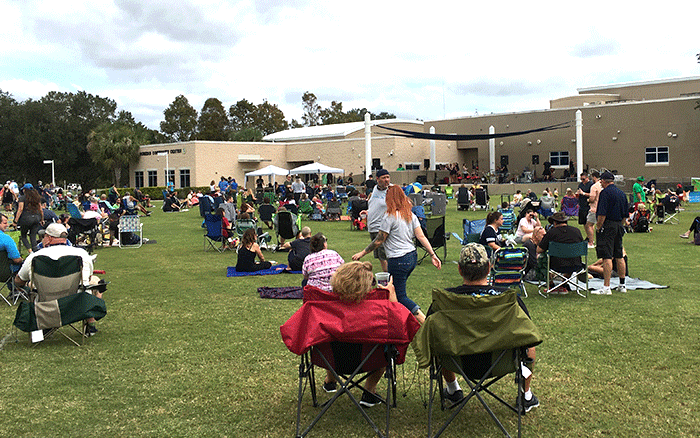 Entries for the solo competitions, part of the Dunedin Celtic Festival, were small in number and there was a virtual contest going on concurrently with the in-person event. Here are the events:
Piping: Grade 1, 2, or 3 – 2/4 March, Strathspey/Reel; Grade 4 – 2/4 March (4 parts); Grade 5 – 2/4, 3/4, 4/4 March (2 parts)

Snare Drumming: Grade 1 or 2 – Hornpipe/Jig, MSR; Grade 3 – 2/4 March, Strathspey/Reel; Grade 4 – 2/4 March (4 parts); Grade 5 – 2/4, 3/4, 4/4 March (2 parts); Bass/Tenor: Novice Bass/Tenor – March; Amateur Bass/Tenor – MSR
Virtual competitions have been a positive way to keep piping and drumming alive through these difficult times. But, for myself, there is nothing like being there in person trying to play your very best followed by a helpful and positive chat with the judge. This energy and atmosphere on the day, and a chance to listen to fellow piping and drumming competitors, is the reason I love the games.
As of September 25th, Gov. Ron DeSantis announced Florida would be entering Phase 3 in normalizing the state, meaning restaurants, bars, salons, and other businesses would be allowed to reopen under full capacity.
The state of Florida has no travel restrictions in place. Community-wide mass gatherings, more than 250 people, are allowed and the cut off threshold is at the discretion of local community leadership based on the current circumstances that community is currently facing – and the nature of the event.
Although the very idea of bars and indoor dining is not my choice, I felt comfortable with the precautions taken by the Dunedin festival organizers. The vast majority of staff, vendors, and visitors took the required precautions; they wore masks and distancing was observed.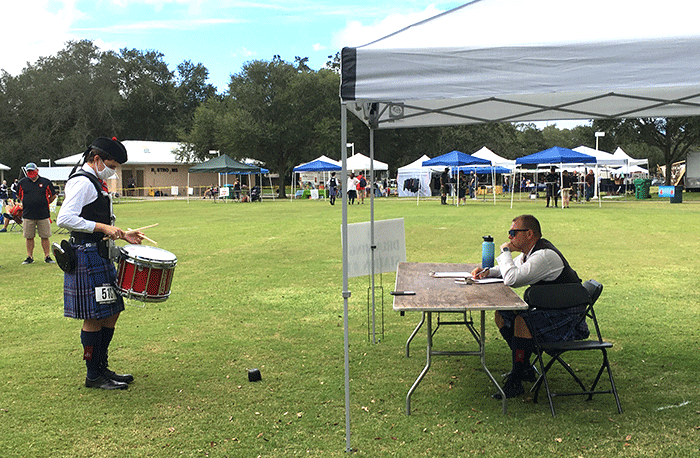 The idea of holding an outdoor event while keeping to strict covid precautions may be a sign of what Highland games will look like in summer 2021 both here and in Great Britain.
Along with these competitions, piping and drumming schools could also take place in Florida if they stick to the same safety rules we had at Dunedin. I am an attender at the Florida Pipe and Drum Academy and next year's event is set for February 21 – 26, 2021, in Jacksonville, FL. I sincerely hope this school can go ahead. There are top flight instructors offering the very best bagpiping and drumming tuition to pipers and drummers of whatever background, and at whatever level of ability.
I'm told a final decision will be made by mid-January so here's hoping. Anyway for now I say well done to the organisers at Dunedin and everyone who made this a safe and successful day out.