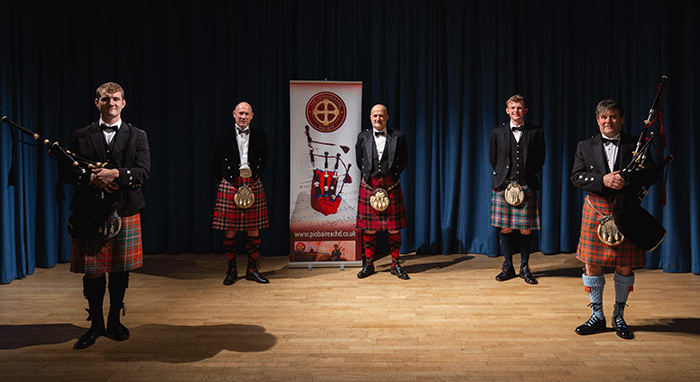 Last Sunday evening the Piobaireachd Society held a concert of ceòl mòr. It was broadcast live from the National Piping Centre in Glasgow and attracted a worldwide audience. The recital featured four pipers, Sandy Cameron, Angus MacColl, Cameron Macdougall and Iain Speirs playing eight tunes, MacDougall's Gathering, Struan Robertson's Salute, the Unjust Incarceration, Corryvreckan Lullaby, MacKenzie of Applecross's Salute, Lament for Donald of Laggan, End of the High Bridge and In Praise of Morag. The MC was our editor and PS President Robert Wallace. Here US piper Paul Eschenburg offers his thoughts on what was deemed a successful evening…
By Paul Gunn Eschenburg
Firstly, in this view from across the water, I must say 'thank you' to the Piobaireachd Society, the National Piping Centre, Bridge IV Films and everyone involved in the production last Sunday…it could not have been better.
Given the current dearth of piping events, I think I can speak for more than just myself in saying that you are all doing a mighty task to keep the piping world from coming to a complete halt during this pandemic.
I suppose, like many on this side of the Atlantic, the chance of getting to Scotland to attend a piobaireachd recital in November is slim to none – and that's in a healthy year. It is just too far for a one-off event. And we don't go for the weather. 
Thus, my pleasant surprise to find that this event would be livestreamed to the world for a mere £5.
Finally, the day came…computer ready, programme printed out, Piobaireachd Society books identified regarding tunes to be played but minus the elusive Correyvreckan Lullaby.
The time came and no recital. The countdown showed 1½ minutes past time. What had I done wrong? I quickly reloaded the page and I was back on but minus the introduction by Robert Wallace and the first four echo movements of MacDougall's Gathering. No worries, Iain will play the first line again in the finale.
What a great collection of pipers. I loved the age mix. All of us can see that the future of piobaireachd is safe with Sandy and Cameron. Angus and Iain need no further comment from me.
I liked the relaxed recital format, no judges, no tune up on stage. However, I didn't think any of these pipers approached this day with anything less than intense preparation. How else could they with their standards so high…'I don't want to miss a note lest Paul hears it over the water'…I didn't.
[wds id="18″]
Tune selection was interesting and pleasing, in particular having Cameron play Struan Robertson's Salute.  There had to be some young pipers in the audience that appreciated that familiar tune, though when Cameron played it it didn't sound much like a beginner's tune to me.
I admit that I had never heard of the Correyvreckan Lullaby, nor could I find it. I still don't have it, but at least I know where to start now. It is a nice tune.
Thank you for the half-time interview with Iain Speirs. These are always informative and insightful…born with a practice chanter in his hands! So there you have, my view from across the water. Thank you for keeping the piping light on around the world.
Members of the Piobaireachd Society will be able to access video recordings of the recital via the Society website in due course. Membership of the Society is open to all with an interest in this music. Click here to join. The next Piobaireachd Society event is the online 'Talk Piobaireachd' session with Jack Lee on December 16. Access is free to all members.
---