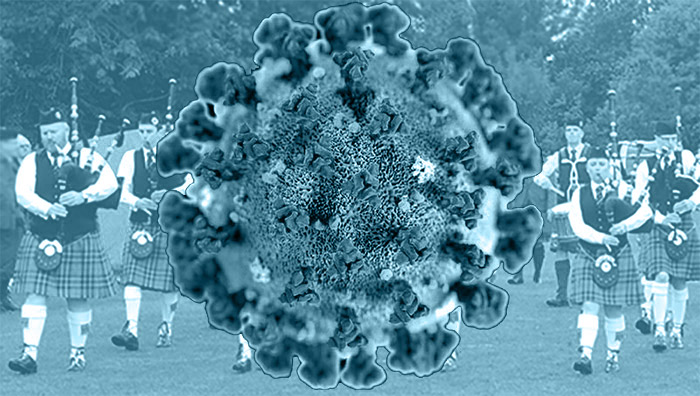 In the Old World we would all now be marching from Glasgow Green on to Cowal with soloists looking ahead to the late summer highlights of Oban, Inverness and the autumnal Glenfiddich with a bit of London thrown in. I'm sure that having read that your heart sank to know that 'there is life Jim, but not as we knew it', to mangle a phrase from Dr McCoy to his captain.
Regular readers will know me to be a glass half full sort of writer, half full is better than nothing and I'm always looking for the positive even after an early chanter or a dropped drum stick. However, the growing dark clouds over this part of the vineyard are beginning to give me a bit of concern for next year's season with fatalism setting in.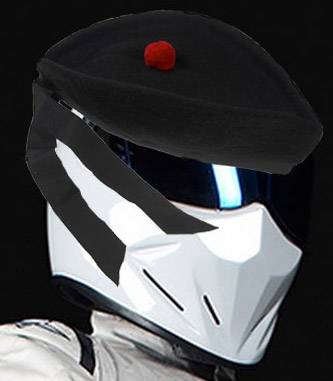 By MacStig
The scenario I'm about to paint later is not in the realm of unbelievable in its truest sense; bear with me dear readers and gird your loins….. The pandemic's economic ramifications have been running in parallel to the health crisis, not, as I think some leaders are assuming erroneously, in series. They believe the economy is something to be dealt with after fixing the pandemic. Actions have been taken, very costly actions, but the whirlwind yet to be reaped is understated for sure.
The initial UK approach was a lockdown to 'flatten the sombrero' as it was technically described by a scientist, the sombrero the graph of the peak demand on the NHS. It worked, hospitals coped and the overflow hospitals saw little impact.
I might have missed it, but strategy seems to have moved now and there are some trying to eradicate the disease without an adequate 'test, trace and track' system, never mind a vaccine. In the words of one smart person I read 'we are a kite dancing in a hurricane' without such things in place.
The lockdown, eased in part, and having frightened the blazes out of the general populace, there is no surprise that few have ventured forth from bunkers and houses, though there will never be enough admiration for the key workers getting on with it.
Not having eradicated the disease, and I fail to see how you can without shutting the country (properly) and having a vaccine, it will pop up from time to time and that is where we are right now. Whatever officaldom's new strategy may be, it is still paralysing our travel and tourism industry and this industry will face winter having had no real summer of income.
The high street, retailers, restaurants and associate businesses, is on its knees; theatre and live performance is on life support and basic utilties like public transport are failing due to lack of use. I suppose if governments of any hue and their advisers frighten the populace to paralytic proportions there should be no surprise that a reboot is similar to my old jalopy deciding if it can be bothered of damp autumnal morning.
The economic patient is on life support. Clever folks who know such things are predicting many millions of job losses, high unemployment and corporate failures. Heavens, we can't even be sure the school kids will go back for any length of time before local shut downs are enforced to deal with spikes and outbreaks.
Just as I replied to the wireless in the corner blasting out the pandemic noise, the local postie drove in and dropped off my mail – the Piping Press editor had replenished my supply of barley sugars with a request for a few words on the impending challenge facing the 2021 piping, pipe band and solo season.
(Yes, I had ignored his hand scrawled message in a bottle which had reached me the week before, but at that point I had done about a third of my 900-piece jigsaw of the Closkelt bass drum wolf and it needed all of my attention. Those Celtic designs and knots can get you all in a fankle unless you are absolutely homed in on what you are doing. It looks like a happy fox to me though. Discuss?)

This global pandemic is on a world tour and there's no stopping it. Those who know such things are concerned about a resurgence at the start of what is the traditional flu season in the northern hemisphere and the likely confusion as regular coughs and colds kick in. Just how can you tell if it is Covid or not without testing? We might very well be in the land of 'on and off' local lockdowns for the foreseeable future.
I read last week's plea from the RSPBA with interest and I simply can't see how any of the current rules can be interepreted to satisfy blowing instruments in meaningful groups of people gathered inside. Even if you tested every band member with a temperature check, they might still be infected but not showing symptoms. The instrument and its aerosol trajectory is also on the witness stand. 
Unless we drop the fear though, and adopt the President Franklin D Roosevelt line of 'we have nothing to fear but fear itself', I reckon this is an existential risk to the whole pipe band movement.
Small gatherings, online lessons, and work arounds can be found – but large scale bands marching over the whitewash to perform? Not a chance under current circumstances or in the foreseeable future. As the 2021 season is planned, prepared and defined in practice from autumn through winter, the time is fast approaching where lost time will impact on happenings next May.
So either we accept that there will be little prospect of a 2021 season or change our performance circumstances to cope with the situation we find ourselves in. Just hoping for the best is not a strategy. Some might not accept risk, but if we don't, there may not be much to go back to in what is being called the 'next normal'.
In Scotland we have localised lock downs like Aberdeen and say 20-30% of employees back in their regular place of work rather than at home. Northern Ireland, England and Wales are in the same general place with regional variations. The Republic of Ireland similarly placed with variation on a theme.
Our friends in the USA, who knows what will happen with escalating numbers, contradictory narratives and an election coming soon. Our Canadian cousins are dealing with their issues and in New Zealand there's a zero tolerance policy to get the disease gone from the islands. In Australia the reports are heartbreaking and they have pain. South Africa has its own issues and I reckon I have probably covered where most, if not all, of the pipe band hubs are globally. Hello to friends in Germany, Austria, Switzerland and Denmark too.
Without a vaccine it is impossible to see how any intermingling and gadding about will happen in the early parts of 2021 on the back of an expected second wave and regular flu season. On the vaccine development, again speaking with a learned fellow in the midst of it, even if there is a proper one discovered, and drug discovery is hard, laborious and long in the main, the sheer quantities required would be a gargantuan production need.
Add to that a very sobering chart I saw of the 1918-1919 Spanish flu pandemic and the waves (three) it had – although experts tell that the 1889-90 Russian flu was more akin to what we are seeing and came in a couple of waves. 
Against all of that you could shut shop and decide to avoid anything, but in reality is that what we should do? Something has changed with infection rates amongst different age groups picking up in Scotland again, but there are far fewer hospital admissions and even fewer deaths. The medics are amending treatment subtly and I understand that it is not all about ventilators. As they better understand the disease, mortality rates have fallen too. It is an infectious devil though and the vulnerable remain vulnerable. But not enough to stop the world, surely?
If we could prevent the Covidiots being selfish and flouting the rules we would be fine? Not so, because that isn't how it goes. A plan is needed for mitigating the risk and acknowledgement that life has risks – just as hiding under the bed will bring its own problems.
The human cost of lockdown isn't discussed nearly enough and it will come back to bite in due course: deprivation, job loss, poverty, the mental well being impact, and a whole host of other dominoes in the line beginning to fall, toppling others.
If we as a collective pipe band movement are waiting for any government to come along and wave a wand to solve our particular problems we are delusional. Those governments are busy with big stuff going on and, whilst we like to think we are the fabric of society, to them we are just a noise over there. In the setting that is Scotland the mainstream media barely follows our our bands unless it is as tabloid fodder, even though it is an activity worth millions of pounds in Worlds' Week.
The great Highland bagpipe is linked with clarinets and other blowing instruments right now and we should get some specific science underway, as alluded to in these very Piping Press pages. Otherwise I fear, there will be no 2021 season, a dwindling of the economic rationale, fewer new players being taught and a horrible, horrible, period in our history.
What level of risk will bands be prepared to accept within the rules? I'm genuinely interested and fearful that the whole movement will be a shadow of itself from both lack of practice and money. The top decile are teaching and tutoring, many in schools or with young groups, and that small proportion are the professional players who have made it their life work.
But the vast majority are hobbyists; many are very serious hobbyists and exemplary players, but it is not the day job. I fear younger players will have other easier things to pursue. Band sponsorships, such as they are, will be harder to come by as the economic reality hits. Event organisers and promoters will find it uneconomical to stage loss making events; vendors will either not be there or choose not to come (consider the hassle of buying a coffee from a vendor right now), never mind toilet facilities.
As we head into autumn and winter the idea of being outside will fail for reasons obvious. It's all very well standing outside the grocery store in a line patiently socially distanced, but in a few weeks time that will become unpalatable and online we will all go.
But online is not an option for bands. If we don't come up with something I fear we are all going to be looking for a new activity to do. Can we move the deck chairs, rearrange the pack, limit the crowd, put up screens and all of those things? Without some form of a new strategy from the administrators I repeat, I genuinely fear an existential risk to the very fabric of the pipe band movement.
With no gathering, teaching, practice in real time and being together, wherever that may be in the world, the clock is ticking and we should all be aware that this is the biggest test we have faced in recent memory. Over and out.
Like to comment? Please leave your thoughts below.
---