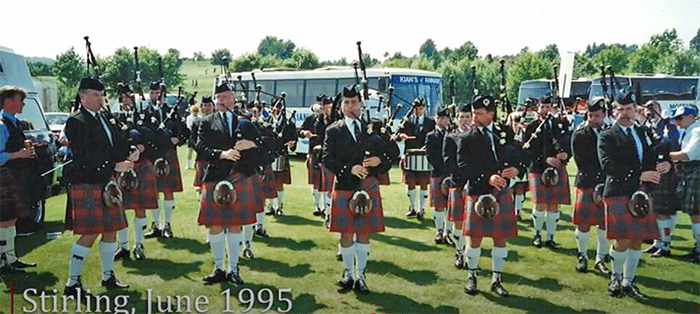 Simon Fraser University Pipe Band from British Columbia, Canada, have issued part one of a new documentary video marking their winning of the World Pipe Band Championship 25 years ago in 1995.
The video is professionally done and features interviews with the then Pipe Major Terry Lee, Pipe Sergeant Jack Lee, Leading Drummer Reid Maxwell and other leading band members who played that day.
It reveals how careful examination of the RSPBA rule book led to a better playing time for the band, which Terry believed was crucial in lifting the top title at that time.
It meant two trips to Scotland for the band, the first to secure a high position at an earlier championship and thus a late draw for the big one at the Worlds several weeks later. These rules have now changed. Catch the video here:
---
Piobaireachd Composing Contest
Voice of The Piping Hour radio show Steve Rooklidge dropped a note to remind PP readers of the piobaireachd composing contest sponsored by the Shasta Piping Society and Burley Bagpipe Company.
Steve: 'Entries are due by August 1, so no time to waste refining your efforts at ceòl mòr composition. Judges preparing to have a listen to all submissions this year are Bill Livingstone (Canada), Chris Terry (South Africa), Robert Wallace (UK), and our newest ready volunteer, Greg Wilson (NZ).
'I've attached a photo of my grandfather, Chester Rooklidge, who started the family trust that initially funded the sponsorship of the composing and prize pipe contests. He served in the North Atlantic in WW2 until transferred to the Mediterranean in 1943 and always spoke fondly of the professionalism and courage of the Scottish sailor.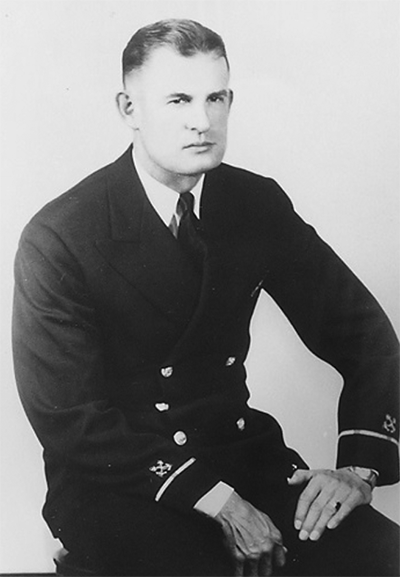 'Composers and those interested in the big music, please consider submitting your original works. Submissions must be accompanied by an audio file of the music played on practice chanter or pipe (not necessarily played by the composer) so the composer's intention can be clearly understood.  Deadline for entries is August 1st, and submission by email must be received by midnight PST to be considered.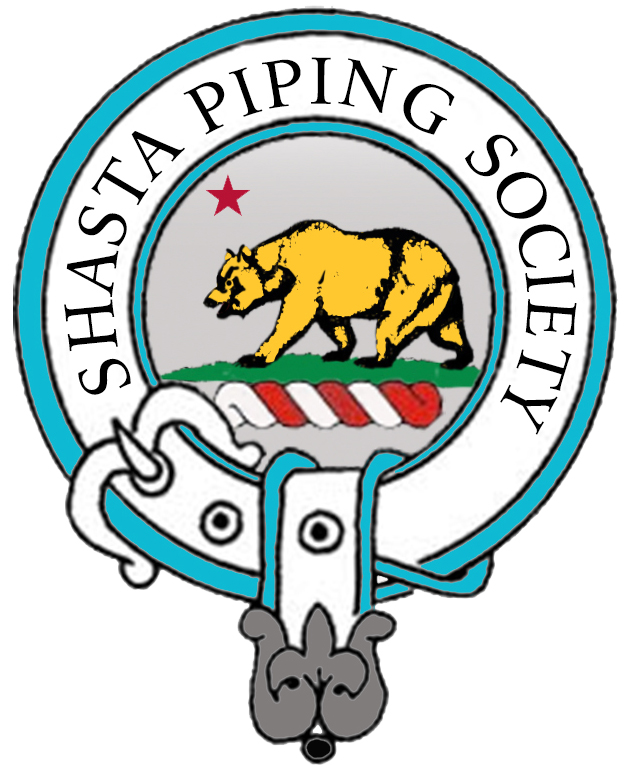 'Email address is shastapipingsociety@gmail.com. Prizes offered for the three works that rise to the top are £500/250/100. Previous winners include Jori Chisolm, Karen Warren, Ronald McShannon, Vincent Janoski, John Bottomley, David Mason, and others. Checkout PP Audio Archive to hear some of the winning tunes.
'The Shasta Piping Society started with the intention of forming a charitable trust but instead opted simply to gather a few friends together to try unusual ways of getting pipes into the hands of interested young students and to foster composition and playing of new piobaireachd music.
'Other philanthropic projects followed that include funding prize pipe awards for amateur competitions, donating to school bands needing instruments, hands-on projects such as blackwood conservation in Tanzania and construction of the new path to the Iolaire monument on the island of Lewis. To date, eight sets of renovated pipes have been awarded to young students in need of instruments.  
'These efforts now rely on the 10% sales profit of vintage pipes restored by Burley Bagpipe Company of British Columbia sold at the SPS webpage and other donations by family and friends of the cause.  Funds are not solicited or accepted from the public, and it is through the gracious assistance from tutors, scholarship recipients, and organizations like Piping Press and others that make all the difference.'
Catch Steve's radio show 'The Piping Hour' here.
---