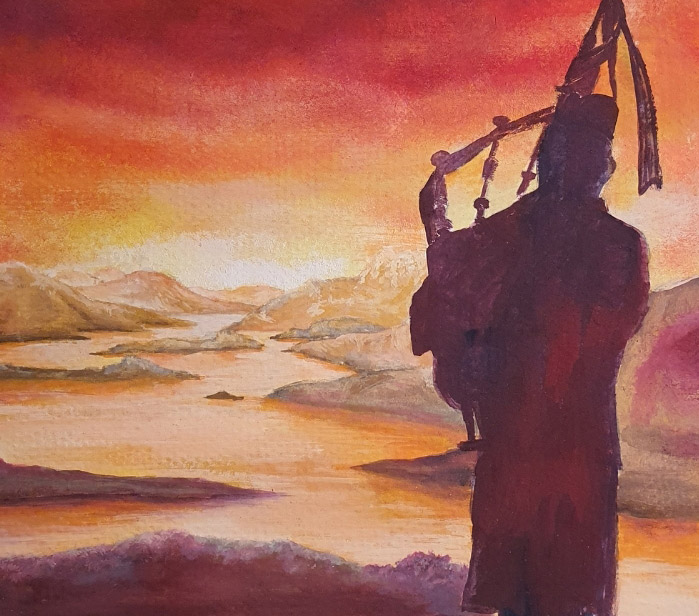 The PP Lockdown Challenge covers four areas of endeavour which we hope will stimulate readers' creative sensibilities during this protracted period of confinement viz:
Drawing or Painting anything with a piping or pipe band connection. Experienced artist and RSBA judge Robert Mathieson has kindly agreed to judge. P/M David Bruce is quick off the mark with this example of his work (above). David writes: 'Did this one over the last couple of days. It's Loch Lomond in the background, painted in gouache on watercolour paper. I really enjoyed getting back to painting. Hope you like it I've already started another one so I'll hopefully be back in touch soon.'

Writing: give us an essay of 1,000 words and MacStig will cast his tutored eye over it and select a winner from all entries.
Composing: a jig, hornpipe, 6/8, polka mazurka, slow air, anything but a piobaireachd or a 2/4 march (these are covered elsewhere).
Playing: post videos of a three minute selection (piping or drumming) on social media and send us the link. Juveniles only: 15 & Under/ 18 & Under.
Experts will award prizes in these last two. Drop me an email if you'd like to take part. Entries (to same address) to be with us whenever participants like but let's put a date cap on of April 30 for this round at least.
Band contests cancelled today:
4th July, Annan – Ayr, Dumfries and Galloway Branch
8th August, North Berwick – Lothian and Borders Branch
22nd August, Rothesay – Glasgow and West of Scotland Branch
Composer Dave Mason has sent this: 'I have finally put down my third book of bagpipe music which is available for free download, along with Books 1 and 2, at www.tummelyerwilkies.com. I trust you will have fun with the music and some of you might even see a name or a tune that you recognize!'
Readers will remember that Dave was the winner of our composing competition for John Cruickshank VC. He is an accomplished composer and on a quick look through there are some very good pieces of music in his latest book.
Definitely something to work with during this extra time at home we are all experiencing and good of him to make it available free of charge. Nice pic of Dave: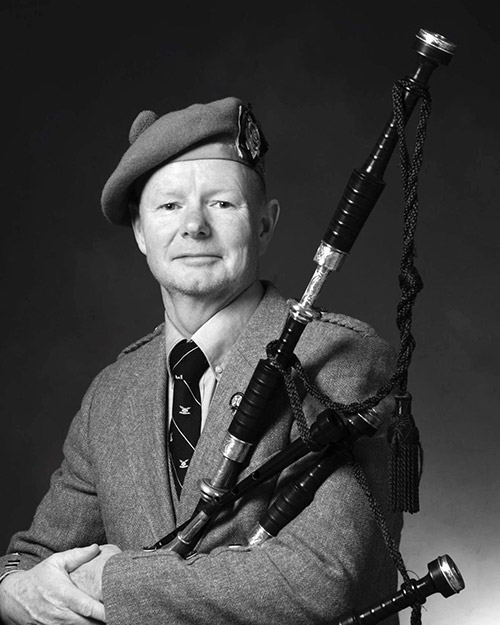 Any heathen wondering about the title 'Tummel yer Wilkies'? It means to go head over heels, a sort of Glaswegian foward roll done with a sense of bravado, not worrying about who might be in the way.
---
I've heard that Bob Worrall is no longer a member of the Music Committee of Ontario's Piping and Pipe Band Society. Bob has resigned after 30 years involvement.
Our mole says there have been clashes of personality within the committee and Bob has done the honourable thing in stepping down. More time for all your other stuff Bob. Thirty years is enough for anyone.
---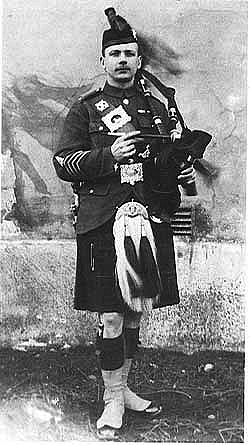 Reader Duncan MacLeod has kindly offered this in the search for relatives of P/M James Robertson, Banff (above): 'I may be able to offer a long shot. Perhaps you could pass this on. I was playing on a cold windy April morning for the departure of the first cruises of the year for the Majestic Line when one of the passengers requested I play P/M Robertson's tune Farewell to the Creeks.
'The woman approached me later to say that it had been written by her mother's cousin. She has since left a review on the Majestic Line website. Unfortunately I do not have any details for her, however possibly staff at the Majestic line could help. Their website with contact details is www.themajesticline.co.uk. A link to the review.'
It reads: 'From the piper who played my request on boarding (written by my late mum's cousin, P/M J Robertson back in 1915), to the high standard of the accommodation, attentive and efficient crew, fabulous cuisine…..thank you Majestic Line.'
Good confirmation of the date of the tune. As everyone knows The Creeks are a set of sea stacks off the north east coast of Scotland, the departing WW1 soldier wondering if he will ever see them again. Here's a slow, song version of the tune on smallpipes. I recorded it with the Whistlebinkies a few years back:

---
Reader George Barlow in NY: 'I enjoy reading PP daily and have come across something that readers may be able to help a Highland dress shop with. The House of Labhram, has just begun a new project. It has a web page entitled 'Vintage Pipers and Pipe band Gallery'. It needs help in identifying the bands and pipers posted.
'They will use any information provided to them providing that it can be checked and verified. This could take everyone's mind off of the pandemic. Here's the website – https://houseoflabhran.com/vintage-scottish-pipers-bagpipe-gallery '
---