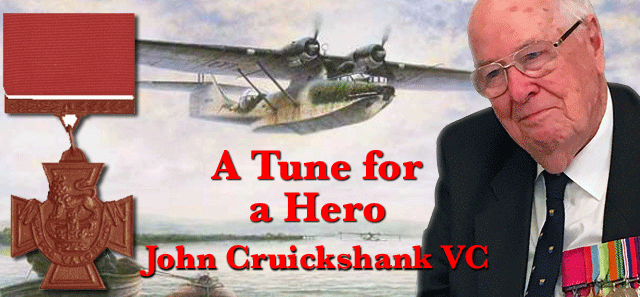 Mr Dave Mason, of South Africa and Cincinatti, USA, has been declared the winner of the composing competition for a tune to commemorate World War 2 flying hero John Cruickshank VC.
Mr Mason receives £1,000. The competition was for a suitable march to mark the life and valour of Mr Cruickshank VC of Aberdeen. Read more about his incredible bravery here.
The competiton was sponsored by the Royal Northern and University Club, Aberdeen, and Piping Press.
The judges were World Championship winning pipe majors Ian McLellan (Strathclyde Police), Stuart Liddell (Inveraray & District) and Richard Parkes (Field Marshal Montgomery), and Piping Press Editor Robert Wallace. Each gave freely of their time.
Forty-two entries were received from around the world and after much deliberation these were reduced to a final list of three.
Further consultation under anonymous cover, and Mr Mason's tune was selected as the winning tune.
---
[wds id="2″]
---
Originally there was only one prize, but such was the high standard of the other finalists that another sponsor, Clearwave IT Services, agreed to offer second and third prizes of £200 and £100.
These went to P/M Gordon Walker (2nd) and piper John Dew of Crieff, (3rd).
Copyright of all compositions remains with the author but it was a condition of entry that all winning tunes should be published on Piping Press. Here is a copy of the first placed tune: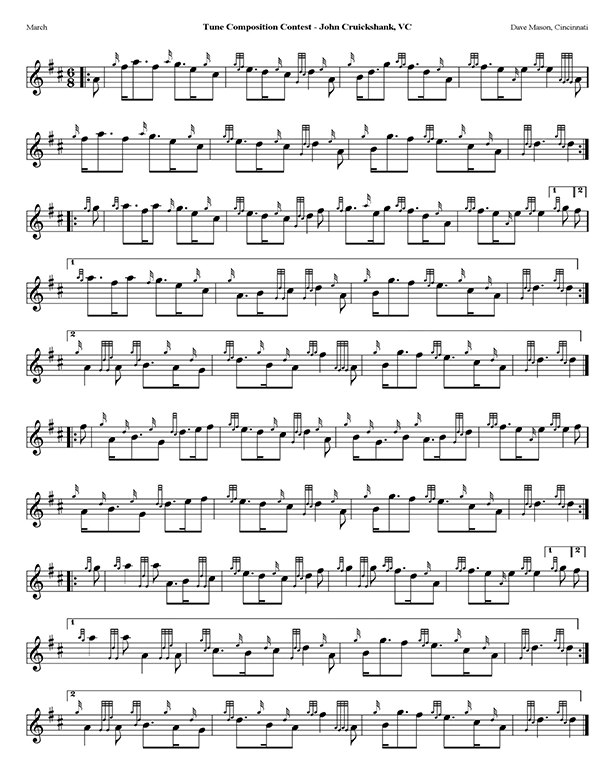 Here is a recording of Mr Mason playing his winning piece:
Prizes and a framed copy of the tune will be presented to Mr Cruickshank (98) at a special ceremony at the Royal Northern and University Club later in the year.
Of his success Mr Mason said: 'I am astounded, overwhelmed. I hope that the tune may become a regular parade tune commemorating this gentleman's bravery and sacrifice.'

He has also sent a short biography of his piping career to date: 'I learned to play the pipes at King Edward VII School in Johannesburg, South Africa, under Pipe Major Chris Mulinder, South African Irish Regiment.
'After two years as Pipe Major of the school band, I played for various senior bands in South Africa.
'I was also inspired to compete in solo events by many fine players in SA at that time, most notably Chris Terry from Grahamstown.
'I have previously won 'The 100 Guineas' solo piping event, Johannesburg, The Irish Piobaireachd Society Open 2000, Ligonier Highland Games Open Piobaireachd 2009 as well as prizes in light music.
'I moved to the UK in 1996 – initially playing with City of Newcastle Band. I won the Grade 3b World Championship in 1999 with Lord Edward's Own, Narraghmore, and did my Senior Piping Certificate and Tutor's Certificate at The College of Piping.
'In 2002, I won The Arthur Gurr Trophy for my air A Lament For Her Passing to commemorate the death of Her Majesty Queen Elizabeth, The Queen Mother, the contest sponsored by the Scottish Piping Society of London.
'Four of my tunes are included in Scots Guards Vol. 3 and I achieved second place in the 2017 Shasta Piobaireachd Competition for my tune Lament for Angus Macdonald of the Great Divide written for Angus Macdonald who emigrated to North America to work with the Hudson Bay Trading Company and married into the Nez Percé First Nations Tribe in what is, nowadays, Montana.
'I have written two volumes of bagpipe music, 'Tummle yer Wilkies' available for free download at https://sites.google.com/site/tummleyerwilkies/ .

'I currently live in Cincinnati, Ohio, with my wife, Michèle and daughter, Iona.'
It is hoped we can publish copies and recordings of the second and third placed tunes in due course.
---
[wds id="8″]