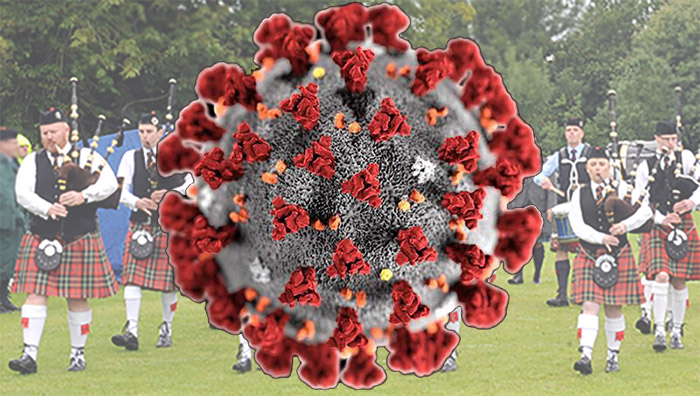 The British Pipe Band Championships, the first RSPBA major of the season, were cancelled today by the promoter Renfrewshire District Council in consultation with the RSPBA.
A spokesman for the council said that because of the Covid-19 pandemic they were cancelling all council events until the end of June 2020 and these included the championships. No further comment was made.
The British were due to be staged at St James Playing Field, Paisley, on May 23rd. RSPBA Chief Executive Ian Embelton: 'The Association has been in close consultation with the council and I am sure everyone will understand why we had to take this decision. The situation is outwith everyone's control.'
Piping Press understands that discussions are ongoing with the promoters of the UK Championships to be held at. Lurgan, Northern Ireland, on 13th June and the European Championships on 27th June at Inverness.
On Sunday our editor Robert Wallace suggested that the first three majors of the season be cancelled or postponed and with a question mark over the Scottish at Dumbarton. Read his article here.
Meanwhile Glasgow and West of Scotland Branch Committee: 'We have continually been monitoring the Coronavirus COVID-19 situation and discussing our duty of care towards band members, Association staff/stewards/adjudicators and the wider general public.
'With this in mind and the rapidly changing nature of the crisis, we regret to inform you that our indoor competition at Coatbridge High School on Saturday 21st March has been cancelled. All fees paid for entry will be refunded.'