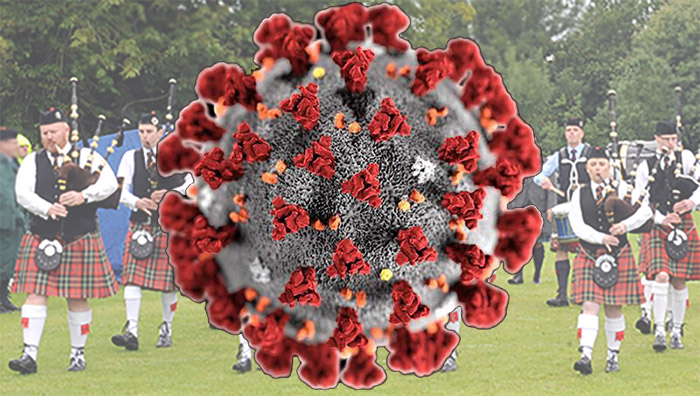 Logan Tannock, President of the Scottish Pipers' Association, has sent this: 'A Statement from the Scottish Pipers Association – In response to the current Coronavirus outbreak (COVID-19).
'It is with regret and after much discussion that the committee of the Scottish Pipers Association this afternoon made the decision to postpone both the Adult Amateur competition on Sunday March 29th and the Professional competitions on Saturday April 11th. The committee have also cancelled the club night on Friday April 3rd.
The committee will in the near future discuss alternative dates and will announce them in due course. The committee felt that in light of the coronovirus information being given at this time that we could not responsibly run these events.
Ayrshire Music Festival
Piping organiser Jon Gerard McGlumpha: 'Ayrshire Music Festival's Chanter & Piping Competition was held in Stanley Primary School, Ardrossan, last Saturday (March 14).

'The day was well attended and some excellent players went away with huge smiles on their faces.' Piping winners are pictured below.
Primary Chanter – March
1 Eilidh Dunwoodie, Stanley Primary School, Ardrossan
2 Kava Tatar, Stanley Primary School, Ardrossan
3 Emma Caddies, Stanley Primary School, Ardrossan
4 Leesa Dunwoodie, Stanley Primary School, Ardrossan
Primary Chanter – Slow Air
1 Jamie Noble, Stanley Primary School, Ardrossan
2 James Paul, Stanley Primary School, Ardrossan
3 Jack Denny, Stanley Primary School, Ardrossan
4 Emma Caddies, Stanley Primary School, Ardrossan
Secondary Chanter – March
1 Conal Rae, Greenwood Academy
2 Andrew Rogerson, Ardrossan Academy
3 Cameron Smith, Largs Academy
Secondary Chanter – Slow Air
1 Cameron Smith, Largs Academy
2 Andrew Rogerson, Ardrossan Academy
3 Charlie Reid, Carrick Academy
4 Kiera Gallagher, Greenwood Academy

Junior Piping – Slow Air
1 Andrew Pattison, Marr College
2 Zak Currie, Garnock Academy
Junior Piping – March
1 Andrew Pattison, Marr College
2 Ewan Johnstone, Kilmarnock Academy
3 Mason Morrison, Kincaidston School
Senior Piping – MSR
1 Daniel Nicol, Belmont Academy
2 MacKenzie Smith, Kilmarnock Academy
3 Kyle Wallis, Kilmarnock Academy
Senior Piping – Open Jig
1 Andrew Pattison, Marr College
2 Daniel Nicol, Belmont Academy
3 Tia McLanaghan, Carrick Academy
Primary School Chanter Champions: Stanley Park
Secondary School Piping Champions: Kilmarnock Academy
Overall Senior Piper Champion: Daniel Nicol
---