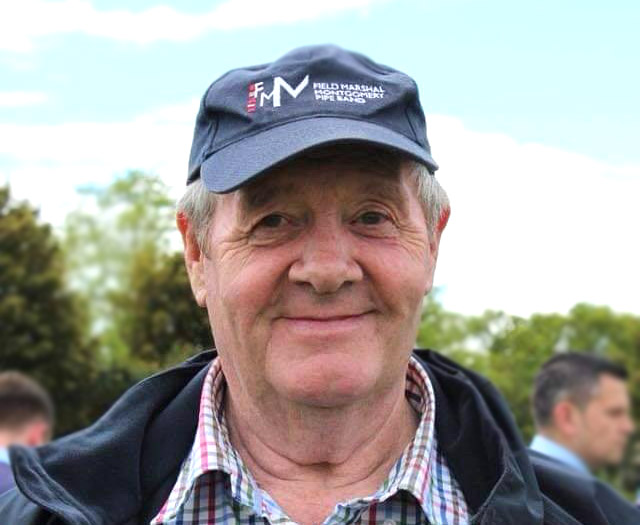 Frank's funeral service took place today in the 1st Portglenone Presbyterian Church in Northern Ireland followed by interment in the Portglenone Church of Ireland Graveyard.
His sudden passing at his home last Sunday has robbed the pipe band world of one of its great personalities. In the present day Frank was best known as 'drone tuner in chief' for the Field Marshal Montgomery Pipe Band and a much respected member of Richard Parkes's championship winning team.
To dwell solely on that aspect of his service to the pipe band world, monumental in itself, would do him an enormous disservice because as Pipe Major of the McNeillstown Pipe Band he was at the forefront of the drive through the 1980s that brought Northern Ireland pipe bands to centre stage internationally.
Frank started the pipes in the McNeillstown Pipe Band in 1957 aged 11 and served the band faithfully for over 60 years. He became Pipe Major in 1969 and was privileged to play alongside many family members from the time he first led them on their competition debut at Ballyclare in 1972 when they gained a creditable third place.
Over the next nine years the band climbed gradually through the ranks to reach Grade 1 in 1981. During this period their most significant wins were taking the Grade 2 World title in 1978 and winning the Ulster Championship in 1980 as a Grade 2 band. In 1979 they undertook a ten day trip to the Canadian National Exhibition on the back of winning their Grade Two World title.
Throughout the next decade McNeillstown was the most consistent band in what was a County Antrim domination of the Irish pipe band scene as they, along with near neighbours Cullybackey and Graham Memorial, locked horns with the Pipes & Drums of the Royal Ulster Constabulary and in the latter part of the decade, Field Marshal Montgomery when they became serious Grade 1 contenders.
Throughout this period the band secured All Ireland wins in 1982, 1984, 1986 and 1987 and Ulster Championship wins in 1980, 1981 and 1987. They also travelled to the Lorient Festival in France on four occasions winning the pipe band competition each time.
The band's highest position in a RSPBA major contest was 4th at the Europeans in 1993 at Hawick with the drum corps, led by Frank's son in law Keith Orr, winning the drumming prize. Throughout the band's meteoric rise Frank was assisted initially by Davy Gordon and then Pipe Sergeants Cecil Kenny, Winston Pollock and Harold Brownlow, and leading drummers David Bolton, Winston Mateer and Billy Barnham.
After twenty years in the top grade the band dropped out of competition. However, unlike so many of the era, they did not fold but actually returned fairly quickly in Grade 4 under Pipe Major Darren Frew with Frank occupying the Pipe Sergeant's position right up to the present day.
Until the last few seasons the band had a bit of a yoyo existence but they have made great strides over the last two seasons and will compete in Grade 3A this summer, something which I am sure gave Frank considerable satisfaction.
Anyone who ever heard the McNeillstown Pipe Band playing during their heyday, be it in competition, on parade or through their numerous radio broadcasts, will know that they always had an exceptionally bright, sweet and clear sound which was much admired.
It can be no real surprise when one looks back that Pipe Major Richard Parkes would bring Frank, and all the experience and expertise he possessed, on board with FMM in 2002. Over the following eighteen years the band won ten World Championships and dozens of other RSPBA major titles including two Grand Slams (the winning of all five majors in a single year) in 2010 and 2013 to make it an unprecedented third Grade Slam.
The roster section of the Field Marshal Montgomery Pipe Band website describes Frank as a Drone Assistant and being 'appreciated in the band not just for his good ear and ability at tuning drones but also being one of a select few who can act as a calming influence on Richard when the pressure is on'.
Considering the achievements that this great band has made over the last two decades there can be no doubting how much Richard Parkes will have valued Frank's contribution, support and practical assistance in helping him to create the outstandingly consistent sound and high level performances that has made the Field Marshal Montgomery such a successful unit.
That view is echoed in Richard's comments on Sunday past when he said that 'The band was deeply saddened to hear of Frank's passing this morning. He was the true definition of a gentleman and a legend in our art. Frank was a huge part of the FMM family and was loved by us all. Our thoughts are with his family at this very sad time'.
Scrutiny of the hundreds of tributes that are pouring in daily from throughout the pipe band community illustrate beyond doubt the high esteem that Frank was held in and, like those of Richard Parkes, many contain the word 'legend' and while I did not know Frank personally it strikes me from the way many people have described him that he would perhaps be somewhat embarrassed by such adulation.
The fact remains however, given his achievements with McNeillstown and his contribution to the success of Field Marshal Montgomery, when the history of Ireland's pipe band movement is written, the name of Frank Andrews will stand proudly alongside those of other 'legends' such as Pipe Majors Tim Keogh, Willie Wood, Tommy Geddis, Nat Russell, Terry Tully, Richard Parkes and many others.
On behalf of those who for decades enjoyed standing outside the ring and listening to the results of Frank's undoubted talent, with whichever band, may I convey our condolences to his wife Sally, daughters Helen, Heather, Julie and Ruth, sons James, John and David, sister Edith, brother Bobby , grandchildren and all the family circle at this very sad time.