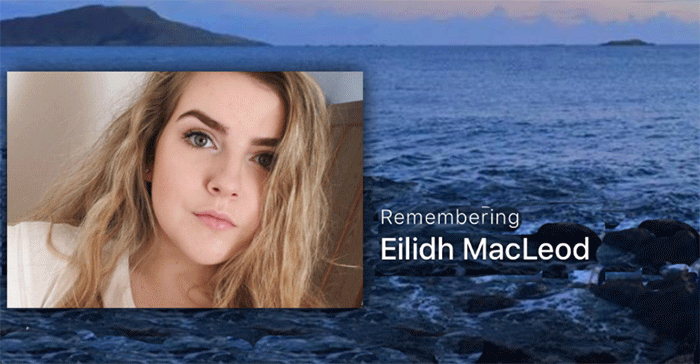 By Iagan MacNeil
A new tune has been composed to support the work of the Eilidh MacLeod Memorial Trust. It will be premiered live at a special fundraising event in Glasgow next month. 'A Tune for the Trust' is by music student and award winning pipe band drummer Fergus Bryce. 14-year-old piper Eilidh, from the Isle of Barra was a victim of the 2017 Manchester Arena attack.
Fergus's starting point for the 4/4 march was to create a piece that represented hope for the future, the positivity of youth and the love of traditional music – many attributes that represented Eilidh's life. The arrangement has captured all of these elements and will leave the listener with a true sense of optimism.
Fergus, who is originally from Evanton in Easter Ross, is in his fourth year of the BA Commercial Music course at the University of the West of Scotland. As part of his studies he has been tasked with a project to develop a piece of music and have it distributed across a range of channels. He enlisted his musical friends to compose, perform and record the piece. The final elements of the tune are being put together under Fergus's guidance before being recorded for download.
A special event, at which the piece will be premiered live, will be held at the National Piping Centre on Friday 13th March at 7.30pm. The event will also feature a range of young Scottish musicians who are all lending their support to the cause of youth music education. Tickets for this one-off event are available on Eventbrite with all proceeds going to Eilidh's Trust.
The trust was established in 2018 and supports music education for young people reflecting Eilidh's own musical ability and enjoyment as a piper with the Sgoil Lionacleit Pipe Band. The trust will also manage and maintain a permanent memorial to Eilidh and a garden of remembrance and reflection on Barra.
Fergus said: 'I am really happy with how A Tune for the Trust has turned out and how it sounds. I hope the listeners will enjoy the tune as much as we have we in composing and performing it and that it adds to Eilidh's legacy in supporting music education for other young musicians.
'I'd like to thank everyone who has supported me in this project including my fellow musicians and the National Piping Centre for being so accommodating for my event.'
Suzanne White, founder and trustee of Eilidh's Trust added: 'We were thrilled when Fergus approached us with his proposal to support the trust in this way. What he has composed is a really beautiful piece of music. We cannot thank Fergus enough for his support of other young musicians by boosting our work.'
Fergus began his musical journey when he picked up a drum kit aged eight. He became involved with the Ross and Cromarty Pipes and Drums School Pipe Band as a bass drummer. Around this time, he also joined the National Youth Pipe Band of Scotland. At the age of 17 Fergus moved to the Glasgow Police Pipe Band for two years playing in Grade 1.
In 2019 he then moved to Inveraray and District Pipe Band and was successful in winning the European Championships, Scottish Championships and World Championships and the Champion of Champions drumming trophy at the age of 19.
The Eilidh MacLeod Memorial Trust was established in 2018 with two main ambitions: To establish, manage and maintain the permanent memorial to Eilidh which will be located on the Isle of Barra. To enable other young people and children to continue Eilidh's musical journey by providing support to advance their music education (primarily but not exclusively in rural areas)
The trust is a registered charity and will undertake various fundraising activities to support it aims. For more information, please visit us on www.eilidhstrust.org.uk or search for Eilidh's Trust on social media or contact Iagan MacNeil on 07766 740 205 or iagan.macneil@eilidhstrust.org.uk