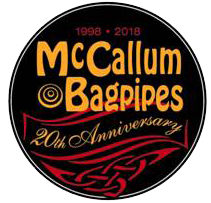 Dear Customer: Just in case you have not heard we recently received confirmation that we no longer require CITES in order to export and I am sure you can agree this is very welcome news. It means we can get order shipped out much quicker and without the extra hassle or expensive of the permits.
We wanted to remind you that there is still time to order ANY MacRae Bagpipes offered under the special deal in the email below. If you place an order for a MacRae set of pipes before the start of 2020 you will receive one of the new MacRae practice chanters with each set ordered. This deal will expire come 2020, so get your order in now to get the FREE MACRAE PRACTICE CHANTER.
If you have any questions at all please do not hesitate to contact us. On behalf of ourselves and everyone here at McCallum's we would like to wish you a Merry Christmas and a Happy New Year! Kind Regards, Stuart McCallum, Kenny MacLeod
The deal: Believe it or not it is the 5-year anniversary of the Stuart Liddell MacRae Bagpipes! To honour this, we thought we would do something special and add to the collection with a brand new SL0 bagpipe, SL4/FN bagpipe and a MacRae practice chanter!
We have attached the price list and the link to the new professional photos we had taken of the new products to this email. Please feel free to use these photos on your websites and to share them with customers.
To launch the new products, we are running deal for any MacRae pipes ordered from now until 2020. With any new orders for MacRae pipes we will include one of the new MacRae practice chanters for free.
Link to photographs of the new products below:
https://app.box.com/s/1l6vvyb2c02002mfhutj
Are you a PP advertiser? Well why not send us your promo material as McCallums have done? We're here to support your business and get the word out about your products to our thousands of readers.