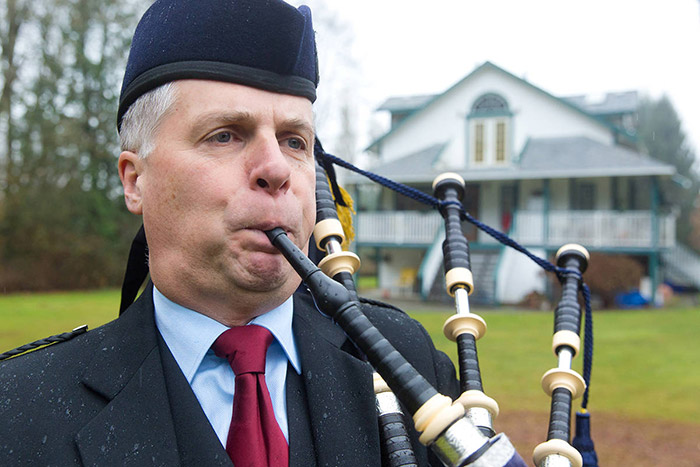 From our Special Correspondent at the North American Pipe Band Championship and Solo Contests
In sunny and warm Ontario, thousands came to the institution that is 'Glengarry' in the farming town of Maxville. Indoors, Jack Lee, of British Columbia, continued to enjoy a real purple patch in solos, and scored a big win in the Bar to the Piobaireachd Society Gold Medal for former winners, with a prize purse of $3000. Matt MacIsaac won the Gold Medal taking $700.
Derek Cooper of Inveraray scooped both the March, Strathspey & Reel and Hornpipe & Jig in Professional Snare Drumming, edging out his former SFU colleague Eric MacNeil, now leading Drummer of City Dunedin (Florida), to second place in both.
Both piping competitions have seen a significant upgrading this year with increased prize money, thanks, in particular, to the Clan Donald Lands Trust.
I was told that Gentleman Jack Lee was flawless in winning the Bar to the Gold Medal.
---
[wds id="2″]
---
Both Medal and Bar competitions required the submission of tunes from the Piobaireachd Society's prescribed lists for 2019 immediately adding significant prestige to the event.
Piobaireachd Society Gold Medal (Canada), 15 played
1 Matt MacIsaac, Old Men of the Shells (C$700)
2 Bobby Durning, Rout of Glenfruin (C$500)
3 Ben McClamrock, Old Men of the Shells (C$300)
4 Tyler Johnson, Blind Piper's Obstinacy (C$200)
5 Tyler Bridge, Rout of Glenfruin (C$100)
Judges: C MacLellan, J Stack, R Worrall
Bar to the Medal
1 Jack Lee, Daughter's Lament (C$3,000)
2 Derek Midgley, Donald Gruamach's March (C$1,000)
3 Bruce Gandy, Bells of Perth (C$750)
Judges: C MacLellan, J McGillivray, R Worrall
---
---
Bands: Eric MacNeill and Pipe Major Iain Donaldson led Florida's City of Dunedin to the North American Grade 1 Championship, after some confusion of an incorrect announcement on the field.
Such things are always heart stopping, but the men and women from Florida are the G1 Champions, having been upgraded by their home association after winning the World G2 Championship in Glasgow last August.
Quite a year for the leadership, the band, the supporters and town in the sunshine state. We won't see the group in Glasgow this year, but surely in Grade 1 in 2020.
In Grade 1, the three entrants, the 78th Highlanders (Halifax), 78th Frasers and City of Dunedin had to play both a March, Strathspey & Reel followed by a Medley.
In Grade 2, Peel Police will have watchers of the grade interested as they swept aside classy US bands New York Metro, Worcester Kiltie, and Greater Midwest, and also Canadian neighbouring forces of Ottawa and Toronto Police.
Peel will march on to Glasgow, where they will be joined from Canada by North Stratton, who didn't play at Maxville. Worcester will make a return visit to the Worlds' adding to the trip to a soggy Lurgan (UK Championship) earlier in the season.
Grade 1 picture gallery:
The pix above show City of Dunedin marching in for MSR at Glengarry Games with judges Worral (left) and Mathieson, 78th Frasers marching to the circle for MSR and 78th Highlanders Halifax under P/M Alex Gandy with father Bruce in the Pipe Sergeant's position.

---
[wds id="8″]