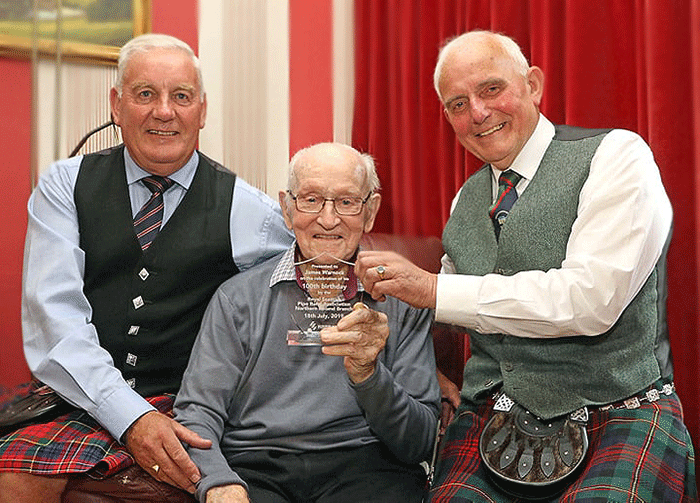 Many congratulations and best wishes to James Warnock the pioneer chanter and reed maker who last week celebrated his 100th birthday. Better known to all as Jim, he was born into a farming family on the outskirts of Cookstown, County Tyrone, on 18th July 1919.
Like his brothers he followed his father into farming as well as sharing his interest in piping by joining Tullylagan Pipe Band. In the 1930s, under Pipe Major Tommy Green, the band won the Northern Ireland Championships four times. 
In the 1920s their father Joe is thought to have driven the prototype Massey Ferguson tractor during trials on the local Tullylagan Manor Estate of Mr McGregor Greer.
Joe was also Pipe Major of the Tullylagan band before building a reputation as a reed maker, a craft he learnt from Pipe Major Peter Bain who regularly adjudicated at local contests.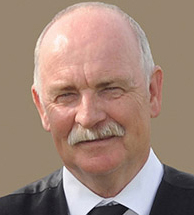 James Warnock Reeds came into existence in the 1960s when Jim's father encouraged his farmer son, who owned 132 acres and 80 milking cows, to try reed making. He thought it would be more lucrative.
The fledgling business received an early boost following a visit from a Canadian Highland supplies company. This is thought to be Bill Burnett's Scottish Imports of Stroud, Ontario. Such was the demand for Jim's quality reeds that the company literally couldn't supply demand and was forced to expand.
[wds id="2″]
---
Jim's son William, who was to take over the business, sadly died in an accident in 1980 and David Chesney, who had joined the firm from school, leased it and continued to operate from premises at the Warnock farm until 2004.
Jim's brother Andrew was equally well known in the pipe band world through his 'Pipers Cave' business which in partnership with the legendary former Shotts & Dykehead Caledonia Pipe-Majors John K and Tom McAllister developed the revolutionary polypenco Warmac chanter.
Jim himself also went into pipe chanter making however this time he used a moulding process involving an ICI product called Marlin 66 which had a 33% glass content giving greater vibration and sound projection. The product benefitted from the expertise of the Belfast Tool & Gauge Ltd who made up the jig sets to bore the holes.
The Warnock connection with reed making continues through Jim's grandson Frazer who now carries on the business and the family connection with the Tullylagan Pipe Band. Jim once served as Pipe Major of the band and takes great pride as he watches his twin great-grandsons (Frazer's sons) on parade with the band.
RSPBA NI Branch officials, Winston Pinkerton [President] and Lowry Ferguson (Vice President) recently visited Jim, who has been a long time Honorary Vice President, at his home (see picture top) and made a special presentation to mark this very important birthday for a man who through his skill and innovation has contributed so much to local and world piping.
---
[wds id="8″]