By MacStig
His stocks might be high and his bag low, but our man in the oilskin and the WW2 Army-issue kilt will be at large in Paisley for the British Championship this Saturday….and look out for ol' tin ears at Lurgan, Inverness, Dumbarton and Glasgow too. 
Following instructions from the Editor (something about getting to Paisley and two fingers), I assumed correctly he was referring to my assigned grade for the forthcoming British Championships. Yes, I'll be following the bands of the burgeoning Grade Two again, swollen ranks with some arriving from Grade 1, a few up from Grade 3 and the materialisation of new band identities, with some well know faces creating a mini north-east regional league within the grade.
It will be a crackerjack season with the regular and local bands vying for the top slots and silverware, ahead of the culmination in August at Glasgow Green. 
In the fourth year at the playing fields to the south west of Glasgow Airport, and just off the main arterial central belt M8, to Paisley will come 123 bands, with 18 in Grade 2. One of the longest competitions of the day, adjudicated by Messrs Connor, Wark, Dudgeon and Mourdant. A long stand and plenty to write about in what will be a Medley contest (4-6 mins). 
The wider event kicks off earlier in the day at 10am with Juvenile, but the Grade 2 is off and running at 2pm sharp with Kilchoman Isle of Islay. They will be in the final tuning area well ahead of that for those who want to walk up and take a listen.
---
[wds id="2″]
---
They had their best season I can remember last year and were unfortunate not to make the big final at the Green. Always musical, I'm looking forward to their Medley. Being in the prize list must be their key objective and their piping has been strong enough to be so in the past. Always a neat ensemble outfit and that will be a score to watch.
Next up Royal Burgh of Stirling will be looking to nail themselves on to the grade after some very good and not so good days last year. For them consistency is the key, which is easy to say and harder to bottle. 
One of the Dundee bands, a former Boys' Brigade outfit and for some time under the City of Discovery banner, will play third. They have had flashes of brilliance in past seasons then been decidedly off colour at other times. It's always a well constructed set and I'm looking forward to this one. They didn't play in their home contest at Dundee last weekend so we have to wait and see.
Wallacestone & District, one of the oldest civilian bands, will appear next and I wish them well for 2019. They will be looking to have improvement confirmed this season and time will tell. I was delighted to read of City of London being back on the list and we should all applaud the arrival of this band. 
From Northern Ireland Closkelt will strike next and I truly enjoy listening to their tone. Always bright, great dynamics and tight as a group, the wolf will be on the prowl. You need to look at their logo to understand that one. Assuming all registration issues are resolved, contenders for the list at 6pm.
From the Republic of Ireland, Manorcunningham will also be looking to get some of the silver. Oban is next. Good to see that band on the list; they were infrequent last year. With a talented group and conveyor from the local High School programme, the piping is always promising.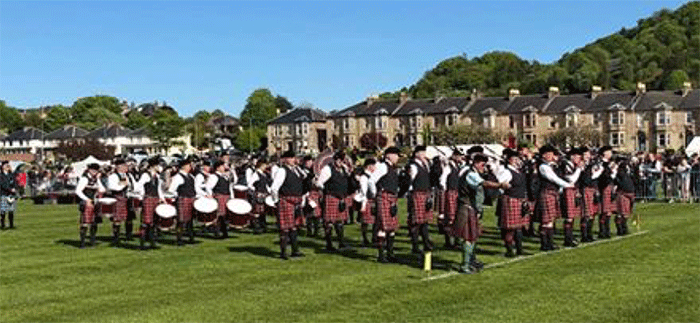 New kids on the block Uddingston Strathclyde, promoted in the off-season, will have nothing to prove and might just be the wild card in the grade. Add in a top notch drummer with a lengthy Grade 1 pedigree leading his first corps, and it will gather plenty of interest. They got the nod in drumming at Gourock and nipped in to beat Annan overall. 
Another new name in the grade, Highland Granite, is a composite of leavers and joiners from the north eastern (Aberdeenshire & Angus) piping and drumming scene. The Banchory minor contest was missed so HG are an unknown quantity at this stage. 
New Ross from the Republic is the third from the Emerald Island and I'm looking forward to their medley. Often traditional, it will be good to hear what they are offering for the new season.

Real contenders, after a blisteringly good 2018 and in their 101st year, Mackenzie Caledonian will come in with a new set up and pipe major. This band will be one of the handful setting the mark for the season. To anyone taking in the grade, listen and learn would be my advice. I have a hunch they will be in the mix all season. I did hear them at last weekend's Dundee City contest where they were expected to be up against near rivals City of Discovery and the young maestros of Dollar Academy Juvenile. CoD was a no show and Dollar took Grade 2. 
More north eastern presence with Bucksburn & District up next and kicking off a north-east cluster of bands. I expect a statement of intent and with bit of the stall being already set out at Banchory – which almost featured the 'unofficial' North East Grade 2 Championship where Portlethan emerged ahead.
Buchan Peterson and Portlethan follow and we will see them go head to head again. Much has already been said about the cluster of bands in the area and 'will they won't they?' I think we should applaud the boldness to go for it and that the area is stronger after a bit of time in the doldrums.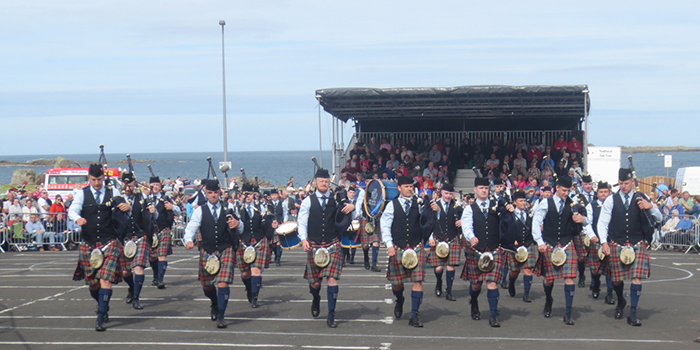 Ravara will play next at 4.15pm, I might add and over two hours into the contest. I'm expecting good things and they should be aiming for more silver as a mark of progression on top of a good start last weekend.
Penultimate band in the form of Royal Burgh of Annan should enjoy their opportunity in the grade just at the time Grade 1 is finishing. Another one to look forward to after a 1 1 in Piping at Gourock. 
And as the late afternoon drifts into early evening, Scottish Fire & Rescue close things down. Some new faces and a relatively large band will aim to get up the ranking from last year. Inconsistency undid their promising sets last year, and holding firm to get the starts, change ups and ends bang on will see them improve. 
That's the lot, 18 bands in all and just a bit over two and a half hours from start to finish. The good news for those later on in the order is they won't have so long to wait for the results. Spare a thought for those in other grades finishing just after 10am.
The long range weather suggests a dry, albeit cloudy day with some sun in the few days before the Championship. The Saturday is threatening rain early but might be brighter by afternoon. Of course, all subject to change, bring your umbrella, waterproof, hat and gloves just in case. Sunscreen suggested too as the day after 'beacon look' is never a good one at work on Monday.
Questions I'm pondering for the season? Can the north east provide real challengers when the talent pool is spread over several bands? Will the Mac Cals come out sprinting and be able to sustain? What will Ireland offer and what damage will be done to the entry list for Inverness (European) and Lurgan (UK), as bands on either side of the Irish Sea have resisted travelling to those two competitions?
And most of all, will the overseas Grade 2 contingent, led by St Thomas Alumni, have a great deal to say about the ultimate destination of the Worlds' title in August? With the season about to be underway in earnest we can only follow the yellow brick road band see where we end up. I'll see you in the fields.
Over and out.
---
[wds id="8″]