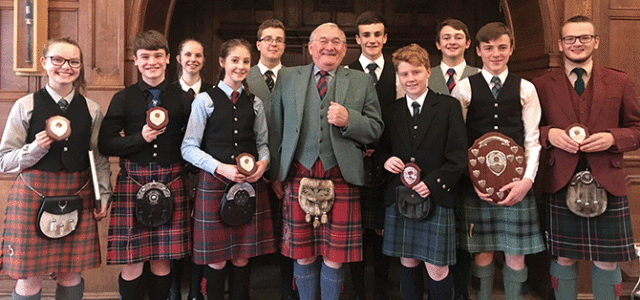 The Annual Scots Guards Association Pipers Branch Junior Solo Piping competition will be held at the Army School of Piping, Inchdewar House, Edinburgh, this Saturday (17 November) commencing 10am.
Contests: Under 15 March, Under 15 Strathspey & Reel, Under 15 Piobaireachd (own choice submitted on the day), Under 18 March, Strathspey and Reel, Under 18 Piobaireachd (two piobaireachd, and two MSR sets to be submitted on the day); Open Hornpipe and Jig entries on the day.
The above picture shows P/M Jimmy Banks MBE and prizewinners at last year's competition. For more information contact P/M Banks: on j2396b@gmail.com;  tel 07855641121.
Here is the draw:
Under 18 Piobaireachd, 10am
1 Luke Kennedy
2 Milly Fox
3 James Forrest
4 Luke Shearer
5 Brodie Watson Massey
6 Christopher Happs
7 Campbell Stewart
8 Cameron May
9 Seumas Scullion
10 Hazel Whyte
11 Eosaph Caimbeul
---
[wds id="2″]
---
Under 18 MSR, 10am
1 Lachlan Stephen
2 Mathew McKelvie
3 Fergus McKlintock
4 Hazel Whyte
5 Eosaph Caimbeul
6 Seumas Scullion
7 Robbie Martin
8 Euan Thomson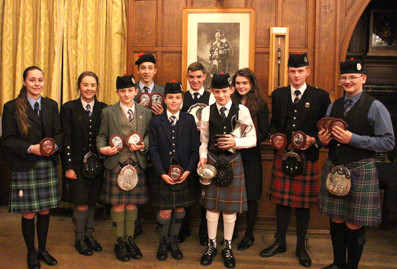 Judges Break  
9 Cameron May
10 Campbell Stewart
11 Christopher Happs
12 Brodie Watson Massey
13 Luke Shearer
14 James Forrest
15 Milly Fox
16 Luke Kennedy
Under 15 Piobaireachd, 10am
1 Max Rae
2 Lewis Maxwell
3 Fraser Robson
4 Euan Lindsay
5 Finlay Peden
6 Bobby Allen
7 Brodie Cunningham
8 Murray O'May
9 Joshua Reilly
10 Gregor Grierson
11 Justin Knowles
12 Ryan McCreadie
13 Alistair Williams
14 Jack McGowan
15 Douglas Pinkerton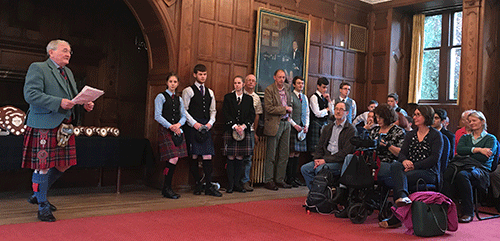 Under 15 MSR, 10am
1 Douglas Pinkerton
2 Luke Anderson
3 Catriona Norma
4 Jack McGowan
5 Alistair Williams
6 Ross McWilliam
7 Ryan McReadie
8 Dugald McKechnie
9 Justin Knowles
10 Gregor Grierson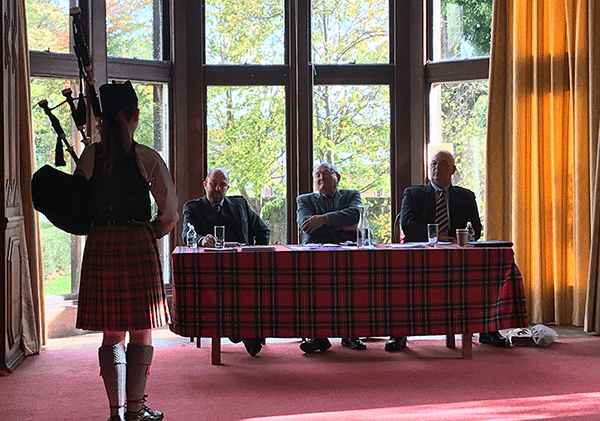 11 Joshua Reilly
12 Murray O'May
13 Brodie Cunningham
14 Bobby Allen
15 Andrew Russell  (March only)
16 Jamie Crawford
17 Finlay Peden
18 Alistair Williams
19 Euan Lindsay
20 Fraser Robson
21 Lewis Maxwell
22 Ewan Allen
23 Logie Johnston
24 Max Rae
---
A letter has been received from a former Scots Guards Officer regarding the article on Highland dress by P/M David Waterton-Anderson. Read it and the P/M's, response here.
---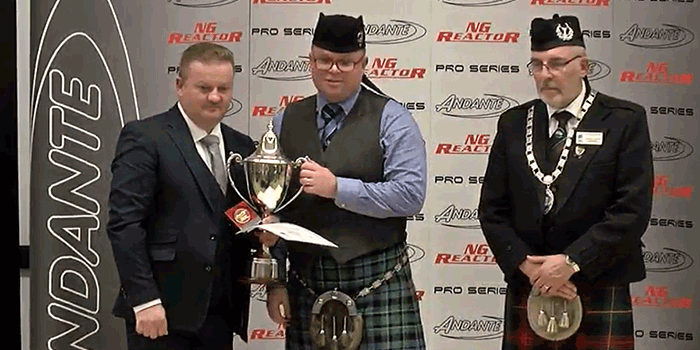 Reader Andrew McKellar writes about the World Solo Drumming: It's refreshing to have access to commentary and opinions on events like this and other comps during the year. The Big Rab team also widen the audience and appeal.
I attended the adult sections for the second year running and thoroughly enjoyed it. I never played at a high level but as a paying customer I offer up the following observations.
Really exciting to see the competitors getting into it with the H+J section. The crowd was on the edge for the last time through and some left it all out there as if to say 'this is me'.
Breaks between the two were also a good test with some more comfortable than others and some bringing it forward or even pausing for effect.
The variety providing meat on the bones for the judges. Almost freestyle-sque with a nod to Drumming for Drinks. Jake was a case in point as he seemed to thrive on letting go in the last part and was rewarded with immediate crowd affirmation. The loudest cheer of the day I'd say.
Crowd size extremely surprising with circa 150 for the MSR section. Ok it grew to 200 for H&J but it's shocking that top quality percussionists play to 150 folk.
I felt embarrassed for the competitors. I question the marketing of the event. Personally I'd like to see it as the climax to a festival of percussion which would reach out to kit drummers, concert percussionists and music fans.
Think Celtic Connections for Percussion. Watch it grow. Status quo will see it appeal to the niche fans like me but I'd rather it grew. Think BYOS meets Duthart Fanfare meets Evelyn Glennie. Over a weekend would help those understandably tired of playing all day too. Thoughts?
---
[wds id="8″]