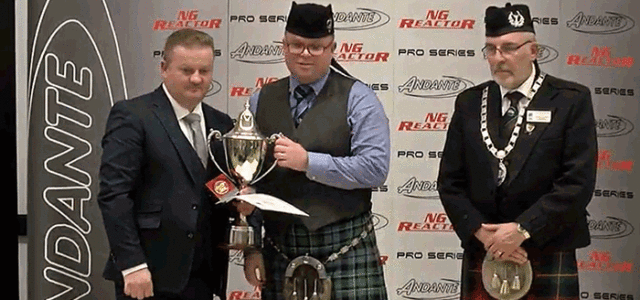 Steven McWhirter of the Inveraray & District Pipe Band is the World Solo Drumming Champion for 2018. He emerged with most points after two hard fought disciplines at the championships held today at Glasgow Caledonian University. It is Steven's eighth consecutive title and his ninth in total. 
Steven is pictured above receiving his trophy from Mr Nigel Hodgson of sponsors Andante Drums with Mr George Ussher, RSPBA President, looking on.
Runner – up was Gareth McLees with Mick McKenna in third. The contest was livestreamed to thousands of viewers around the world. The RSPBA also recorded the Juvenile 5 Final and Adult Final for broadcast on their YouTube channel after the event. For more details when that's available, and to see all the Association's championship content, consider subscribing to our YouTube Channel.
The prize list in the Adult Final, a combination of marks in MSR (two sets submitted) and Hornpipe & Jig (two of each to be played) was:
1st Steven McWhirter
2nd Gareth McLees, Field Marshal
3rd Mick McKenna, SLoT
4th Jake Jørgensen, S Power
5th Grant Cassidy, SLoT
6th Blair Brown, St Thomas Alumni, USA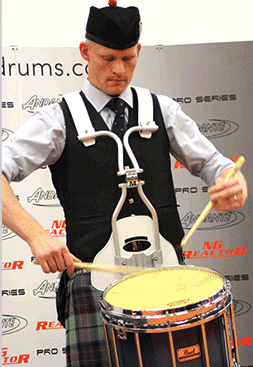 Those who made it through to the Adult final were: (Semi Final 1) Blair Brown, Steven McWhirter, Michael McKenna, Gavin Orr, Jason Hoy and Eric MacNeill; (Semi Final 2) Gavin Noade, Gareth McLees, Jake Jørgensen, Craig Laurie, Derek Cooper and Grant Cassidy.
For full results from all grades and events and summary sheets click here. Stay tuned to PP for more form the WSD.
---
[wds id="2″]