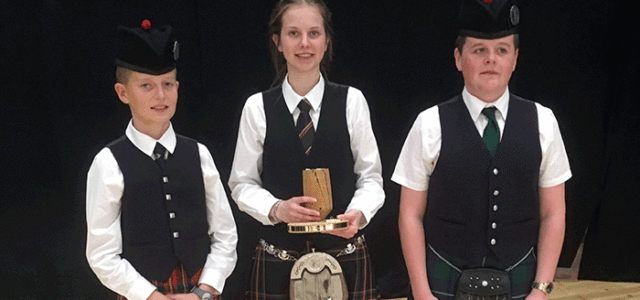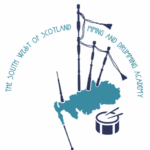 South West of Scotland Piping & Drumming Academy held their first Juvenile Solo Piping & Drumming competition in the new venue of Lockerbie Academy, on Saturday past, 29th September, reports Andrew McCartney.
There was a good entry, considering that this is a fledgling competition, with around 60 performances for the judges to assess. The judges on the day were Callum Beaumont, and  Matt Wilson (piping), Norrie Thomson (snare) and Ashleigh Lamberton (tenor). Winners are pictured above with Champion Piper Hazel Whyte centre.
All the judges agreed that the standard across the board was very high  –  from the chanter and pad and stick classes, through to the piobaireachd class, and the results are as follows:
Piping
Under 12 Years Chanter
1st Harris Morford
2nd Milly Allison
3rd = Arran Mars, James Glendinning and Mirren Gibb
Under 14 Years Novice Piping
1st Ross Sharp
2nd Ross Moffat
Under 15 Years Piping  –  4 parts 2/4 march
1st Fraser Hamilton
2nd Jack McGowan
3rd Gregor Grierson
Under 18 Years M.S.& R.
1st Luke Kennedy
2nd Hazel Whyte
3rd Jack McGowan
Under 18 Years Hornpipe & Jig
1st Hazel Whyte
2nd Luke Kennedy
3rd Jack McGowan
Under 18 Years Piobaireachd
1st Hazel Whyte
2nd Luke Kennedy
3rd Gregor Grierson
Champion Piper: Hazel Whyte
---
---
Drumming
Beginners Pad & Stick
1st Rebecca McIntyre
Under 18 Years Snare
1st Bronagh Gibb
2nd Callan McCrae
3rd Robbie Pate
Under 18 Years Tenor
1st Hayley Nisbet
2nd Kali Currie
3rd Jill Watson
South West of Scotland Piping & Drumming Academy forthcoming events so far  :
Piobaireachd workshops at Barfil Farm, near Crocketford
Saturday 10th November
Saturday 8th December
Tutor is Billy Geddes, and classes are free to anyone who wants to attend and run from 10am until 3.30pm. Bring something for lunch. Other workshops will be held in January, February, March and April  –  dates to be fixed. 2019 Summer School at Barony Campus  –  Sunday 7th until Friday 12th July. Residential or daily attendance.
All events will appear on Piping Press.
---
[wds id="2″]