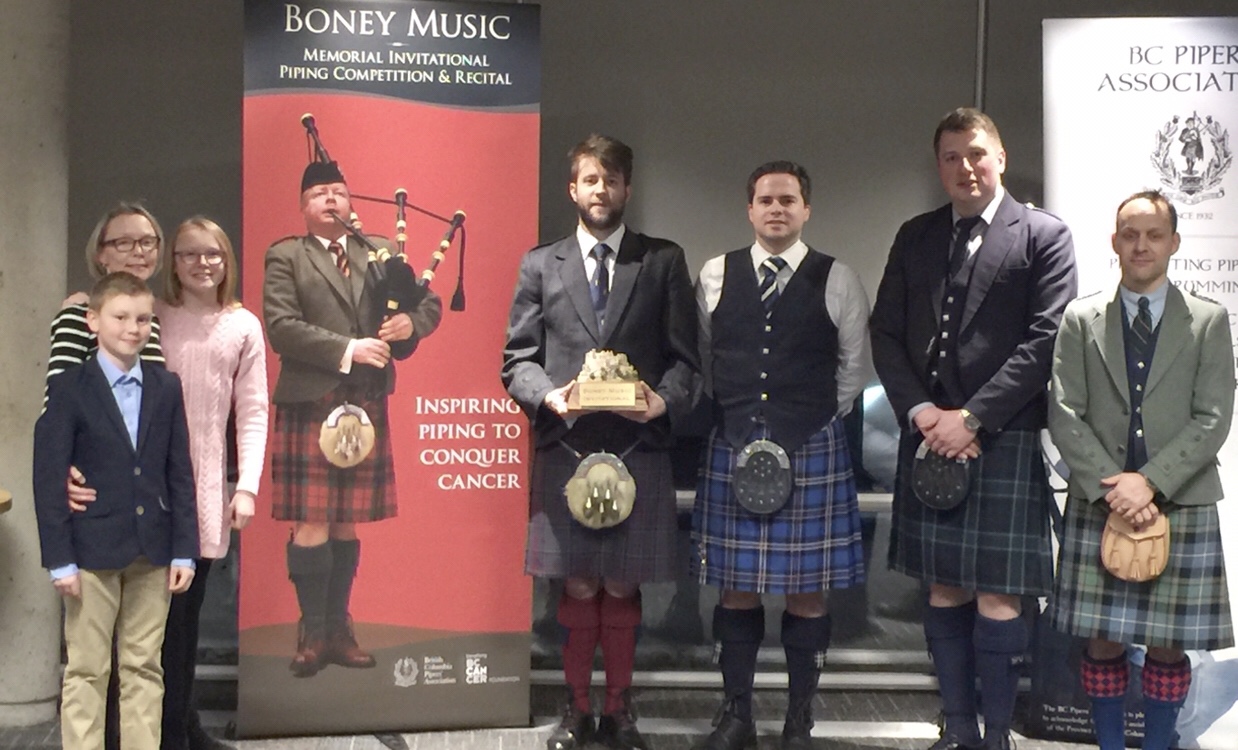 Robert MacNeill of the BC Pipers' Association reports: The 2018 Boney Music Memorial Invitational Piping Competition and Recital was a great success, raising over $2170 [£1,228 approx.] for brain cancer research for the British Columbia Cancer Foundation, $828 [£468 approx.] of it from the livestreaming viewers.
The BC Pipers' Association continued the event that Andrew Bonar began in 2016 to utilize piping to further advance charitable causes.
The players Kevin McLean, Andrew Lee, Alastair Lee, and Jori Chisholm put on significantly entertaining performances. Unfortunately, James P. Troy was not able to perform due to illness.
The results were
1. Alastair Lee
2. Jori Chisholm
3. Andrew Lee
4. Kevin McLean
The adjudicators were unknown to the audience and the players.
Skye Richendrfer, Celtic Arts Foundation President and long-time friend of Andrew and the Bonar family, handled the Master of Ceremonies duties and Fatima Hassam, Associate Vice President of Development at the British Columbia Cancer Foundation, spoke on the treatment advances being made at the BC Cancer Agency and how donations support this important research.
BCPA Board of Director member Thomas Budd handled the donations aspects of the event, while BCPA Chief Steward Lynn Bullis and BCPA Secretary Moira Mack handled the competition side.
The beautiful vertical banner for the event was designed by long time friend and graphics designer Melissa Maxwell, at the request of the Bonar family.
Overall, it was a wonderful evening that continues Andrew's legacy of support for brain cancer research. 'Inspiring Piping to Conquer Cancer'.
Picture left to right: Cameron, Jeanette, & Kate Bonar, Alastair Lee, Kevin McLean, Andrew Lee, Jori Chisholm.
---
[wds id="6″]