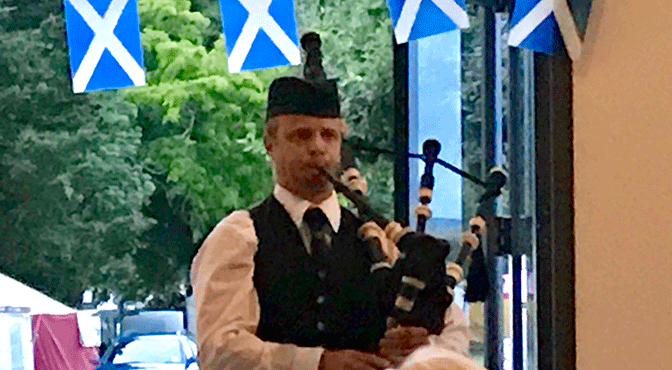 Reflecting on my recent visit to New Zealand I really must doff the bonnet to all those pipers who, over many years, have made the long trek to the Northern Hemisphere to compete at Oban and Inverness (and bands who get the cash and time together to do the same to compete at the Worlds).
Only when you've done it do you really appreciate the commitment required – and it is that commitment that has led to NZ having such a proliferation Gold and Silver Medallists. But not only that. Listening and judging over a couple of days at Waipu showed that there is a real depth of knowledge among kiwi pipers – a critical mass of individuals who have studied the music at length, sought out the best teachers, absorbed what they have been shown and put it into practice. New Zealand is no 'hick-town' piping centre. They know their stuff down there, make no mistake.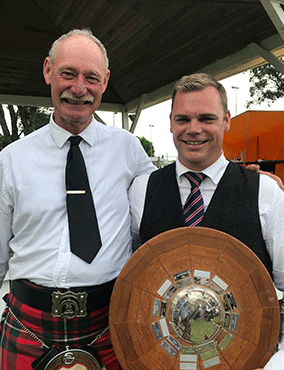 The picture up top is of P/M Stewart MacKenzie of the Grade 1 Manawatu Scottish Pipe Band. Stewart is playing in the
kitchen piping event
held before the main games at Waipu.
---
Get up to speed for the Silver Medal! Each tune is played in full, uninterrupted, on the practice chanter. The piper can play along and learn how to time and link phrases and variations as the music progresses.
---

Katie MacKenzie of the Scottish Schools Pipes and Drums Trust: The SSPDT is offering a paid internship for a piper from February to August/ September 2018. The role will be tailored individually and will offer opportunities to teach in schools, to develop pipe band programmes and to advance personal instrumental skills.  The intern will also have the option to gain experience of charity administration. Full details can be found here: https://sspdt.org.uk/about/work-with-us/  Closing date 29th January 2018. Interviews will take place at Preston Lodge High School on Wednesday 31st January.
---
I forgot to include this tune, The Piper's Polka, in
last week's profile of P/M Donald
MacLeod taken from the 'Piping World' magazine of September 1967. Donald must have given permission for pre-publication as I think it subsequently appeared in his yet to appear Book 4: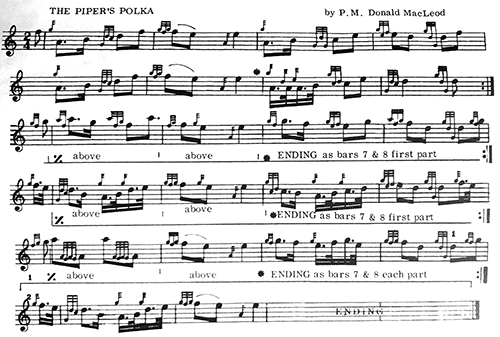 A very pleasant four-parted tune, charming in its simplicity, and eminently suitable for a beginner I think.
---
Tom Johnstone, President of the Scottish Pipers' Association: The AGM of the SPA will be held on 2/2/18. One issue that came up during last year is that fact that a lot of juvenile contests are now awarding monetary prizes. It is therefore proposed that the constitution is changed and this will be discussed/voted upon at the AGM. All Current Life and Annual Members are eligible to attend and vote and we would like to welcome you all to the meeting. Non-members can join on the evening. We will also be having our regular 'Club Night' on that evening. Look forward to seeing you all.
Events following the AGM will be :•  Regular Club Evening on Friday 2/3/18
•  Adult Amateur and Veterans Contest on 24/3/18
•  Regular Club Evening on 6/4/18
•  Annual Professional Piping Competition on 14/4/18
•  Annual Juvenile Contest on 8/9/18
All of the above at the College of Piping.
---
[wds id="3″]