I know this is a fallow period for piping and pipe bands but I'd like to remind followers of Piping Press that there is plenty of enjoyable reading – not time sensitive – throughout our pages.
Yesterday, for example, we had hundreds of readers dipping into the Famous Pipers column about P/M Ian McLellan of Strathclyde Police (pictured above). This followed a mention of the article on Facebook.
So my advice is to start exploring. There are many informative pieces in the PP Academy that may help with your playing as well. Everything, as I am sure you know by now, is both subscription and spin free. All we ask is that you support our advertisers, the Piping Press Shop, or make a donation if you are so inclined.
---
Reader Drew Aitken writes from Denmark: 'I have been asked to do an oral interview for a PhD student and cannot remember how many, and what length, the Medley Selections were in each grade when it first started and when the MSR finished, therefore I will appreciate any information you can give me.'
It was 1970 that the Grade 1 Medley was brought in Drew. It replaced the MSR (this was the Worlds at Aberdeen where the first winners were Shotts & Dykehead). I don't know when the two-leg Worlds was introduced in that grade. The current requirement for medley duration is still, I think 5 -7 minutes for Grade 1. I am not sure of the other grades. Can anyone help Drew with the timings and/or requirements for Grades 4a/b, 3a/b and 2?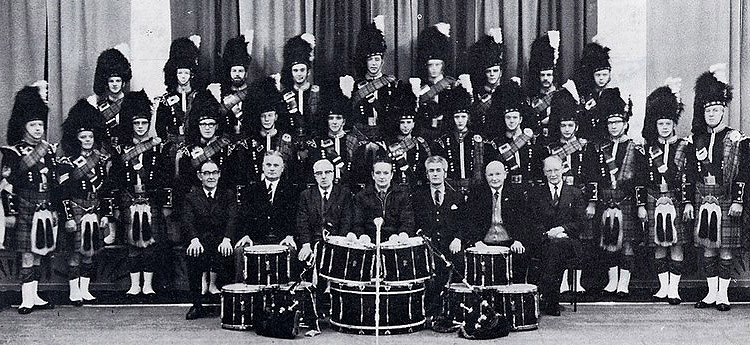 When looking on the RSPBA website for the information I came across this sound advice for all bands: 'If the degree of difficulty in the tune, and drum-score, is set too high in respect of the band members experience and ability, the likely result may be 'note' and 'timing' errors by pipers and drummers, 'cutting out', uneven blowing, and difficulty in matching harmonic and drum accompaniment to the pieces being played. Through choosing, and practising, the most appropriate tunes, pipers and drummers should be able to focus on how the music is being performed, instead of thinking about how the technical elements are being handled. All of which has an impact on the 'ensemble' assessment, too. The old adage 'A simple tune played well, is better than a difficult tune played not so well', still has some relevance today.'
---

The Queensland Highland Pipers: We're sad to report that Peter Burrows has passed away after a short illness. Peter was a great identity on the Queensland scene for decades as a solo piper of the top rank, bandsman, judge and teacher. Our sympathies go to Lorna and the whole family.
Still with the QHPS, they report another successful Piobaireachd Recital Day with 16 tunes from 14 pipers and a band of listeners adding up to about 30 people in attendance. The report reads: 'Ross Campbell welcomed everyone and relayed apologies from Tom McGirr, Ralph Nankervis and Robert Gibb.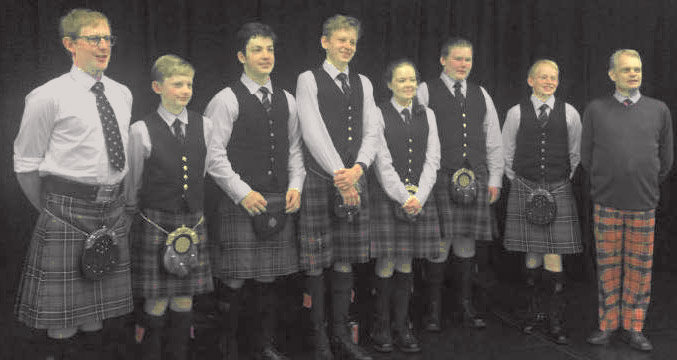 'He noted it was good to see young players participating from both Scots PGC Warwick and BBC. Vaughan Parker and Sandy Dalziel are piping instructors from BBC and Scots respectively and also contributed. The players and their tunes are listed below. With breaks for morning and afternoon tea and lunch animated by much conversation, the playing took us through from 10am to nearly 4pm. Ross gave some information about each of the tunes as we went along. The players and their tunes:
'Christopher McCosker (Scots), Munro's Salute (part only),
Fraser Collins (Scots) Struan Robertson's Salute (part only), Fearghas Russell (BBC), The Company's Lament, Abby Dalziel (Scots), Lament for Sir James MacDonald of the Isles, Bruce McLeod, Struan Robertson's Salute, Ross Campbell, The Massacre of Glencoe, Jordan Simmers (Scots), The Glen is Mine, Liam O'Shea (BBC), The Company's Lament, Sandy Dalziel, Weighing from Land, Ross Campbell, Tulloch Ard, Peter Hurwood, Lament for Donald of Laggan, Vaughan Parker, Kinlochmoidart No 1, Pete Murray, MacSwan of Roaig, David Marriner, Lord Lovat's Lament, David Greenhalgh, The Desperate Battle of the Birds, Vaughan Parker, Salute to Donald.
'At the end of the day, Ross thanked all the players and listeners for attending and Maurie DeHayr presented him with a card and a gift to thank him for his great efforts during the year. The first meeting of the group for 2018 is planned for Sunday 4 February.'
---
[wds id="6″]
---
A new app has been developed by piper Magnus Orr's company to help people who want to learn Gaelic. The blurb: 'If you always wanted to learn Gaelic but were put off by the pronunciation, help may soon be at hand aims to use the latest automated speech recognition technology to provide feedback on your pronunciation – with the idea that you can practice and build-up your confidence speaking Gaelic on your phone. The app aims to help reduce many of the barriers and fears people have in learning a new language.' More here.
---
[wds id="3″]