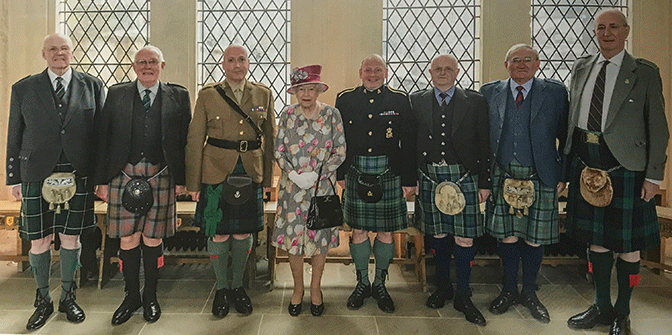 What a year it has been for Argyll piping: Inveraray winning the Worlds, Alasdair Henderson taking the Northern Meeting Gold Medal – and now a superb collection of bagpipe music courtesy the Argyll & Sutherland Highlanders.
The book represents a 200 year long musical journey of one of the iconic Scottish regiments, perhaps no longer with the identity of yesteryear but with a corpus of pipe music which will ensure its name never dies.
In total the book has 237 pages of tunes, photographs and historical text. Much of the music has been published before but isn't it right that we should have an Argylls compendium as we do for the Scots Guards and Queen's Own? And in here we have all the great masterworks of Willie Lawrie, John MacLellan DCM, John MacColl – but with one exception: Lochanside! It's just about the most famous of all the tunes to come out of the gifted county and through some oversight I gather it was missed out.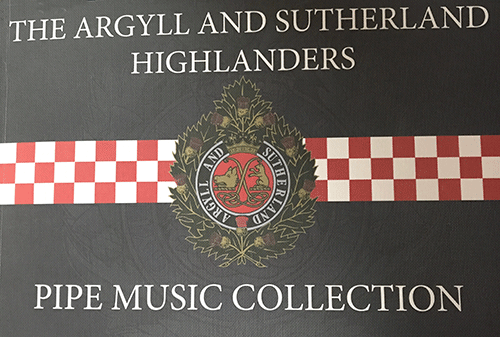 But look, have you ever seen a music collection without errors in its first edition? Lochanside will be there for sure next time round and this book is so exceptionally good that it won't be long before the editors are getting together to sort out errata prior to publishing a second run.
I have a few small edits of my own which have probably been picked up already: the spelling of 'controversial' on p92; the story on Captain John Young (p123) doesn't do his sacrifice justice – he gave his life for his men. He should have been awarded a posthumous Victoria Cross but got nothing; just a Glasgow boy doing his duty; Archie Kenneth (p146) was not one of the foremost exponents of piobaireachd, more a scholar of ceol mor and an editor of part of the Piobaireachd Society's collection; the note on Andrew MacNeil (p25) should read that he was a gifted amateur piper; on some pages the margins are bit tight, especially at the spine; in the tune Argylls at Ferera (p77) there is an extra high G gracenote in the third part after the high As. Stating these, I am now concerned that you might think I am being overly negative so let's move on.
---
[wds id="6″]
---
This is a wonderful collection which reflects greatly on everyone involved in its production, in particular Major Gordon Rowan, Director of Army Bagpipe Music. How he managed to keep the editors, Walter Cowan, Ian McLellan, Jim Henderson and Jimmy Banks singing from the same hymn sheet is a notable achievement and the results speak for themselves. Charged with including not only tunes by members of the regiment but also tunes about those with a regimental connection cast the net much wider than any similar collection hitherto published. I am sure that is where a lot of the editing fun began and, having spoken to those involved, one which I know they thoroughly enjoyed.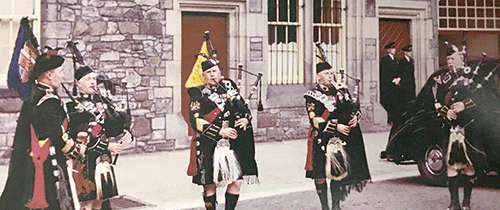 Flicking through the pages, the depth of composing talent represented is astonishing. Apart from the three master composers named above, just look at tunes such as P/M John MacKenzie's Tug Argan Gap and Allan Dodd's Farewell to Scotland; Bengullion by Ron Fleming, Hazel Thompson by George MacIntyre, Ina MacKenzie by Ronald Lawrie and fine tunes from his cousin Angus Lawrie. I also enjoyed George Younger, named for the former Scottish Secretary of State, by Major Rowan himself, and also Echo Waltz by Pipe Corporal Smith. Believe me there are dozens of other catchy melodies covering all genres.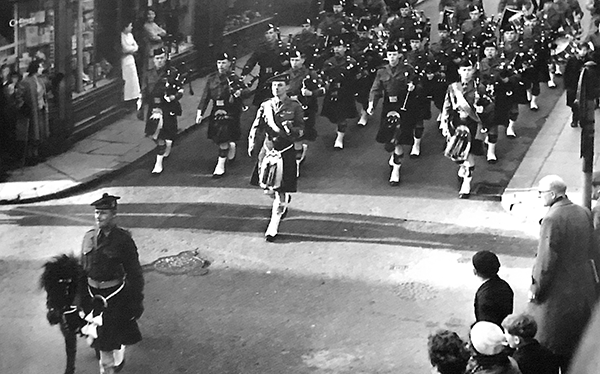 I could go on and on listing all my favourites and many other creditable tunes which this book puts before the public for the first time but that would prove tiresome. However I cannot leave you without commending the editors for their inclusion of a piobaireachd, P/M MacKenzie's Salute to the Soldier, a tune of which I have written already. I will leave it up to the reader to decide whether he or she should have this book in their collection. I think you know where my sentiments lie.
At the front of the book there is a fine photograph (top) of Major Rowan and the editors and compilers with HM The Queen. A quote from her gracious introduction provides me with a suitable sign off: 'In my 70th year as Colonel-in-Chief, I know that this unique and timeless collection of bagpipe music, composed by members of the regiment will be enjoyed by pipers of all ages, abilities, nationalities and generations. It is both a legacy and a celebration, telling stories of shared experiences, thoughts of home and of some of the characters who were proud to call themselves Argylls.'
• The Argyll & Sutherland Highlanders Collection of Bagpipe Music is available here priced £35.
---
[wds id="3″]