Very sunny with only the odd shower to spoil the day for the large crowd. They were thrilled when a surprise visit was paid to the gathering by Her Majesty The Queen, this to mark their 150th anniversary. Seventeen pipers played in the open categories. Pictured above is Champion Piper Allan Russell.
Piping Convenor Dr Jack Taylor adds: 'Sunny day with a cooling breeze enough to set the flags fluttering.  And the hearts of the committee were fluttering in anticipation of the visit of HM The Queen. The ground of Queen Elizabeth's Salute was played to an expectant packed arena just before her car entered the Millenium Gates to be greeted by the massed bands led by D/M Bill Barclay playing Scotland the Brave. The Queen dedicated the new cabar before meeting committee members and dignitaries. She then settled down to watch as the competitions restarted. In the piping it was a supreme day for Allan Russell, a faithful attender over many years.'
Piobaireachd
1. Allan Russell, Earl of Seaforth's Salute
2. Raphael Mercier (Saskatchewan), The Vaunting
3. Anna Kummerlöw
4. Eddie Gaul
5. Kevin MacLean (Vancouver)
Judges:  James Hamilton, Malcolm McRae, Stewart Samson
March
1. Allan Russell
2. Robbie MacIsaac
3. Anna Kummerlöw
4. Calum Brown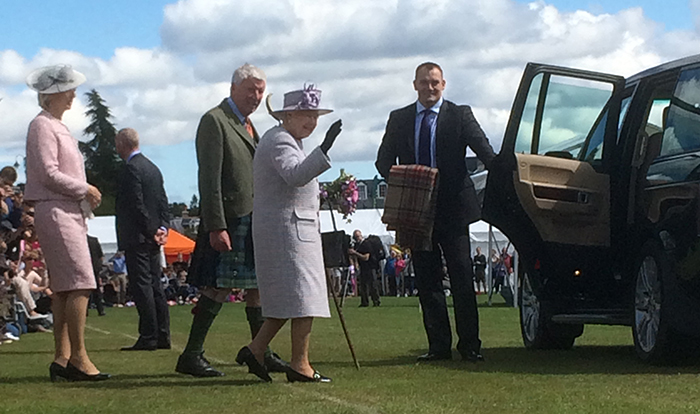 S&R
1. Allan Russell
2. Calum Brown
3. Andrew Donlon
4. Robbie MacIsaac
Judges: Ian Duncan, Bill Wotherspoon.
H&J
1. Calum Brown
2. Andrew Donlon
3. Robbie MacIsaac
4. Eddie Gaul
Judges: Logan Tannock, Jack Taylor
Junior Piob
1 Jordan Ednie
2 Liam Brown
3 Lee Taylor
4 Jamie MacRae
March U-14
1 Liam Brown
2 Duncan MacDonald
3 Tom Blackhall
4 Stuart Patterson
March Local
1 Jamie McPetrie
2 Tom Blackhall
3 Andrew Yeats
4 Lee Taylor
S&R Local
1 James McPetrie
2 Tom Blackhall
3 Ciara Anderson
4 Andrea Yates
MSR U-18
1 Jordan Ednie
2 Jamie MacRae
3 Liam Brown
MSR U-18 Local
1 Liam Brown
2 Ciara Anderson
3 Lee Taylor
Judges for the Juniors: Logan Tannock and Duncan Watson
---
[wds id="6″]