Nicholas Taitz reports: The overall results for the Senior 100 Guineas solo piping competition, held this weekend in Johannesburg, were as follows:
Chris Terry
Tom Fuller
David Mason
Nicholas Taitz
Chris Terry (pictured above competing) made a memorable and remarkable comeback, winning the piobaireachd and dominating the light music too. He played the Lament for Donald Duaghal MacKay, a favourite tune of his, on an immaculate and quite magical bagpipe.
Chris last played in the Guineas in 1995, and on that occasion won the contest overall for his 15th time. Yesterday, after an absence of 22 years, he won it overall for a 16th time, much to the delight of all his friends and pupils who were present. He was, as usual, playing a bagpipe of his own making. He also won the Former Winners' MSR, showing one can still play good light music at age 70!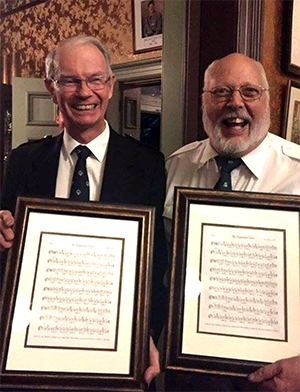 The Guineas was a special event this year, with many former winners in the mix – Chris Terry, Dave Mason, Nick Taitz, Peter Candy, Brian Mulhearn, Richard Payn, Chris Mulinder and Josh Hogg all being  winners of the overall contest. There was a high standard of playing all round, as main judge Bob Worrall remarked.
Chris Mulinder, also turning 70 this year, rounded off the event in great style by performing an excellent reel he had written in Bob Worrall's honour. Chris Mulinder also provided a highlight of the day by playing another tune of his own composition, The Scottish Piping Society of the Witwatersrand, a 2/4 march, in the Former Winners' MSR. This is a superb competition march.
The contest was followed by an evening celebrating the 70th birthdays of Chris Mulinder and Chris Terry, who are the two men who have given the most to SA piping over the last 40 years. Between them they have taught scores of fine players, and turned hundreds of bagpipes too.
The 59th Annual Solo Highland Bagpipe Competition
Senior Overall – L.M. Millar Memorial Trophy
1st Chris Terry (1 Medical Battalion)
Senior Overall Runner Up – RF Martin Memorial Shield
2nd Thomas Fuller (1 Medical Battalion)
3rd David Mason
4th Nicholas Taitz (Spirit of Richmond)
Senior Piobaireachd – Dr M MacDonald  Bayne Trophy
Adjudicator : Bob Worrall
Reader : Thomas Knobel
1st Chris Terry (1 Medical Battalion)
2nd Thomas Fuller (1 Medical Battalion)
3rd Nicholas Taitz (Spirit of Richmond)
4th Richard Payn (1 Medical Battalion)
Senior Strathspey & Reel – The President's Cup 
Adjudicator : Bob Worrall
1st Chris Terry (1 Medical Battalion)
2nd Thomas Fuller (1 Medical Battalion)
3rd Richard Payn (1 Medical Battalion)
4th Jonathan Visser
Senior March – Eagle Pipers' Society Silver Salver
Adjudicator : Roger Davies
1st David Mason
2nd Joshua Hogg (Benoni MacTalla)
3rd Chris Terry (1 Medical Battalion)
4th Thomas Fuller (1 Medical Battalion)
Best Military Piper – George Ackroyd Beer Mug
1st Thomas Fuller (1 Medical Battalion)
Best Piper Under 30 Years – George Ackroyd Beer Mug
1st Richard Payn (1 Medical Battalion)
Captain D.M. MacLennan Past Winners' March, Strathspey and Reel – Donald Morrison MacLennan Memorial Trophy
Adjudicators : Bob Worrall, Roger Davies
1st Chris Terry (1 Medical Battalion)
2nd David Mason
3rd Joshua Hogg (Benoni MacTalla)
4th Nicholas Taitz (Spirit of Richmond)
Junior Overall – Jack Gartly Silver Chanter
1st Frans Coetzee (Pretoria Boys)
2nd Stuart Hobson (1 Medical Battalion)
3rd Sean Cameron (Cornwall Hill)
4th Matthew Pollack (Benoni)
5th Jonathan Bosch (Jeppe)
Junior Piobaireachd – Dr M MacDonald Bayne Trophy
Adjudicator : Bob Worrall
Reader : Thomas Knobel
1st Frans Coetzee (Pretoria Boys)
2nd Stuart Hobson (1 Medical Battalion)
3rd Sean Cameron (Cornwall Hill)
4th Matthew Pollack (Benoni)
5th Jonathan Bosch (Jeppe)
Junior Strathspey & Reel – The Strathspey & Reel Floating Cup
Adjudicator : Bob Worrall
1st Stuart Hobson (1 Medical Battalion)
2nd Frans Coetzee (Pretoria Boys)
3rd Matthew Pollack (Benoni)
4th Sean Cameron (Cornwall Hill)
5th Jonathan Bosch (Jeppe)
Junior March – The March Floating Cup
Adjudicator : Bob Worrall
1st Frans Coetzee (Pretoria Boys)
2nd Stuart Hobson (1 Medical Battalion)
3rd Sean Cameron (Cornwall Hill)
4th Jonathan Bosch (Jeppe)
5th Matthew Pollack (Benoni)
Pipe Major A Watters Jig Challenge
Adjudicator : Liam O'Flaherty
1st Richard Payn (1 Medical Battalion)
2nd David Mason
3rd Joshua Hogg (Benoni MacTalla)
4th Chris Terry (1 Medical Battalion)
5th Thomas Fuller (1 Medical Battalion)
6th Peter Candy
Pipe Major A Watters Jig Challenge – Best Junior
1st Spiros Paizes (Benoni)
Pipe Major A Watters Jig Challenge – Overall 2016/2017 Season
1st Joshua Hogg (Benoni MacTalla)
Pipe Major A Watters Jig Challenge – Best Junior – Overall 2016/2017 Season
1st Spiros Paizes (Benoni)
H W Kinsey Novice March Challenge
Adjudicator : Thomas Fuller
1st Emma Bellingan (African Skye)
2nd Anthony Qhalo (Jeppe)
3rd Ross Olive (Jeppe)
4th Llewellyn Cotty (KES)
5th Taigue Mitchell (KES)
H W Kinsey Novice March Challenge – Overall 2016/2017 Season
1st Emma Bellingan (African Skye)
Wallace Bagpipes Amateur Piping Contest – Overall
1st Bronwyn Morgan (Spirit of Richmond)
2nd Craig Paxman (Glen Allen)
3rd Sean McClymont  (Glen Allen)
4th David Carlse (Glen Allen)
5th Rosemarie Tarboton (Cornwall Hill)
Wallace Bagpipes Amateur Piping Contest – Piobaireachd
Adjudicator : Chris Mulinder
1st Bronwyn Morgan (Spirit of Richmond)
2nd Craig Paxman (Glen Allen)
3rd David Carlse (Glen Allen)
4th Sean McClymont  (Glen Allen)
5th Andrew Carlse (Glen Allen)
6th Rosemarie Tarboton (Cornwall Hill)
7th Richard Prall (African Skye)
8th Louis de Kock (African Skye)
Wallace Bagpipes Amateur Piping Contest – Strathspey & Reel
Adjudicator : Richard Payn
1st Craig Paxman (Glen Allen)
2nd Bronwyn Morgan (Spirit of Richmond)
3rd Sean McClymont  (Glen Allen)
4th Rosemarie Tarboton (Cornwall Hill)
5th Richard Prall (African Skye)
Wallace Bagpipes Amateur Piping Contest – March
Adjudicator : Thomas Fuller
1st Bronwyn Morgan (Spirit of Richmond)
2nd Craig Paxman (Glen Allen)
3rd Sean McClymont  (Glen Allen)
4th Rosemarie Tarboton (Cornwall Hill)
5th David Carlse (Glen Allen)
6th Louis de Kock (African Skye)
7th Andrew Carlse (Glen Allen)
8th Richard Prall (African Skye)
Wallace Bagpipes Amateur Piping Contest – Overall 2016/2017 Season
1st Craig Paxman (Glen Allen)
---
[wds id="10″]