Gail Laird reports: 'Three groups of young pipers all from Ross and Cromarty Pipes and Drums School competed for the first time in the North of Scotland branch of the RSPBA Quartets competition on last Saturday (18th March) in Huntly, Aberdeenshire. The three groups successfully achieved 1st, 2nd and 4th in the Grade 4A March, Strathspey and Reel. 
'Their Pipe Major, Niall Matheson, was delighted with this result as the youngest piper, Isla Beeton (13), had only just started performing in the competing band. They went on to distinguish themselves further at the tougher Grade 3 level with a respectable, 5th, 7th,and 11th placing for MSR. All the pipers attend Highland schools and are 16 and under – apart from Niall who is over 21!
'The kids in the  picture are (l to r): Rory Robson, Jamie Macrae, John McLaren, Dylan Finnie, Lewis Fraser (with first trophy), Kenan Widdows (with second shield), Andrew Laird, Kirsten Hunt, Isla Beeton (in front, the youngest piper) and Niall. They come from Invergordon Academy, Alness Academy, Dingwall Academy and Drumnadrochit. They all play with the competing band. Ross and Cromarty Pipes and Drums School in Novice Juvenile A grade. The band came third at the Scottish Schools Championships in Edinburgh on 12th March, a great results competing against several private schools.'
Niall, that's him with the fancy haircut far right, is the well-known double Gold Medallist who has done tremendous work in the north since taking on the Ross & Cromarty teaching job. If anyone has the full results from Huntly please forward.
---
Talking of Gold Medallists, I hear that Richard Hawke's son Jamie has taken over the Pipe Major's ticket at Canterbury Caledonian down in NZ. Good luck Jamie!
---
Back to the north-east, here's the smart new poster for the forthcoming Boghall & Bathgate concert in Aberdeen in May: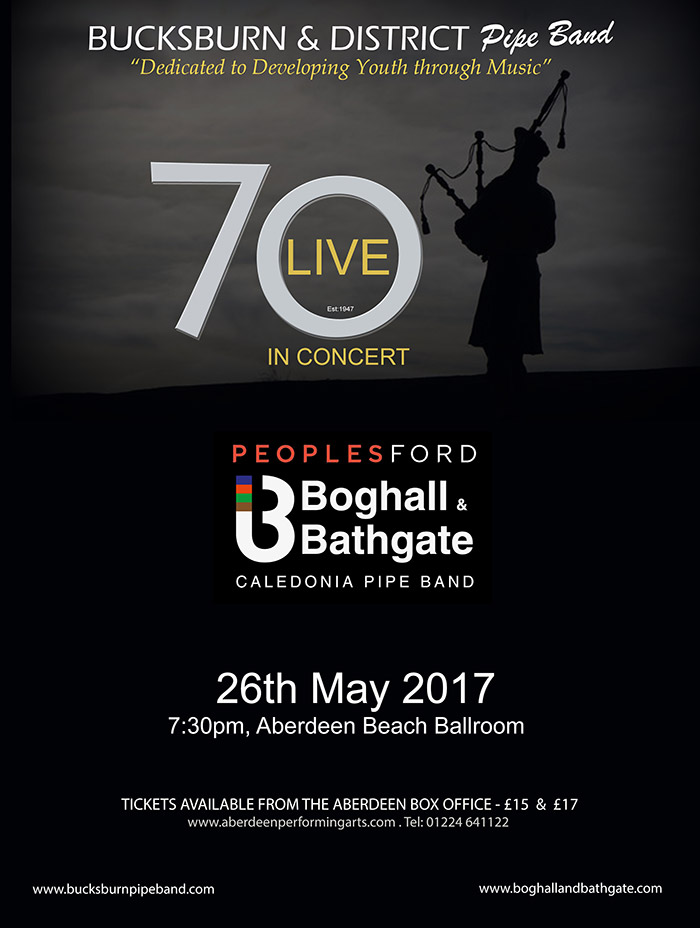 Click here for tickets.
---
Selling pipes? then look no further than Piping Press. Callum MacLean on Mull: 'Hi Rab. Pipes are sold! Posted them to Denmark today. That was the quickest sell in piping history. The buyer was in touch the day after your ad. and I got the money last night. Thanks!'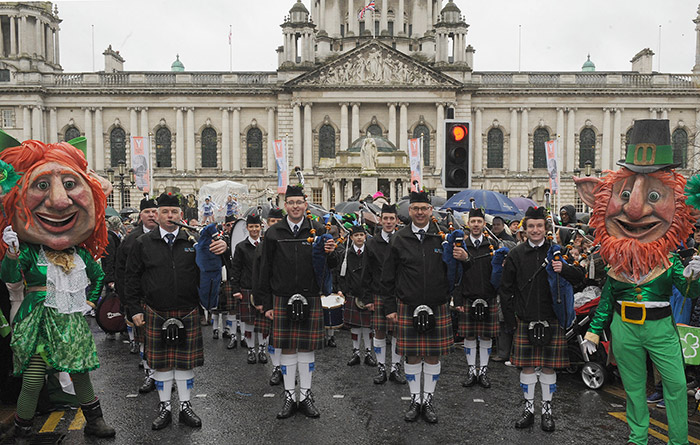 Belfast was buzzing last week for St Patrick's Day. John Kelly: 'Belfast marked St Patrick's Day with a colourful carnival parade and free concert on Friday 17th March.  The streets were awash with colour as the parade left the city hall snaking its way through the heart of the city to Custom House Square where a free concert was held.  Community groups from across Belfast's cultural spectrum took part in this year's Belfast themed parade, alongside professional and amateur performers, costumed characters, musicians and dancers.  Three pipe bands took part in this year's parade – Major Sinclair Memorial Pipe Band [above], Cloughfin Pipe Band and Croí an Dúin Pipe Band & Music Group.'