This was a very well run contest today at the Piping Centre in Glasgow, but it was noteworthy that not many pipers waited around for the prize giving. With the sponsors in attendance along with the Johnstone family, this did not enhance proceedings. All contests were over by 6.45pm. A very big 'well done' to CPA Secretary Helen Wilkinson for organising things so well and ensuring the smooth running of all events.
The judges reported a very high standard of play in the B Piobaireachd final. Twenty-five played so anyone who took a prize there can be very satisfied with their effort. The same goes for the C Piobaireachd where 28 played.
The picture above shows some of the prizewinners with Cameron MacDougall (centre) the overall champion, and Mr Iain Johnstone, Duncan's son.
In an innovative move the Competing Pipers Association, the main organisers, trialled an app to assist with stewarding and order of play. The CPA has plans to roll this out at other competitions during the season.
B Piob
1 Cameron MacDougall
2 Sarah Muir
3 Ben Duncan
4 Ross Cowan
5 Steven Leask
Judges in the B Piobaireachd heats were G Brown, C MacLellan, R MacShannon and T Speirs. The final was judged by A Frater and A Henderson.
B MSR
1 Callum Moffat
2 Connor Sinclair
3 Calum Watson
4 Connor Jardine
5 Calum Brown
Judges: R MacShannon, T Speirs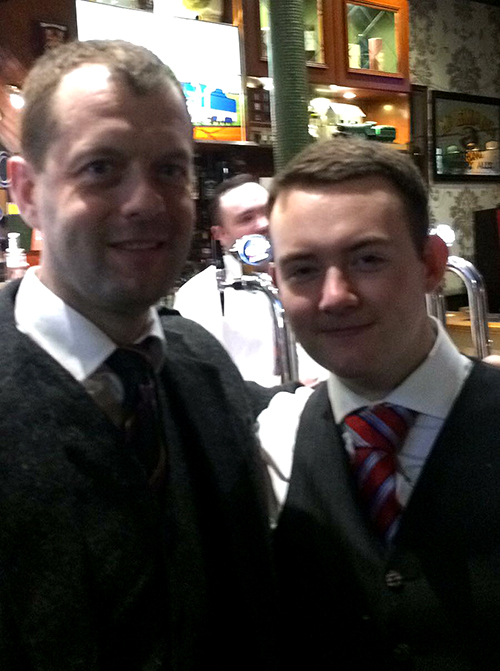 C Piob
1 John Dow
2 Calum Brown
3 Ciaran Ross
4 Dan Nevans
5 John Cameron
Judges: A Frater, A Henderson
C MSR
1 Matt Supranowicz
2 Dan Nevans
3 John Dow
4 Charles MacDonald
5 Scott Garden
Judges: G Brown, C MacLellan
B&C Jig
1 Connor Jardine
2 Cameron MacDougall
3 Scott Garden
4 Lachie Dick
5 Ross Cowan
Judges: C MacLellan, R MacShannon