A performance of the Earl of Seaforth's Salute by Jimmy McIntosh has been added to the PP Audio Archive. Jimmy says he thinks it is from the Northern Meeting in Inverness when he was runner-up to Donald Morrison in the Clasp. The tune comes to us via Chris Terry and Nicholas Taitz in South Africa. Thanks to all.
Listen to the tune here.
---
An accident involving RSPBA Finance Director Kenny Crothers and a ladder has meant a delay in the allocation of funds from the National Juvenile Pipe Band Fund for 2017. Happy to report that Kenny is on the road to recovery and that this year's beneficiaries will be announced soon.
---
South African piper Chris Mulinder has this attractive carving for sale: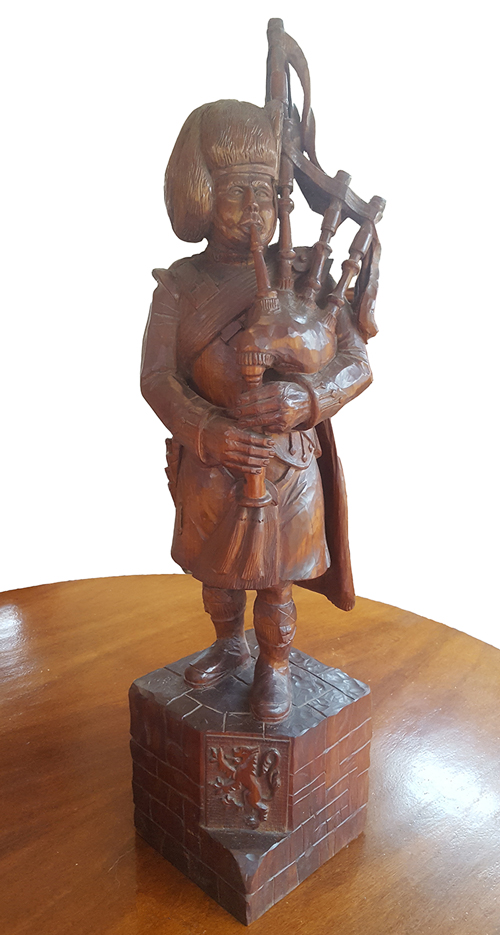 Chris writes: 'I am thinking about selling my prize statuette. It was carved in NZ by Donald MacGillivray and exhibited in Toronto in the late 70s. I'm hoping that someone will make an offer. Kauri is the wood.' Contact Chris here. Of the wood we read: 'Kauri grows naturally only in the upper North Island [NZ], north of a line from Kawhia in the west and Tauranga in the east. Remaining mature trees can be up to five metres in diameter. Kauri forest is, however, regenerating throughout the region into second-growth forests…Kauri timber is a light honey colour, with a distinctive silvery speckled lustre.'
Chris Mulinder (pictured top) is one of the great figures in South African piping. He has taught dozens of excellent young pipers over the years and made instruments and done repairs at his workshop in Jo'burg over the decades. Chris turns 70 this year and the birthday celebrations at the 100 Guineas contest and after will be heard from Cairo to the Cape. Congratulations Chris and keep that statue away from the brai!
---
John Kelly reports on a busy round of Burns Suppers in Ulster the week before last. John writes: 'A Burns Lunch of haggis, neeps and tatties was held in the Black Box in Belfast's Cathedral Quarter on Wednesday 25th January. The piper was Andy McGregor (Pipe Major, Ulster-Scots Agency Juvenile Pipe Band). Aaron Hickland read a selection of Robert Burns poetry and singer songwriter Hugh Jordan sang some famous Burns songs. The event was one of several 'Belfast Burns Week Festival' events organised by the Ulster-Scots Agency to celebrate the January 25 birthday of Robert Burns and highlighting the many links between Burns, his family and Ulster from the late 1700s to the present day.'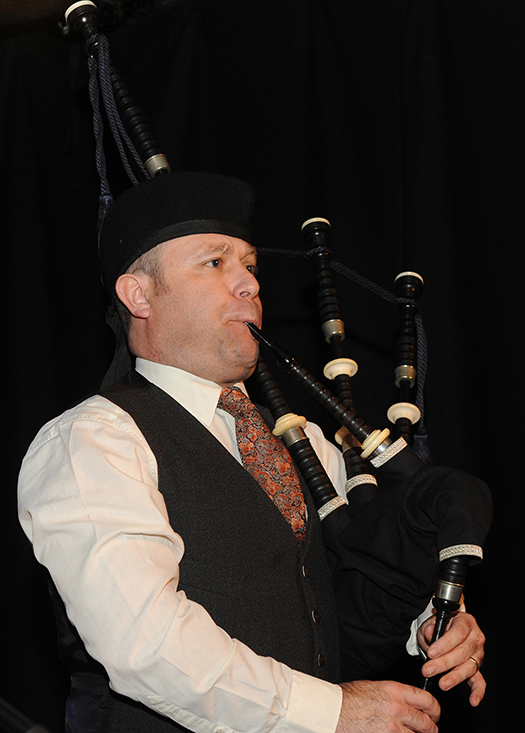 John also reports that Drum Major Lauren Hanna, formerly of Drumlough Pipe Band, has taken over Brian Wilson at Lomond & Clyde. Lauren is pictured below at the Scottish Pipe Band Championships last summer: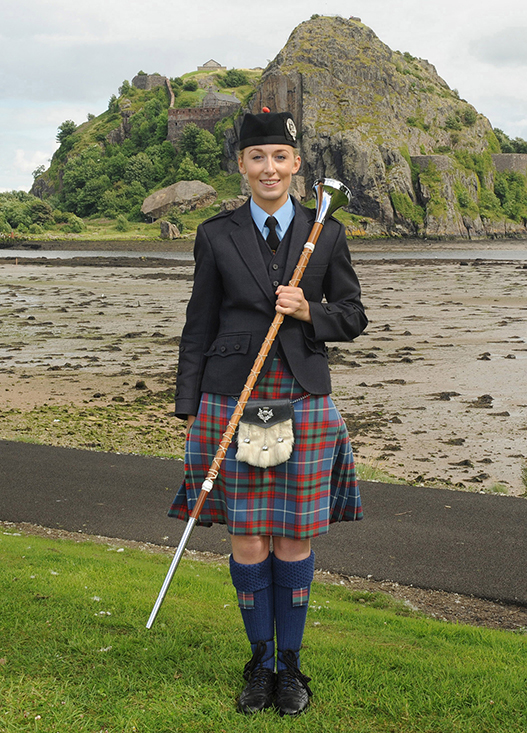 ---
So sorry to hear of Geoff Neigh's passing in Canada. I think Jim McGillivray speaks for everyone who knew Geoff, the late Ed's brother and formerly Chairman of the PPBSO Music Committee: 'Sad to report the passing of my old friend Geoff Neigh in Stratford this morning….Geoff and his brother Ed were huge influences on my impressionable youth as well as my piping, and I'll always be grateful for their kindnesses to me. Both were tireless contributors to Ontario piping over the decades.'
---
[wds id="28″]