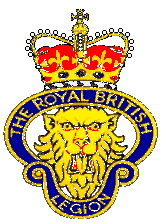 As I mentioned in an earlier comment on the Edinburgh scene, writes the Editor, the British Legion's solo contest used to be one of the highlights in the capital's piping calendar. It was open to all serving soldiers, those who had done their National Service, who were attached to Territorial Army units or were members of British Legion pipe bands.
My copy of the 1969 programme seems to indicate that it was open to serving police officers too. Readers not familiar with the Royal British Legion might like to know that it is the leading charity run for the benefit of ex-servicemen and women. One of their main fundraisers is the annual Poppy Appeal which raises money for veterans wounded and infirm. This Legion contest programme has extensive notes which display refreshing candour.
Firstly the contest details: It was held in the Royal Arch Chambers in Queen Street, Edinburgh, on 3rd May 1969. The piobaireachd judges were Lt. John MacLellan MBE, Director of Army Bagpipe Music, P/M George Stoddart BEM and Mr Hugh MacRae. The ceol beag judges were Captain Ian C. Cameron and Captain DR MacLennan. Chief Steward was P/Sgt John Slattery of the Scots Guards with other stewards courtesy of the Army School. The convenor was Angus MacKillop (older readers will remember the flamboyant architect prominent on the Edinburgh piping scene) and the Hon. Sec. Mr Charles McGlynn.
Results
Check out the prizemoney. Interesting that the Strathspey and Reel was valued less than the March.
Piobaireachd (four tunes):
1 John MacDougall, His Father's Lament for Donald MacKenzie, £15
2 Iain MacFadyen, no tune given £12
3 Willie MacDonald (Benbecula), End of the High Bridge £10
4 Duncan MacFadyen, MacDonald's Salute £8
5 Ronald Morrison £5
6 George Lumsden £3
Others who played were Hector MacFadyen (Pennyghael), Jimmy McIntosh, Norman Gillies, Andrew Wright, John Rae, William Maitland and Willie MacDonald (Inverness).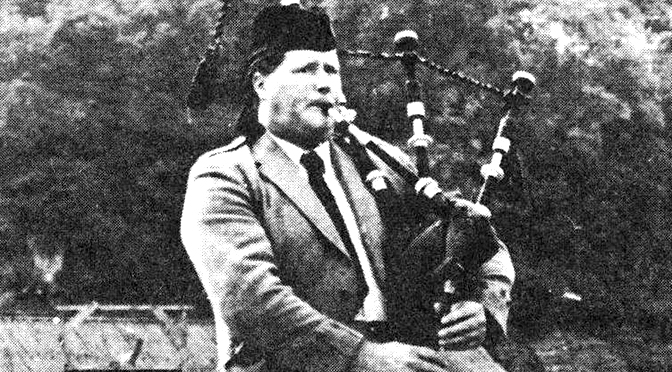 Marches (three tunes):
1 Iain McLeod (Edinburgh Police) £10
2 Jimmy McIntosh £8
3 Iain MacFadyen £5
4 Norrie Gillies £3
5 John MacDougall £2
The programme states that a Christopher MacLennan (I believe this to be DR's son but may be wrong) offered a special cash prize to the highest winning competitor who played a tune by Willie Lawrie.  No indication who received the moolah.
[wds id="6″]Strathspeys and Reels:
1 Iain MacFadyen £10
2 John MacDougall £6
3 Iain McLeod £4
4 Duncan MacFadyen £2
5 Willie MacDonald (Benbecula) £1
Others who competed in both these contests and not already mentioned in the ceol mor list were: Harry McNulty, John Percival, Lawrie Gillespie, Martin Wilson (all four Edinburgh Police), Tommy Wilson, Gorebridge, James Allan, Peterhead, Gordon Callaghan, Ayr, George Innes, Strathpeffer, Walter Cowan, Annan, David Laird and Ian Sinclair, Newton Mearns.
Confined March:
1 Norman Gillies £5
2 Andrew Wright £4
3 Walter Cowan £3
4 John Rae £2
5 Harry McNulty £1
Champion Piper: Iain MacFadyen (Iain is pictured top).
As indicated there's much more in the programme than we have space for at the moment but I will conclude with this excerpt headed 'The Queen's Piper': 'The following letter appeared in a news bulletin circulated to members of the British War Veterans of America, and may be of interest to those of us who have had the honour of being one of the Royal Pipers, and who know Andrew Pitkeathly.
'The man who has the job of playing bagpipe music to the Queen every morning, Pipe-Major Andrew Pitkeathly, Argyll and Sutherland Highlanders, has a less exhausting post than his predecessors. Until two years ago the Royal Piper had to be marching under the Queen's window at Buckingham Palace by 7.30 in the morning. The last Royal piper had to rise before 5.30 a.m. and travel from his Royal flat at Windsor the twenty-three miles to London so as to be on time to awaken the Queen.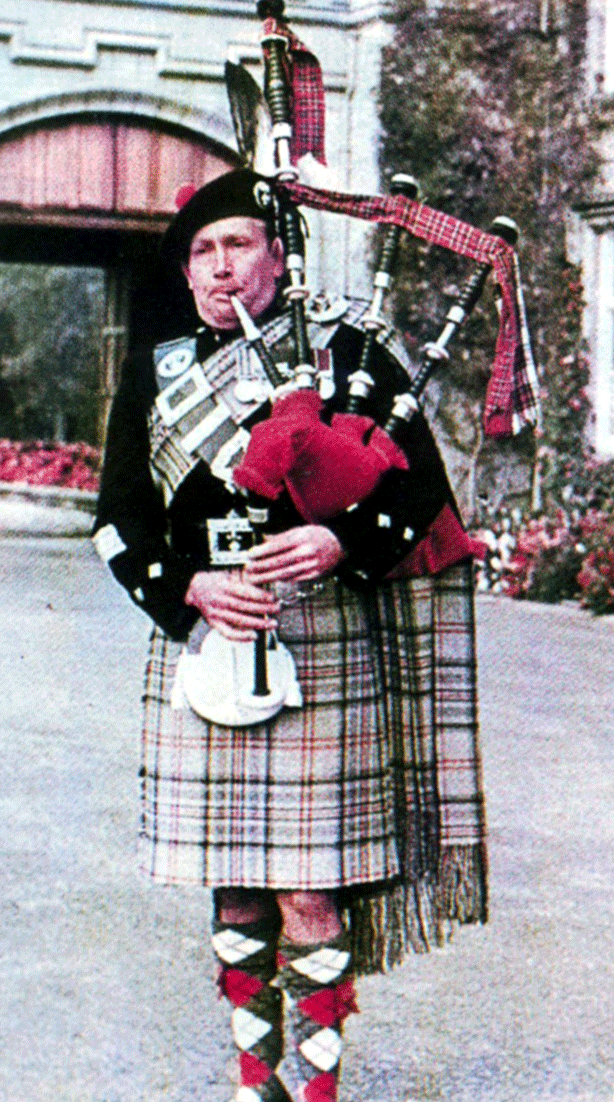 'Pipe-Major Pitkeathly is provided with an official motor scooter and a spacious flat at Hampton Court, and apparently begins a breakfast a stint at 9.00 a.m. For Pipe Major Pitkeathly the Palace is quite a change from campaigning in Cyprus, British Guiana, Germany, Hong Kong and Korea and, more recently, in jungles of Borneo against Sukarno's invaders. Now he is called upon to perform at State Banquets, Royal dinner parties and suchlike. It was Queen Victoria who loved the Scots and who created the post of personal piper.
'Pipe Major Forsythe of The Scots Guards was the first holder of this office [sic] and served through five reigns. Queen Elizabeth, in the month's between Pipe-Major Macdonald retiring and Pipe-Major Pitkeathly joining, missed her early morning music and urged her ministers to find a replacement with all speed. So many applications were received that selection had to be made on merit at a competition and thus Andrew Pitkeathly became the Queen's piper in London.'
• Listen to Captain Andrew Pitkeathly playing here. More from the British Legion contest programme to follow.