We conclude our illuminating history of this illustrious Society written by former president Adam Sanderson. Thanks again to Adam for his contribution to Piping Press………..
Through the early 1960s not much had changed for the Scottish Piping Society of London. James Campbell of Kilberry was still President of the Society, with R.A. Gillies as Vice President and David Ross as P/M. Jim Caution was now Hon. Secretary, and well known names such as Gordon Speirs, Allan Beaton, Willie MacLeod and Hugh MacKay had joined the list of committee members. J.B. Robertson was still on the committee, as he had been since its inception.
In the 1960s James moved full-time to a lecturing post at Pembroke College, Cambridge (he had for some years been a 'visiting fellow' whilst continuing to practice at the Bar in London) and felt it impractical to continue in the role of President (at that time the Society met weekly and James felt whoever was in the chair needed to be committed to attend regularly). James and his father Archibald, a stalwart attendee at all society meetings apparently until his health prevented him from travelling from Cambridge, had in fact identified Allan as a natural successor to the role and in effect 'sponsored' him into the post.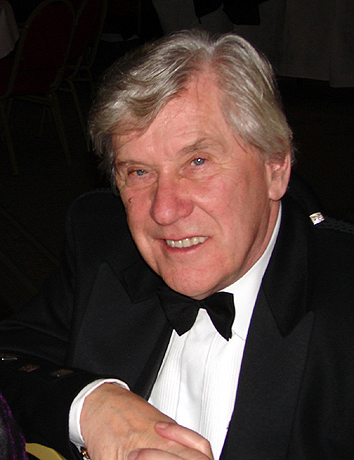 The hand of Iain Grant of Rothiemurchus may also have played a part in this. Allan's father served under Rothiemurchus (Captain 'Bones') in the Lovat Scouts during the Great War and Allan had been taken 'under the wing' of Rothiemurchus as a member of the Inverness Piping Society during the 1950s when he was working in Inverness for a civil engineering firm responsible for many of the hydro-electric projects in the Highlands prior to being relocated by this company to London. Roddy Livingstone, who received light music tuition from J.B. Robertson and piobaireachd tuition from James Campbell, has told me that James had a finely engraved cigarette case presented to him by the SPSL in recognition of his work for the Society. He was apparently very proud of this case.
[wds id="6″]In the first year of Allan's tenancy, there was 'a full programme of recitals of Piobaireachd during the winter months'. John MacFadyen of Glasgow scored a double that year, by winning both the Bratach and the MSR. It was also during this period that the charismatic Lord Craigmyle joined the committee.
As well as running the London competition, the SPSL Member's competition, Harpenden and all the various recitals, the SPSL were also running solo and quartette competitions at the Richmond Highland gathering. The Daily Telegraph reported an estimated 25,000 spectators at the Richmond Gathering for 1967. It seemed that interest in piping in London was at a high, and a seed of an idea began to form. It was decided that a permanent headquarters for the SPSL might be something that could be achieved. The premises would provide tuition, practice rooms, and be a place where, 'pipers in the south would keep to the highest standards of piobaireachd'. In terms of ambition, it was to be a Southern cousin of the College of Piping.
In 1967 the Scottish Piping Society of London Appeal was launched, with the aim of buying a building, kicking off with a 'Piping Champions Recital' at the London Scottish Drill Hall. The recitalists were Pipe Major J.B. Robertson, billed as 'probably the winner of more trophies than any living piper, he will play a selection of his own compositions'. Also playing were Hector MacFadyen, Pennyghael, playing MacSwan of Roaig. Hector was a winner of the Silver Chanter as well as taking the Gold at Oban and Inverness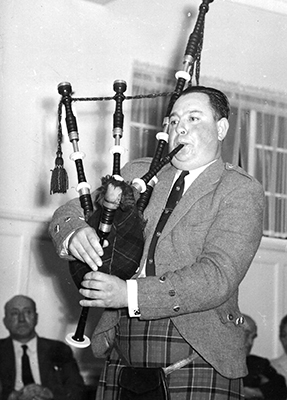 P/M William MacDonald of Benbecula (above), another winner at Oban and Inverness, including the Clasp, provided light music, and David Ross of Rosehall contributed MacLeod of Raasay's Salute. There were also two appearances from the RAMC TA mini band, comprising P/M Robert Hill, Ian Macleod, John Fogarty and Gordon Speirs. The entrance fee was five shillings (25p).
[wds id="2″]Initially the Scottish Piping Society of London Appeal met with a very positive response, with a list of patrons that seemed like it had been lifted from the society pages of Tatler magazine; the Aristocracy, Clan Chiefs, and military top brass all acted as patrons and contributed. The first cheque was donated by the Queen Mother. There were also other donations from the likes of Sir Alec Guinness. The aim was to raise £10, 000, a substantial amount of money in those days, but in the first few weeks 309 supporters donated over £2,500.
Sadly, Britain hit an economic crisis, and donations stopped. The dream of a permanent home for the SPSL was not to be, and the minutes from the early 70s onwards return to a familiar theme: where to hold the Society's recitals and competitions. The death of SPSL member Pipe Major William 'Jock' Speedy is also noted in October 1969 with great sorrow. The three pipers at his funeral were P/Ms Angus MacDonald, Alex MacDonald and Eric Findlater.
By the early 70s, the Ship Tavern by Holborn seemed to be an ideal place to meet and play music. The esteemed Willie Cochrane was now acting Pipe Major, and another name familiar to London pipers, John Shone, was listed as a committee member, but he was soon to take on the role of Vice President. By 1976 the recitals had moved to the Cock Tavern, Great Portland Street. In the minutes for that year thanks are given to the recitalists, Donald MacLeod, John MacFadyen, Jimmy MacGregor, Jimmy McIntosh, Angus MacDonald, and Gavin Stoddart. Quite an impressive list, by any standard!
---
Click on ad to order online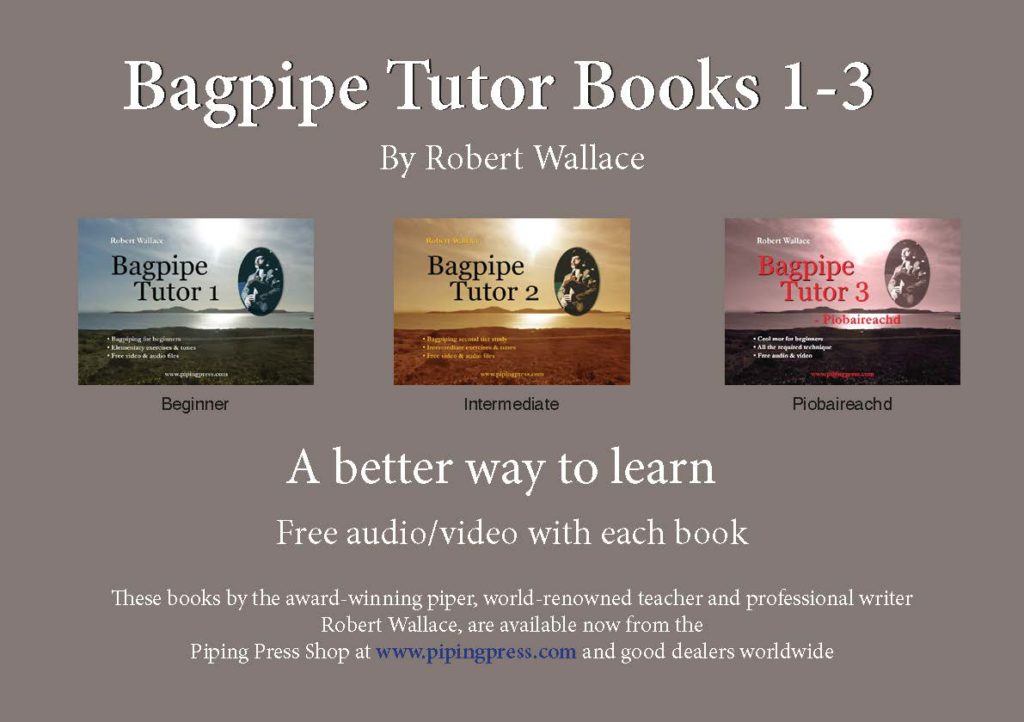 ---
Protests were made that a Pipe Major of the Society had gone to Uganda 'to wear the Scottish National Dress, and to play the Great Highland Bagpipe, at a function organised by the Tyrant of that country'. This refers, of course, to a visit to see the notorious Idi Amin, whose love of piping and pipe music was well documented, and dramatised in the film 'The Last King of Scotland'. By now the Annual Competition had moved to the Old Town Hall, Chelsea.

In 1977 the death was noted of one of the Society's 'oldest and most illustrious member, Mr Seton Gordon'. The 1978 recitals were kicked off by a young piper called Murray Henderson. A new Scottish Piping Society of London appeal was launched, but seems to have been not hugely successful, raising only a little over £300. If you recall the late 70s this was yet another time when Britain was facing an economic crisis. In 1979 members were shocked by the premature death of 'our good friend, John MacFadyen'. John had given unstintingly of his time and energy in helping out the SPSL in any way that he could find to do so. A donation was given to the new John MacFadyen Memorial Trust. 1979 was also the first year that the Annual Competition was held in Glazier's Hall, London Bridge.
The 80s till the present day
The 80s began with another Scottish Piping Society of London appeal, this time for the prize fund, as well as a request for more people to attend piping competitions. Recitals continued with pipers such as John Wilson and Robert Wallace, and Iain MacFadyen. Prize donations started coming in, with gifts of sets of pipes from D Naill bagpipes and chanters from Kilgour. The prize fund appeal was successful, and the Annual Competition settled in the Glazier's Hall.
[polldaddy poll=9567284]In March 1984 the Society had the 'greatest number of members' to turn out for a recital that was the 'highlight of the year'. Who was the piper that provoked such interest? Donald MacPherson, which may not be that much of a surprise to some. In 1986 Allan Beaton left London to return home to Skye. He had been with the society 30 years, 21 of them as President. The role was succeeded by Donald Forbes, with Harry Denyer as acting Pipe Major, a role later to be taken over by Jimmy Banks. High quality recitals continued, including an appearance by Roger Huth, who was to become Pipe Major to the Society by 1990.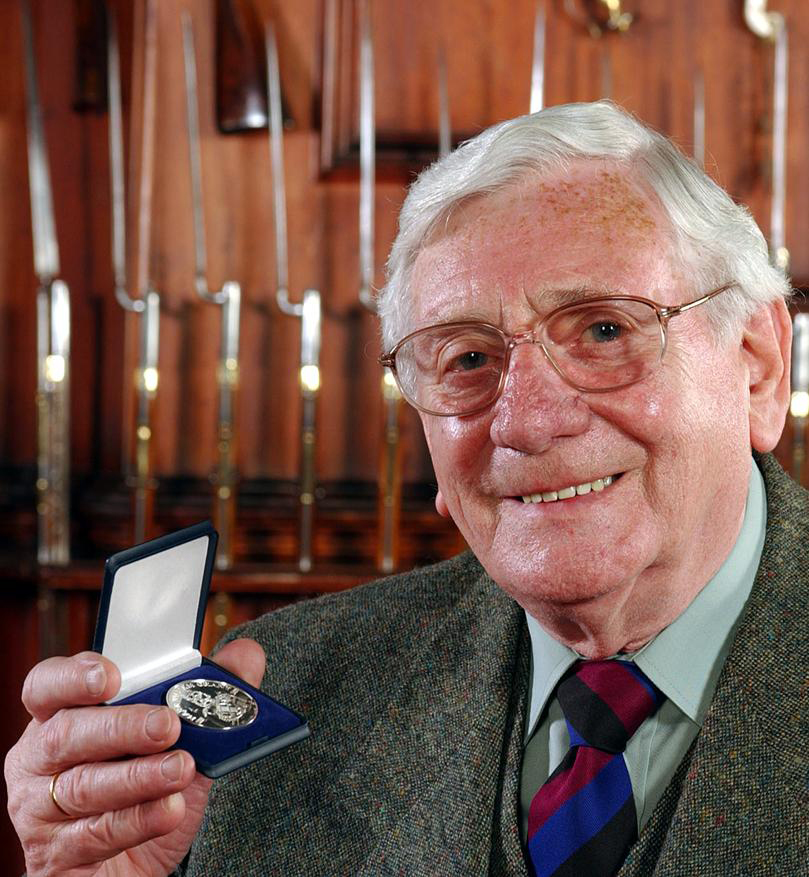 1988 saw the passing of J.B. Robertson, who had been an active member since 1932. His wife, May Robertson, donated a rose bowl which 'Robbie' had won at Braemar. It had been a particular favourite of JB's and May felt it appropriate that it be used as a prize in the annual London competition. The J.B Robertson Silver Rose Bowl is still keenly fought for by Former Winners of the March and Strathspey & Reel at the Argyllshire Gathering, Northern Meeting and London events. The first winner of the bowl was a Lance Corporal Gordon Walker.
In the 90s the monthly meetings relocated to the Lucas Arms in the Gray's Inn Road. The Annual Competition hit a sticky patch in 1993, when we saw the boycott of the senior competitions by members of the Competing Pipers Association. Thankfully such incidences are well behind us now. In the late 90s we reconnected with the Pipes and Drums of the London Scottish Regiment, who very generously let us have the use of one of their practice rooms on Thursday nights. Roger Huth succeeded Donald Forbes as President, a role he would continue for the next three years, with Chris Apps as Pipe Major. Sadly for us, Chris emigrated and continues his reed making business in the USA. Roger then reverted back to the role of P/M, and Angus Nicol, who recently passed away, was asked to be President in 2006.
I am pleased to say that now that we are well into the new century, the Scottish Piping Society of London is in vigorous good health. Carrying on a tradition started in the 1930s, the Society holds informal piping recitals . After a spell as Vice President, I was elected president in 2008 and we recommenced high quality piping tuition in London, close to the Imperial War Museum. The interest in these classes was keen; we seemed to be having better luck than J.B. Robertson did back in 1935. The current venue we have chosen for the Annual London Competition, the Kensington Conference Centre, has proven extremely popular with competitors and audience alike, and we hope to continue to hold the Bratach there on an annual basis. Of course, this would not be possible without our generous sponsors, in particular William Grant and Sons Ltd, to whom we are extremely grateful.
We continue to attract new members, and the audience at our recitals are steadily growing. We were all very saddened when one of our SPSL stalwarts, Jim Caution, passed away just before Christmas in 2007. His widow Anna, who was competition secretary for many years, asked that instead of flowers, donations be given to set up the Jim Caution Memorial Piping Trophy Fund. This fund had two aims, the first to present the overall winner of the Juvenile piping contests with a gold medal and a silver quaich; the second aim to provide a promising youngster with either an instrument or quality tuition, when they might not be in a position to afford it for themselves. When Anna passed away the Caution family asked that the Jim Caution Award continue as a tribute to both Jim and Anna. It's a thrill to see youngsters getting involved with piping in the Society, and their interest and enthusiasm ensures that the SPSL will continue for a while yet.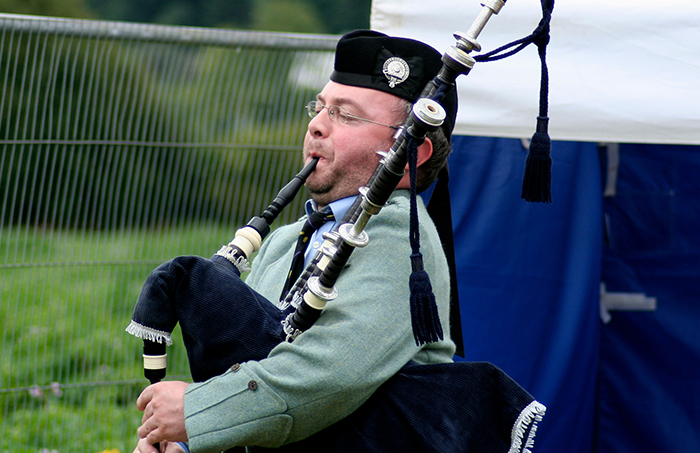 I was succeeded as President by Hugh Jamieson who in turn was succeeded by Andrew Hall. It is also interesting to note that three people who have held committee positions for long periods of time in the SPSL (James Campbell, Harry Denyer and Jackie Roberts) have all been recipients of the Balvenie Medal.
The Society celebrated its 80th anniversary in 2012 with a concert by Fred Morrison. The guest of honour was a lady named Sheila Jupp whose father, Iain MacAulay, brother of P/M Angus MacAulay was a founder member of the SPSL. As a child Sheila recalls her 'honorary' Uncle Lew (Lewis Beaton), uncle Jimmy (J.B. Robertson) and uncle Willie (Dr MacPhail) as regular visitors to the family home.
Anyone interested in the Scottish Piping Society of London is welcome to visit our website, www.scottishpipingsocietyoflondon.com where you can find archive photos, articles, competition information, results and our diary pages.
Pipe Major R.U. Brown, one of the famous Bobs of Balmoral, had the following to say about the London competition: 'It has an atmosphere all it's own – it is truly the friendliest meeting I have attended. When I come to London, I hear the finest playing, meet old friends and make genuine new ones'. The SPSL is doing its utmost to ensure that pipers visiting us today can feel exactly the same way.
• Read the first two instalments of this history here. It is only through readers' support for our advertisers and the Piping Press Shop that we are able to maintain our free web magazine service to pipers, pipe bands and enthusiasts worldwide.
---
[wds id="3″]