The vast majority of the hundreds of readers who responded to our poll on minor band contests are concerned about the lack of support these events are getting.
And they are calling on Grade 1 and Grade 2 bands – and the RSPBA – to do more to help. In answer to our question 'Do Grade 1 & 2 bands have a duty to support the smaller competitions and Highland games?' 46% answered, 'Definitely; it's not all about the majors', and a further 32% agreed that, 'It's up to the RSPBA to change their rules; play a few minors or you don't get to the majors.' In other words, a total of 78% readers agreed that something needs to be done to support these contests.
Here are the poll results in table form: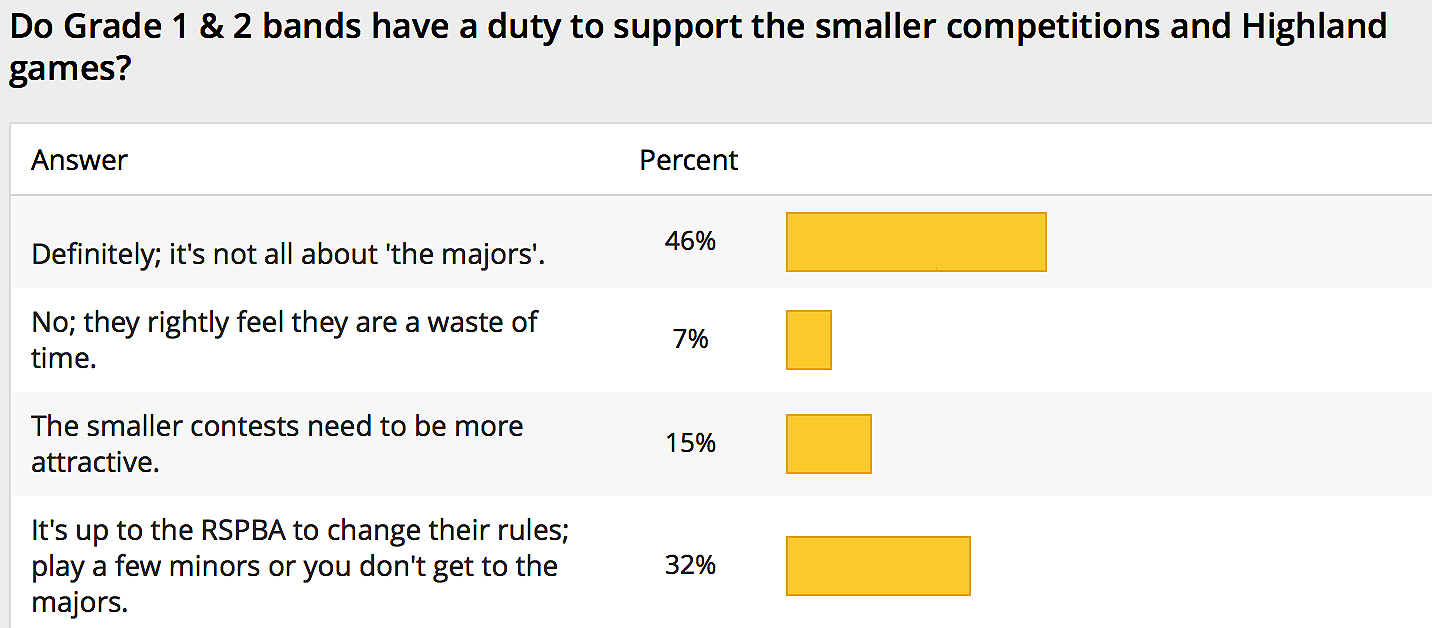 The whole matter was raised initially by reader Andy Donaldson in an article we ran last week. Others weighed in with their opinions and then P/M Barry Donaldson of the City of Edinburgh Pipe Band gave the discussion a slightly different explanation and further insight. Read Andy's article here and Barry's here.
So where do we go from here? It is up to all bands to look to their responsibilities towards their local events and to try to have a presence there. Matters concerning the RSPBA should be noted and raised by interested parties at the AGM next March. The AGM is a very open forum where bands can debate, through the chair, any issue that concerns them. Minor contests, and the lack of support thereof, should be on the agenda in 2017 and only the bands can make it so. RSPBA officials are always quick to respond to their members' wishes.
Today a parent of a young piper, who did not want to be identified, added to the discussion with these cogent observations: 'I've been reading the debate on minor contests online as it spreads into wider areas of interest. As you've said before, the Juvenile grade is a clear step for those aspiring to Grade 1 or at least for those teenagers who want to continue in pipe bands after school and their university/work schedules allow. Juvenile for the Worlds is light in numbers this year (no overseas bands) and there has been a fair amount of moving around between N/Juv A and B from previous years.
'I reckon that will even out as the three sections find their feet. Also, as you've highlighted, a couple of Juvenile bands have gone to G3. It's quite a feat to lose key players every year and deal with the inflow of less experienced players. But don't you agree that Boys' Brigade bands had the same issues in the old days too?  A crop of drummers or pipers of the same vintage would reach the end of the line and the process began again. Hence the need for a conveyor of talent and it is that which never ceases to impress me.
'The top adult bands will always attract talent, so no feeder system for them, and there may even be a point where they can't play all of their roster, or the P/M chooses not too, an analogy with football or rugby, where the squad system is emerging as opposed to one eleven or fifteen. I've been following Juvenile for about seven years now, with family involvement, and there have been significant changes in that time alone: Inveraray no longer at that level, maybe not needing a feeder now,  and the emergence of Preston Lodge as a new name. The latter is a great success story and should be applauded.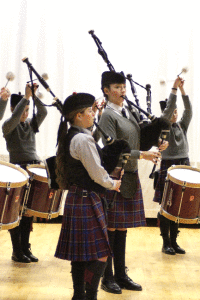 'I noted the point about private schools – none from Glasgow – great teaching programmes, with big numbers involved from beginner to 'big' band. School sports day (massed bands of dozens of kids) is a great recruiting tool for younger kids watching and parents attending. I believe children benefit not just from the hard wire skills of learning an instrument; they get team work, dealing with competition, fixing errors, listening (a much under-estimated skill) and fun. All great life skills.
'In Grade 2 (I think it's a good competition), I reckon that a Watson's or Heriot's and Dollar would be there or thereabouts on a head to head with G2 bands. They can Medley and MSR with the best of that grade. The N/Juvenile A are now playing MSR consistently and I've watched the Dollar band go head to head with decent Grade 3a's and win. Other names like Boghall (pictured top) and Preston Lodge can and do the same. I reckon the answer is to recognise that the top Juvenile bands would be Grade 2 equivalent and give that field a good go.  The N/Juv A are 3a's. And don't let Juv play up to 1 (you'd have tutor conflict with their own band).

'Consider the running order of the winners' announcements at contests: N/Juv B, N/Juv A, 4B, 4A, Juvenile, 3, 2, 1. That sends a message about order of grading and perhaps also needs a review. Our North American brothers and sisters send bands over to play in the numbered grades because that is what they are doing anyway. No under 18s over there.
'I've watched drummers and pipers from the top juvenile bands go to several Grade 1 bands straight from school to Shotts, Power and FMM respectively. Who says they follow their tutor!, their choices governed by their style preferences, where they are based for work and college and where they got in.'
---
Games This Weekend
Balloch, Tomintoul and Roseneath Games are on this weekend. Roseneath P&A draw:
MSR
1 Donald MacPhee 2 Gordon McCready 3 Steven Gray 4 Gavin Ferguson 5 Alistair Henderson 6 Jamie Forrester 7 Cameron Drummond 8 Graham Drummond 9 Allan Russell 10 Gordon Bruce 11 Darach Urquhart 12 Derek Midgley 13 Calum Beaumont 14 Jonathan Greenlees 15 Michael Elder 16 Ashley McMichael.
Piob.
1 Peter McCalister 2 Michael Elder 3 Allan Russell 4 Gordon McCready 5 Calum Beaumont 6 Martin Kessler 7 Alistair Henderson 8 Cameron Drummond 9 Jamie Forrester 10 Greig Canning 11 Darach Urquhart 12 Jonathan Greenlees 13 Derek Midgley 14 Gordon Bruce 15 Donald MacPhee