Today's Luss Highland Games went ahead despite heavy rain showers and gusty winds. The entries were what one might expect in such circumstances: six in the ceol mor and seven in the ceol beag. The above picture shows Donald MacPhee on the piobaireachd board on his way to first prize.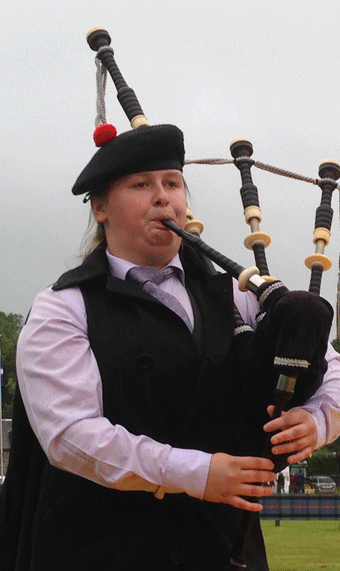 Piob:
1 Donald MacPhee, Battle of Auldearn No 1
2 Ben Duncan, MacDougall's Gathering
3 Rebecca Tierney, Corrienessan's Salute
4 Ben Mulhearn, King's Taxes
5 Craig Sutherland, Isobel MacKay
6 Stewart Scott, Salute to the Cairn at Borreraig
Judges: Robert Wallace, Willie Morrison
March:
1 Donald MacPhee
2 Ben Duncan
3 Craig Sutherland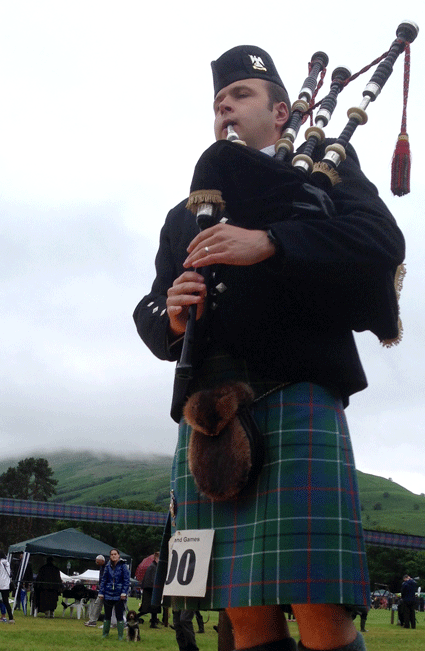 S&R
1 Craig Sutherland
2 Ben Duncan
3 Rebecca Tierney
Judges: Ian McLellan, Neil Mulvie
Robert Wallace: The pipers had to endure rain, wind and midges in equal proportion, but it said a lot for them that they were stoic enough to perform to a high standard in difficult circumstances. Three tunes were asked for. Donald MacPhee played well, if carefully, to take first in the piobaireachd – the middle passages in the urlar line two – the B, grip to C, to D – particularly tentative. The pipe was sweet and melodious, the finger clean, though in the a mach there was a shade too much of a gap between the grip and the dre.
Ben Duncan was steady with MacDougall's Gathering and set the ground out well. Chedari could do with tightening up, but otherwise all technique was neatly executed – apart from a couple of missed taorluaths. The T&C singlings were snatched just before the cadences following the grip turns; the runs from low G at the end of the last lines, need a little more control. Rebecca Tierney had a nice pipe and worked her way through Corrienessan with confidence. Again there was some pre-cadence snatching and the crunluath needs work – the conditions didn't help of course. Ben Mulhearn had good fingers and phrased his King's Taxes well. The pipe was a shade dull and there was a distinct lack of volume from the bass. Ben needs to work on his transitions variation to variation, the essential smoothness missing.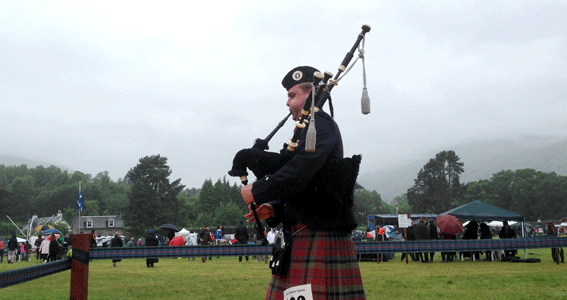 Craig Sutherland lacked tempo variation in Isabel MacKay, his ground to taorluath singling at an almost identical pace. Four note errors; couple of misses on D, but good fingers otherwise. Vale of Atholl piper Stewart Scott gave us the lengthy Salute to the Cairn at Borreraig. His piobaireachd technique needs work: crunluath, chedari and edre all letting him down – as did his memory on four occasions.
Luss is considered one of the most picturesque villages in Scotland. It is situated on the banks of Loch Lomond and has had a games for many years. The piobaireachd event was only instituted two years ago however. Secretary Anne Paterson: 'We were told that if we had a piobaireachd more pipers would come, but unfortunately that has not happened. However, we will be continuing with it next year.'
Use it or lose it has to be the message to the Competing Pipers' Association. If they do not encourage their members to get out to these events then they won't last long and another important contest will have fallen by the way. How many would have played had the weather been more clement?
---
[wds id="15″]