Details have been announced for the 2015 Iain Dall MacKay contest to be held in Gairloch, Wester Ross, in September. The Iain Dall 'Young Pipers' Festival' will be held in Gairloch Primary School on September 26th.
The purpose of the festival is to encourage pipers aged under 18 to compete and enjoy their piping in a friendly and relaxing competition. There are eight classes:
1: March on practice chanter – primary pupils; two parted march once through.
2: March on practice chanter – secondary pupils; two parted march once through.
3: Novice march on pipes – for pupils playing for less than a year; own choice four-part march.
4: Under 15 Piob. ground and 1st Var. – own choice.
5: Under 15 Own choice MSR – can be two parted tune played twice or four parted tunes played once.
6: 18  and under – Piobaireachd – own choice.
7: 18 and under – own choice four-part MSR
8: Open U18 Ishbel MacAskill Prize for an original composition for pipes or fiddle £100.
---

Other prizes on offer are two John Burgess Memorial Bursaries worth £150 each for the most promising piper under 15 and the most promising under 18
Iain 'Dall' MacKay (1656-1754), piper to Mackenzie of Gairloch, was blind from the age of seven as the result of smallpox and became the legendary 'Blind Piper'. A pupil of the MacCrimmon of Skye, he composed celebrated pieces such as the Lament for Patrick Og, Unjust Incarceration, Blind Piper's Obstinacy, Munro's Salute, possibly the Anapool tunes and Corrienessan's Salute.
Read more on the MacKay piping heritage here.
---
New letters posted today on Donald MacPherson and Muirhead and Sons.
---
Tom McInally of the Govan Weavers: 'Glasgow Phoenix Choir has again offered its support in fundraising for the Govan Weavers Piping Initiative and have arranged a Festival of Choirs at Govan Old Parish Church on Sunday 14th June beginning at 2.30pm. The attached poster highlights the quality of the choirs who will be taking part in the concert.
'The funds raised by the concert are dedicated to providing piping and drumming tuition for students in one of Scotland's most deprived communities where we now have more that 120 youngsters in the programme all of whom are being tutored to world-class standards by members and former members of the famous Strathclyde Police Pipe Band. On the day some of these youngsters will be performing outside and inside the Church before the concert begins.'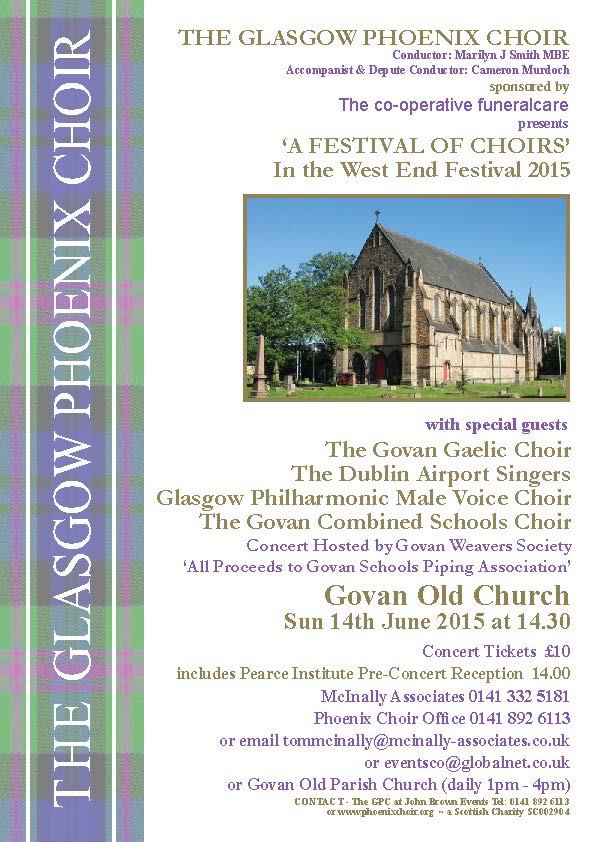 [wds id="11″]
---